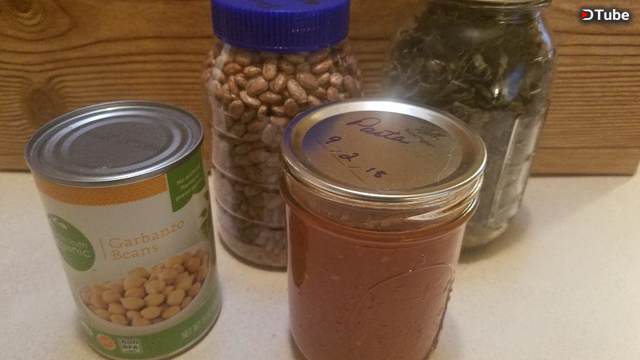 ---
Continued National Preparedness Month series...


Restocking and replenishing your pantry for the future is as easy as 1-2-3, or $5 extra a week in your grocery/food budget.
I do it all the time and it keeps my pantry well-stocked short term and hopefully for long term.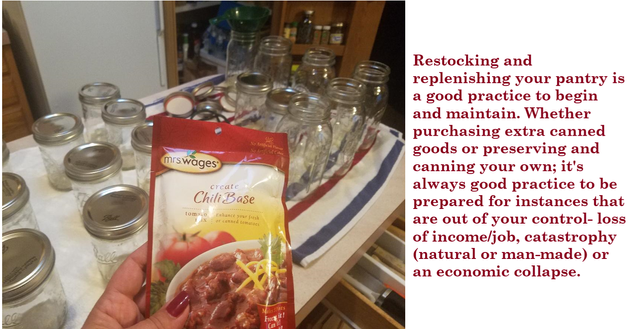 My maternal grandma, who grew up as a young lady, then married my grandpa during the Great Depression knew how to preserve and extend her garden's harvest.
She would can tomatoes as if there was no tomorrow. She knew how to properly store her harvested potatoes and onions in the root cellar to make them last until well after the New Year celebrations. She could take melon and watermelon rind and can them to perfection. She had every tool needed to can and would spend endless weekend hours in the heat of her kitchen making sure her family had enough to eat throughout the next twelve months.
She was also VERY creative when it came to using up what was in her pantry to save money. I can remember her having a few meals towards the end of the month that she referred to as the Mish-Mash. This was kind of like taking the leftovers in the icebox (yeah she still had an icebox in her house's breezeway where she stored extra foods even back in the 1970's), canned goods from the pantry shelves (which was the back of the breezeway leading to her garage) and creating a new recipe. Chances were pretty good you would never have the same recipe or dinner a second time, but regardless, whenever she had her Mish-Mash dinner it was a delight. I swear the woman was a food magician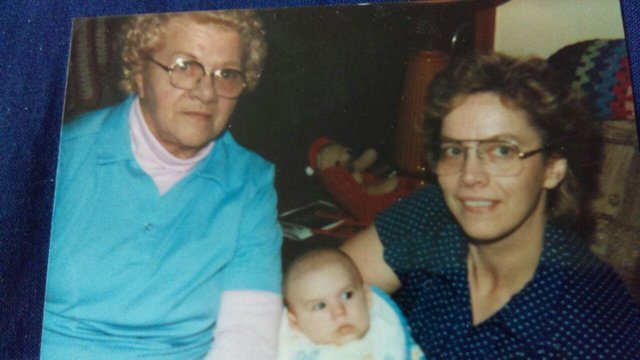 IMAGE- My grandma, my mom and my son back in 1986


By doing all these chores and being creative, she taught me the value of keeping your pantry full. My grandfather passed away when I was only about two years old and my aunt and uncle were still in high school, so grandma was a widow who had no choice but to make ends meets. She took all the tricks her mother and grandmothers taught her and she became the kitchen preserving woman that I remember from my childhood.
When I would go grocery shopping with her once a month- that was all she did when I was younger, she would always buy two of everything. I never understood why and when I was about ten years old, I finally asked her. She explained even though she only used one can of Lima beans for a dinner every month, what would happen next month if she lost her overtime at the Uniroyal tire plant. She wouldn't be able to have Lima beans in a meal next month. but by buying them this month when she could afford the extra money, she knew it would be there next month. She told me "I have to be ready..." Those words dinged in my head and I have lived by them most of my adult life.
"Always Be Ready..."
Taking those words seriously, I am always planning for a downfall, a loss of income and the what-if's in life. So to prepare and keep my pantry always ready, I will take a few dollars every week when I go shopping and purchase a few extra can of vegetables, soups, packets of seasoning, cooking oil or whatever is on sale that week. Being able to have three containers of cooking oil may not seem like a BIG thing, but if Mr Golden D were to lose his job one day, I know I will have enough cooking oil to prepare meals for a couple of months; which in return will save me money for more important things.
---
▶️ DTube
▶️ IPFS

Other Posts In This Series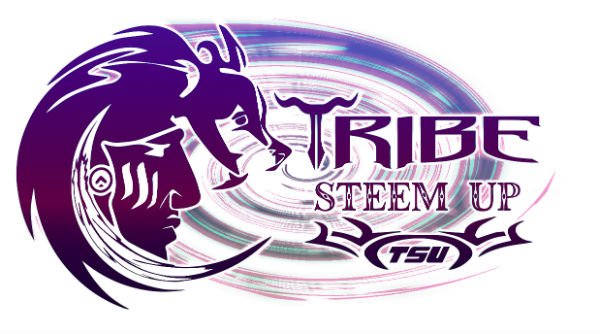 Join Us On Discord