The Steemit Awards 2021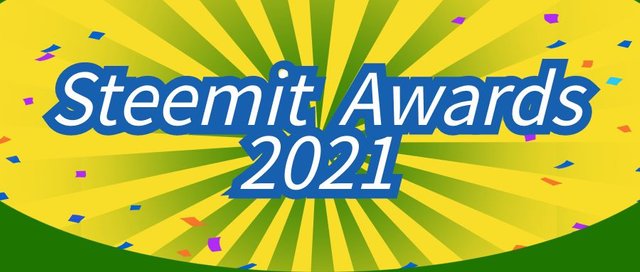 Last year we launched the first annual Steemit Awards.
Now the Awards are back for a second run.
As before there will be awards in three categories - Best Author, Best Contributor to the Community and Best Community.
The winners in each category will win very attractive votes from @steemcurator01.
---
---
The Steemit Awards Categories


This year the Awards will be in the same three categories as last year...
Best Author


This will be for the individual who has consistently produced the highest quality posts.
Their posts might be on any subject, and in any language.
---
Best Contributor to the Community


This will be for the person who has made the greatest contribution to building the Steem community.
It might be through their work as a Country Representative, as a developer, or through setting up and running a Community, or organizing contests or other events or projects.
---
Best Community


This will be for the most active and successful Community.
The Community might be new or old, and might represent a country, or cover a particular subject.
It is not just about numbers of members, but about community activity such as running contests, encouraging and rewarding quality posting, retaining existing members and welcoming and helping newcomers. Building sustainability and self-reliance through growing a community curation account is also important.
---
---
The Steemit Awards Prizes


For each of the three categories there will be five winners who will receive the following prize votes from @steemcurator01...
Communities will need to have a dedicated community curation account to receive the prize vote.
---
---
The Steemit Awards Nominations


We are inviting all members of the Steem community to make nomination posts.
You can nominate yourself or others, but you can only make one nomination for each category, and you should only make one nomination post.
For each category nomination you should explain in no more than 250 words why you think the person or community should win the award.
Nomination posts can be made in any language and must be submitted by 11pm UTC on Sunday, December 19th, 2021.
The posts should include the tag #steemitawards2021 as one of the first 4 tags.
You should also include a tag for your country such as #italy or #indonesia.
---
---
The Steemit Awards Winners


The Steemit Team will review all the nomination posts, and the supporting comments on them.
From these posts and our observations over the past year we will select the five winners for each category.
We plan to announce the winners by Friday, December 31st.
---
---
We look forward to reading your nomination posts.
Thank you
The Steemit Team