A creative idea to play Steemit/Steem and make the world better // 我想到的Steemit创意玩法
For English readers:
Some days ago, @oflyhigh posted that asking guys propose creative ideas to play steem. @coldhair shared his ideas. I did not get any idea at that moment. However, I recently got an idea to play steem at an even higher level. It can make steem even more shining to some extent.
A retired teacher who does not know internet (not to mention steemit) + artworks + steemit = sharing and publishing + acknowledgment
Yesterday, I chatted with my secondary school teacher, Mrs Qingyuan He. She has been learning arts such as paper-cutting art, Chinese calligraphy and local patchwork. But she can only display her works home, not easy to share them with other people. I suggested her to publish her artworks on steemit.com, a blockchain based social blogging platform. With some brief texts, steemit can display her work to the whole world, and may receive upvote earning from kind steemians. These money can also be used to publish her book on local children's songs. Steemit can help her to achieve three goals by just publish her work.
I helped her posted her paper-cutting works on steemit.com using my spare account @tumuta. The post has received overwhelmed positive upvotes from many steemians from allover the world. The famous big whale @abit upvoted the post, and even the trade account @blocktrades also upvoted the post, making the post received more than 150 dollars by time of this post. I told my teacher the story, she is so happy that this is nearly unbelievable. And she said she would be more confident and interesting to learn and create more artworks, to make her retired life more interesting and meaningful.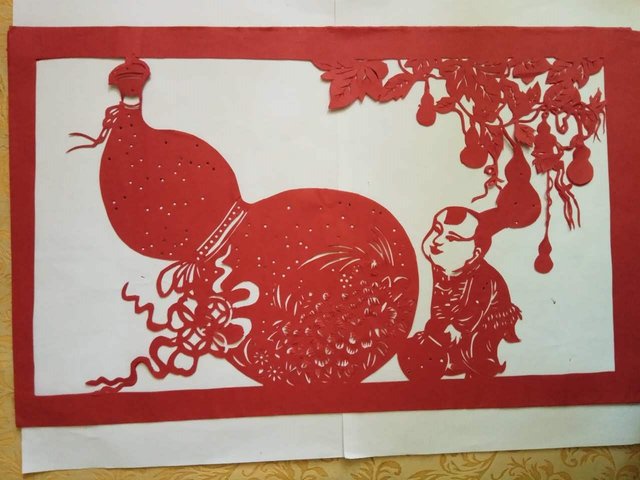 A piece of paper-cutting artwork created by Mrs Qingyuan He.
A Chinese farmer who can only access internet via a mobile phone + writing + steemit = hobby + earning
A couple of days ago, my elder cousin told me that he could only earn about 3000 CNY (about 440 USD) a month when he was working in Guangdong's manufacturing companies. But now he is feeling it is not easy to do this kind of heavy and boring physical work especially when he is approaching his 5o years old.
Therefore, he went back his hometown and restarted his original job: as a farmer, but with even less income. I asked him whether he likes writing. He said he loves writing but did not write so much as there is no place to publish. I suggested him to publish his writings on steemit.com. It can motivate him to write his ideas and stories to steemians, and may receive decent income if steemians likes his work, which can improve his life quality for his family.
My cousin is actually a talent guy even since he was young. He learned carpentry by himself and created lots of items. He also has many creative ideas. But because his poor family background, he has been living a tough life. He may gain funniness and some revenue from writing and posting his stories on steemit.com
Some steemians may know that a lot of friends joined steem as recommended by me ( @tumutanzi). But my teacher and cousin cannot easily use and access steemit.com, steemit may be not accessible in the mainland of China, and the English based website is very hard to use for them. I am very happy to help them post their posts on @tumuta, making them indirectly enjoy the power of steem.
This kind of playing on steem is intereting and meaniful. I think the output from steem will be maximized, which will also make steem grow bigger and more widespread.
You are welcome to follow and support my project @tumuta proposed above. I believe playing steem like this sort will make the world better, is not it?
Feel free to comment your ideas. Thank you, dear steemians.
---

Originally posted on https://steemit.com. Thank you for reading my post, feel free to FOLLOW and Upvote @tumutanzi, which will motivate me to create more quality posts.
---
中文读者:
前一阵 @oflyhigh 提到征集Steem的玩法&创意, @coldhair 也分享了相应的想法,我当时没有想到什么好点子。最近几天,我想到了一个好主意,可以用Steemit做点更高大上的事情,从某种意义上来讲,让Steem的境界更上一层楼。
不懂网络的退休语文老师+艺术作品+Steemit=分享+认可
昨天我和我敬爱的中学语文老师聊天,她说她退休后通过学习艺术,产生了好多作品,剪纸、书法、拼布,但做好了也只能放在家里,无法和别人分享。我给她建议,让她拍成图片,我帮她发布到Steemit区块链博客上,配上简单的中英文说明,就相当于把她的作品推向全世界,与全世界的Steem朋友分享,顺便还能收获一些点赞收入,用以资助她出版收集整理到的当地童谣作品。简直一石三雕的作用。
我今天就帮她把作品发布在我的一个备用账号 @tumuta 里,没想到大家纷纷表示支持鼓励,连大神 @abit 都来Upvote,甚至连 @blocktrades 都破天荒地来点赞支持。我老师知道后,觉得简直不可思议,说她更有劲头去研究这些事情,让她的退休生活过得更充实。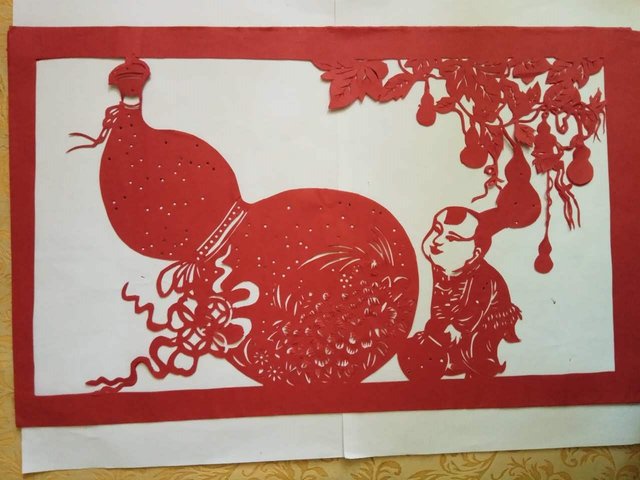 贺庆媛老师创作的剪纸艺术作品
只能手机上网的中国农民+写作+Steemit=兴趣+收入
前几天,我表哥跟我说,他在广东打工时,一天加班三四个小时,一个月只能赚到3000多块钱。现在人快五十,体力大不如前,便回到家里务农,但收入更有限。我问他喜欢不喜欢写作,他说从小爱好写作,只是没有什么地方可以分享,就没有写。我于是跟他说,可以他试着写作一点自己的故事,我帮他发布在Steemit上,没准大家喜欢的话,不但能实现他的写作爱好,而且能赚取到一点收入,补贴家用。
我表哥从小就很有才——他自己学习木工活,制作出很多东西。人也很有想法,只是家境不好,从此蹉跎一生。没准,通过Steemit,可以使他有条件创作文字作品与世界分享他的故事,也能让他的生活增加一些乐趣和实惠。
大家也许知道,最近不少朋友受我的推荐介绍,加入了Steem社区,但我的老师和表哥不能轻易注册和使用Steemit,因为Steemit在国内可能无法访问,而且是英文界面,目前只好我代劳帮他们发布到 @tumuta 上,进而实现他们也使用Steem的目的。
通过这样的玩法,能让Steem既有趣又有意义。我想这也可能是Steem带给我们最实在的正能量。同时,这样的玩法也能促进Steem社区向前健康发展。
欢迎大家关注与支持 @tumuta。让我们在玩转Steemit的同时,用Steemit让这个世界变得更美好,难道不是吗?
欢迎留言提供你的建议和意见。感谢各位!
---


https://steemit.com 首发。感谢阅读,欢迎FOLLOW和Upvote @tumutanzi 激励我创作更多更好的内容。
近期文章 Recent posts