Steem Secrets #4 (Delivered By @gerel): Shake The Steem Blockchain With A Piece Of Awesome "YOU", For "There Was Life Before Steemit".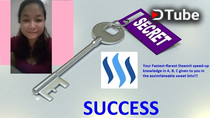 ---
Hi, this is @gerel, i am a minnow on steemit but "whale" inside and i am speaking in the words of @steemsecrets. 
Hahaha, so, what do you think is the first thought that should "ring in the brain" upon landing on steemit? 
"There was life before steemit".  Yes o! 
This starts the entire steemit journey aright and instantly speeds your journey up.  How so? 
First things first, speaking of financial rewards; if you weren't on steemit today, will you not still eat?  "Oh you will!"  
Now, if you just found steemit today, should that all suddenly instantly change?  
And if it does, where is the "YOU" that existed moments before "steemit"? 
So, speaking of "YOU"; what were you doing just before you found steemit?  Where you doing research? Where you planning to take over the world? Where in school trying to pass your exams? Where you trying to build a brand? Where you simply wanting to own a blog or create vlogs? 
Hahaha, or where you try to create a new breed of Fashion e.g ankara mixed with Gucci and brocade? 
Now, did all these dreams, aspirations, goals, desires etc instantly die upon getting on steemit because you found you found blogs with money on them? 
Then; if all these died, where was the "YOU", that existed before steemit?  
Bring that old "YOU" on steemit and shake the steem blockchain with your beauty. Yes, all those buried dreams, those wishes, that enterprise, that vision, those school work and projects, that creativity, that attempt at out-of-the-boxness etc; bring it all on steemit and shake the steem blockchain with a piece of awesome "YOU". 
And what if you don't earn money today?  
"No loss", because you were able to shine still and you know what? "There was life before steemit".  
In truth, if you apply the above; "opportunities" and even money will seek you out and find you and if not today;  "tomorrow!" 
Please follow awesome @gerel, if you picked something of special value from this post. 
Kindly, follow @steemsecrets on steemit, not to miss out on releases and please keep tabs on its Dtube channel for shareable videos. 
Note: We will celebrate each minnow as whales and whales as whales, for "you are whale to me!" Each one will learn while teaching this rare knowledge and will become "whale inside" after each endeavor as we build a shareable library of the fastest-rarest "Steemit" speed-up knowledge in  the most assimilateable sweet bits. 
Then, "fulfilling success" we will attain! 
Follow @steemsecrets, so that you never miss out on any release! Contact us to share in the celebration by featuring on our channel, else we will be contacting you soon! 
 If You Want To Watch & Share A YouTube URL Of The Video Above: