Steem Secrets #3 (Delivered By @enjieneer): "Rewards" On Steemit Involve Way Bigger Things Than "Money". Abeg, Shine Your Eyes!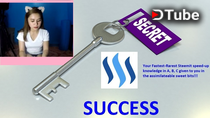 ---
This is @enjieneer speaking in words of @steemsecrets:
Hi steemit family, I am your girl @enjieneer and I am a minnow but "whale inside" and I speak to you in the words of @steemsecrets
Another basic yet very essential thing to remember at the beginning of your steemit journey and even right now is; "rewards" doesn't refer to just money, for there are many types of rewards.
So, while you ransack my wallet and my every post, to find a total of 50 U.S dollars combined and measure my "rewards" by it, I may be relishing instead "the millions of dollars in rewards" derived from connections, friendship, fulfillment, opportunities, self-development, partnerships, mentor-ship, learning etc.
On the side though, realize that not every steemian joined steemit to "make money", for there are tons of reasons to have joined steemit as well, beyond things like money
e.g I may own the bank but come on steemit to reside as minnow solely for the sake of privacy, learning or simply to hangout with reputable like-minds.
Now to conclude; if you are "whale" to me, why bother about ransacking my wallet.
Hahaha, there are way bigger things than "comparisons".
Even when steem becomes 1000 dollars each, I tell you "learning is the ultimate earning" and steemit offers you loads of learning.
"Can't you see?!!!"
So don't let today slip emptily by!
Go back on steemit; incessantly "mine with your mind" in the midst reputable of reputable great minds; evolve in your substance and let's see if even "steem" will not seek you out.
and if steem doesn't seek you out, opportunities will!
In each case, you will have to "open your eyes".
My precious steemian family, "abeg, shine your eyes"
(Message From @steemsecrets)
Please follow awesome @enjieneer, if you picked something of special value from this post.
Kindly, follow @steemsecrets on steemit, not to miss out on releases and please keep tabs on its Dtube channel for shareable videos.
Note: We will celebrate each minnow as whales and whales as whales, for "you are whale to me!"
Each one will learn while teaching this rare knowledge as we build a shareable library of the fastest-rarest "Steemit" speed-up knowledge in the most assimilateable sweet bits.
Then, fulfilling success, we will attain!
Follow @steemsecrets, so that you never miss out on any release!
Contact us to share in the celebration, else we will be contacting you soon!
##If You Want To Watch & Share A YouTube URL Of The Video Above: