Partiko Steemit Mobile DAPP for your Phone - Cool New Way to Access the Steemit Blockchain - Screencast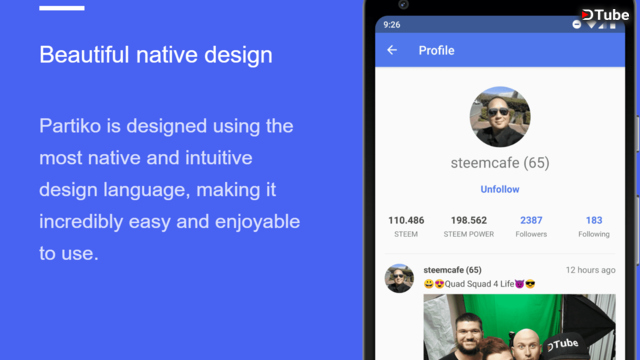 ---
Hey guys, I noticed the other day @stackin had mentioned Partiko a new phone app or DAPP to access the Steemit blockchain.
I decided to give it a try and was thoroughly impressed. Very similar to eSteem, one cool thing they have a point system where you earn points, what those points will be used for at this time is somewhat unclear, however someone from @Partiko did respond to me when I asked if points earn us upvotes and sorta kinda said yeah they are still working it out.
Couple things I like about this app are firstly you can use Steemit on mobile which is cool I also like that it allows those of us with over 500 SP to use the sliding vote bar. it shows you your voting power as well as what your vote is worth while your voting as well.
I also like the notification tab where you can see who's voted for you, who's commented on your post, basically keeps you on top of interacting with other Steemit peeps and recipricating other peoples comments and upvotes.
In this video I give you guys kind of a screencast walkthrough. If you don't know, now you know.
---
▶️ DTube
▶️ IPFS