Hi -- I'm a Writer for CoinDesk and I'm Doing Research for a Story on Steemit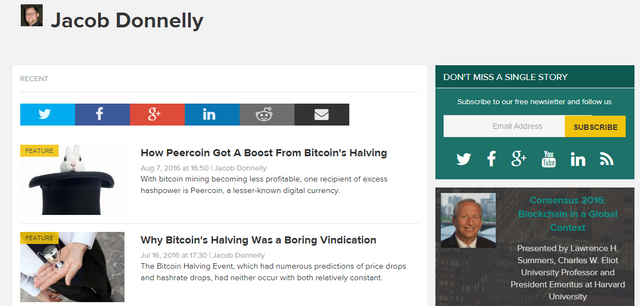 My name is Jacob Donnelly and I am a contributing writer to CoinDesk. I've already introduced myself on Steemit once and have even written a few pieces, experimenting with different types of content. I've experimented with powering down and trying what mechanics I can. However, I've been away for a few weeks so that I could re-approach Steemit with a clear mind. 
The above image is a screenshot of my author page and here is a tweet (liked by CoinDesk) that verifies my identity as a writer. I know, I could take a picture, but I've never much liked photography, so I hope this confirms who I am. 
What I am looking to do is a piece about Steemit, mixing in narrative about people's success on the site, and the underlying function of the site. To achieve that, I obviously plan on talking to guys like @ned and @dan, but I also want to talk to users who have been on the site prior to the explosion in price. Further, I'm interested in talking to witnesses to provide insight into how the DPOS of the platform works. 
Due to the nature of the piece, I'll need people to be on-the-record and will need to fact check what you say. 
Should this piece do well, there might be room for some interesting stories regarding people who have found tremendous success on the site. However, for now, we'll just stick to the higher-level "how does it work" piece. Please recommend anyone in the comments below that I should reach out to. 
If you'd prefer to reach out to me, my email is jacob(at)cryptobrief(dot)com
I appreciate everyone's help.
-Jacob