How to Explore the Steem Blockchain!
Would you like to know how to explore the Steem blockchain because this might be useful for you to have a simple tool just to do that when you need more detail on a transaction like a blog post, an upvote or a comment?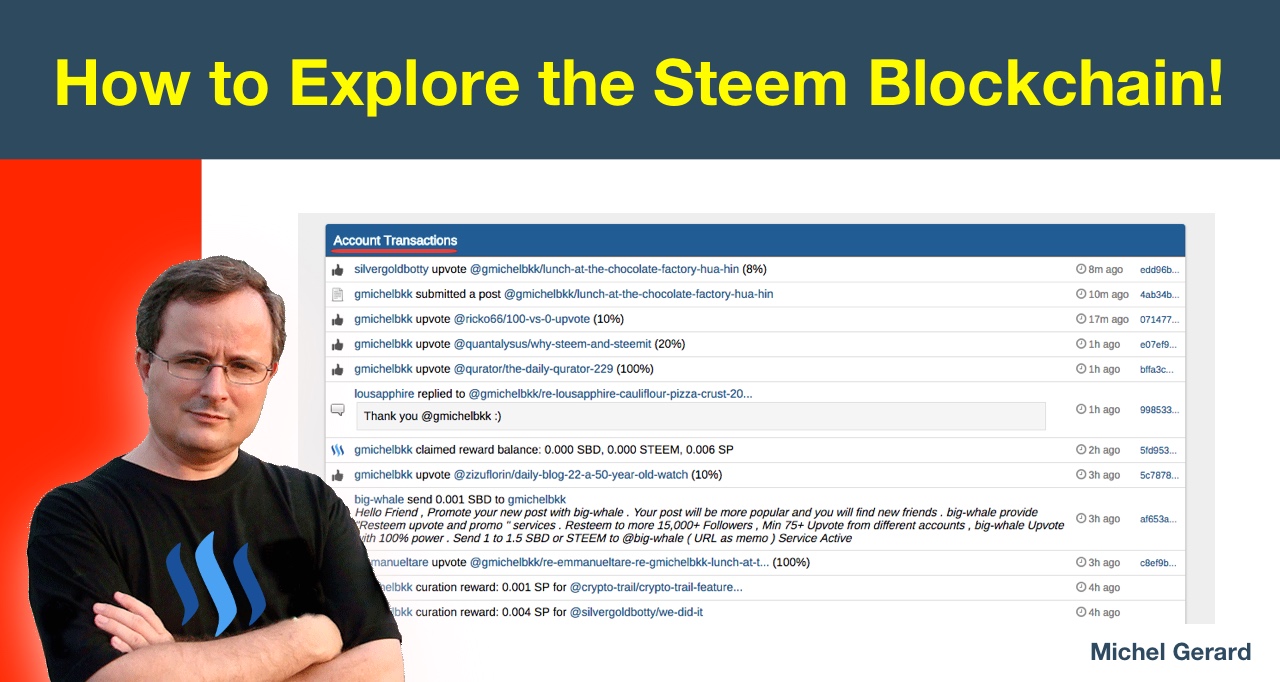 When you hear the word Steem blockchain, it can be very intimidating because this equals to data that piles up and up, data that we don't often understand, data that we can't find, and that is really not appealing to look at.
How to Explore the Steem Blockchain!
Today I'd like to show you a simple tool named "Steem Block Explorer" made with ❤ by @PenguinPablo.
You can access the tool here: https://steemblockexplorer.com
This tool has a very clean interface and it makes it easier to see the different elements of the Steem blockchain.
The first thing you see when you go to Steem Block Explorer is the "Latest Blocks" created on the blockchain.
You can see the witnesses who are creating the blocks and the time, the number of transactions, etcetera.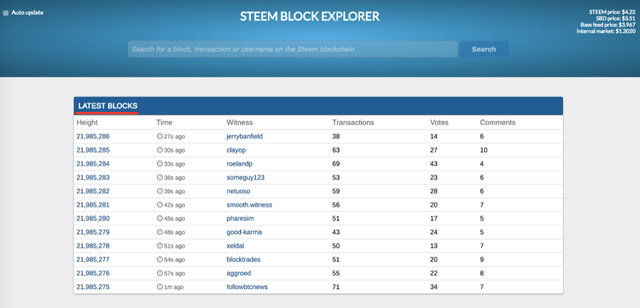 If you scroll down, you will see the "Blockchain Properties" for a certain block.

Then, you can see the "Top 20 Witnesses."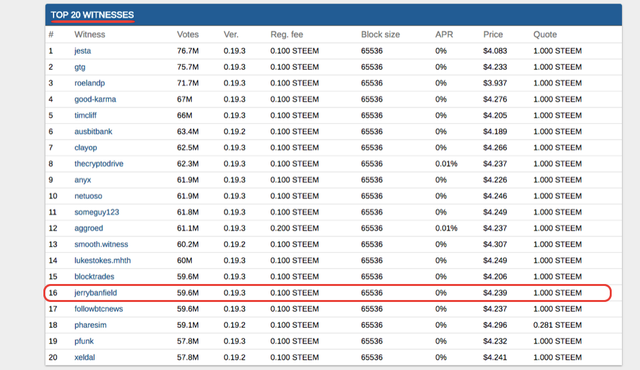 Number 16 is my favorite witness, @jerrybanfield, and you can vote for him simply by clicking this link.
Notice that you can check the box for "Auto update" and if you do that, you will see all the info changing in real time. This will make it impossible to read all the data in the "Blockchain Properties" section for example as it is changing every second. Try it!
At the right of the header you also get the current price for Steem and SBD, which is great.

Now, it is time to explore on your own and you may start by your username. It is alright to have "Auto update" on because things are not changing so fast on your profile.
This will show your reputation, number of posts, your 100% upvote value and what's in your wallet.
Then, you have your "Voting Power" status green bar, which is useful to see so you can keep an healthy percent, ideally more than 80%.
The first section is for the "Account Transactions" and on Steem it is for all actions that happen on the Steem blockchain: upvote, post, comment, claiming rewards, sending/receiving Steem/SBD.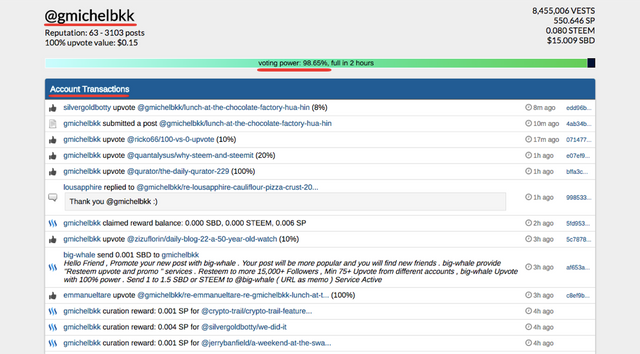 Below that, you can see the "Account" section, details about your account.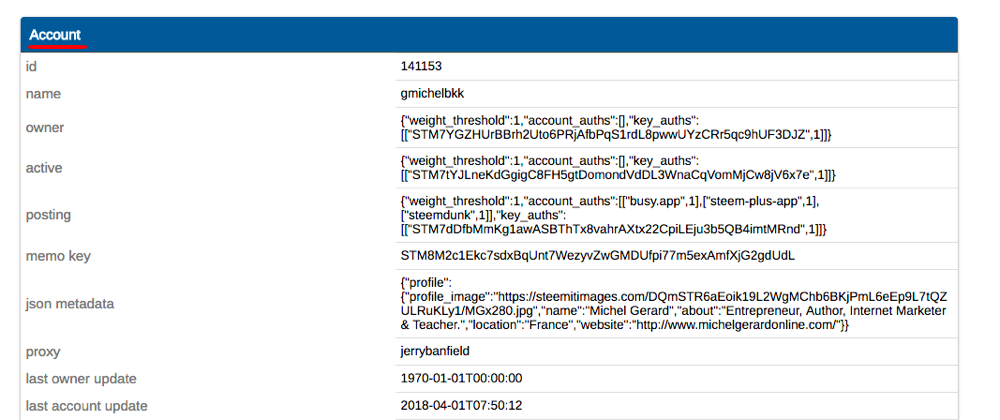 The "Account Transactions" section is the most interesting because it's where you can start your exploration.

You can click on a post and see it on the blockchain.
It will show your text, the amount in SBD earned, the number of votes and who has voted.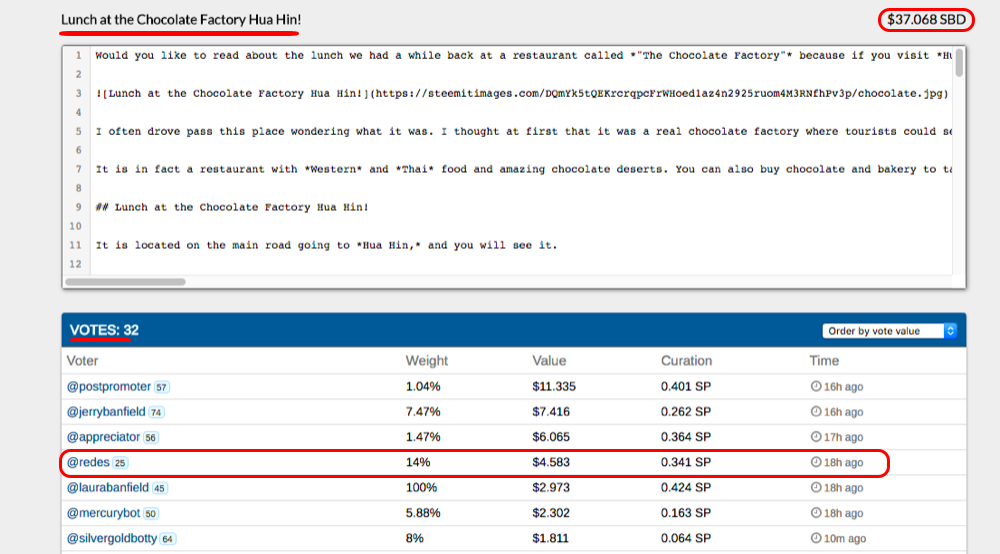 You can see the details for each vote, the weight, value, the curation rewards and time.
You can also see the "Post Properties" below that.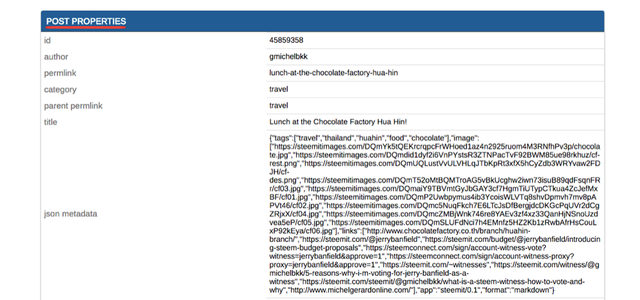 Let's go back to the "Account Transactions" section and this time we can click on a transaction ID like for this comment.

It will show the corresponding transaction, "Operations" and "Raw Transaction data."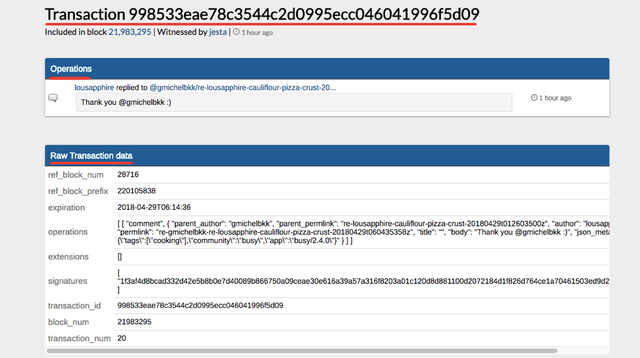 With Steem Block Explorer you really can explore everything on the Steem blockchain and it can also help us to understand a bit more about the Steem blockchain each day.
I encourage you to try it out and tell me what you think in a comment below.
Would you upvote this post and follow me for more because this will encourage me to write more Steem tool posts like this one?
Would you please help @jerrybanfield become a top 10 Witness because you can help funding projects to build Steem as explained here? Vote for jerrybanfield as a witness or set jerrybanfield as a proxy to handle all witness votes at https://steemit.com/~witnesses. Read the 5 reasons why I'm voting for Jerry Banfield as a witness and how to vote in my post. You may be interested to read: What is a Steem Witness, How to Vote and Why?
Michel Gerard