How I Turned $1,590 into $16,480 with Steem?
This is kind of a catchy headline, isn't it? Something that you receive in your inbox daily with all these gurus promising you all this money you can make online, usually without lifting a finger.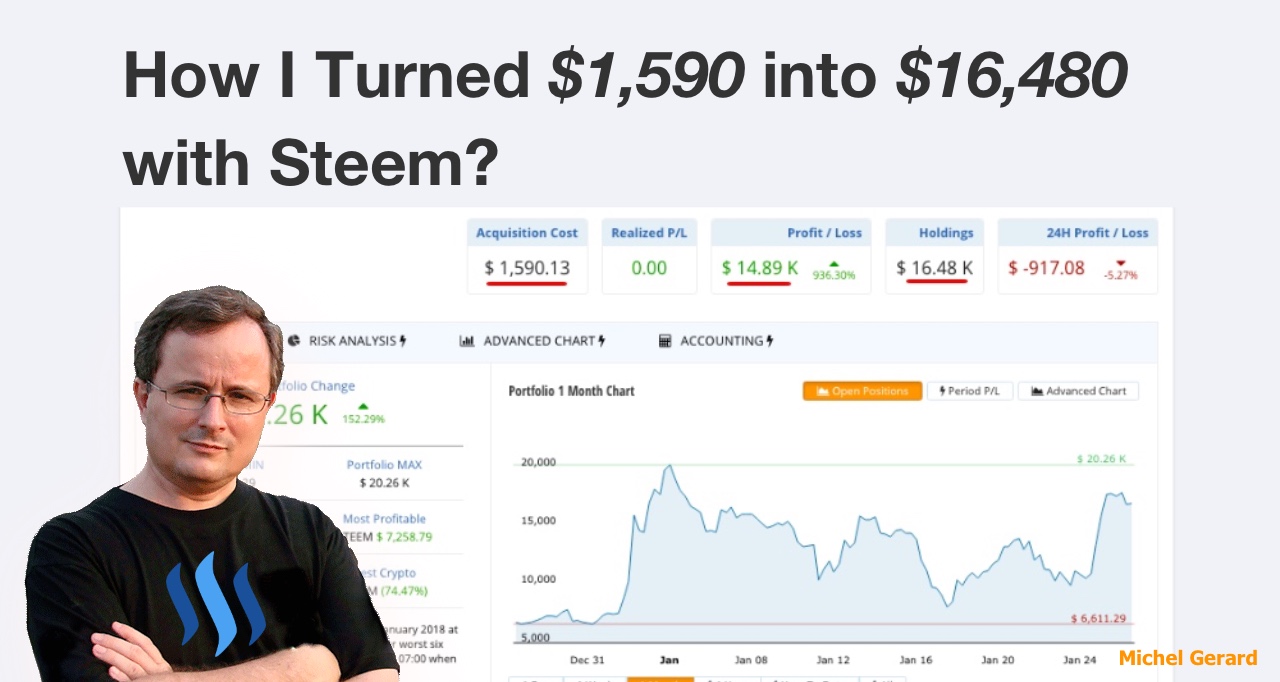 I am sorry to disappoint you, but I had to put in real work and consistency to see this happening, and I am confident that if you look at what I did, you can reproduce it for yourself.
How I Turned $1,590 into $16,480 with Steem?

I only bought for $1,590 worth of Steem and with the rate today at $5.99, my holding is now worth $16,480. This is ten times the amount I paid out of pocket, but this implied working quite hard at it for a couple of months. I will explain in detail and breakdown everything so you can see what I did.
Steem like all the other cryptocurrencies is going up and down, and of course, my holding could be much lower in a few days, or much higher as well. As long as you think long-term, then this doesn't matter because I will always have 2,750 Steem Power, which is set to gain in value as more people start using it seeing all the advantages it has compared to Bitcoin or other star crypto.
7 Steem buys. 

I started on Steemit on 28th May with my introduction post and the day before when I was setting the account, I bought 375 Steem Power at $0.84 each to get started. You can see on the table below all that I bought.
Steem Power
USD
Unit
Date
375.1181
$316.00
$0.84
27 May 17
115.205
$253.39
$2.20
15 June 17
96.72
$105.74
$1.09
15 September 17
130
$130.00
$1.00
01 October 17
132.868
$149.00
$1.12
05 October 17
287.498
$268.00
$0.93
03 November 17
121.079
$368.00
$3.04
29 December 17
1258.4881
$1,590.13
I bought a total of 1,258 Steem Power for $1,590, the cheapest price was $0.84 and the most expensive $3.04. I bought Steem as soon as I had some money to invest and at times when it was in the red at a lower value.
Earning rewards blogging 

When I started in May, it was hard because my posts were earning very little and I didn't write every day.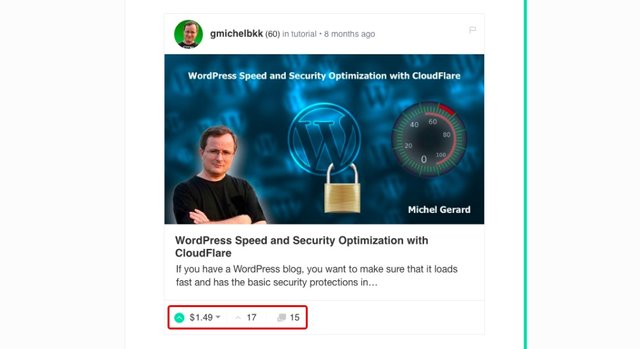 My friend @jerrybanfield started to upvote my posts, which gave me about $5 per post and this encouraged me to start blogging daily 3 months ago. A month ago he stopped upvoting people and I lost that, but having whales upvoting your posts does really help, especially for motivation.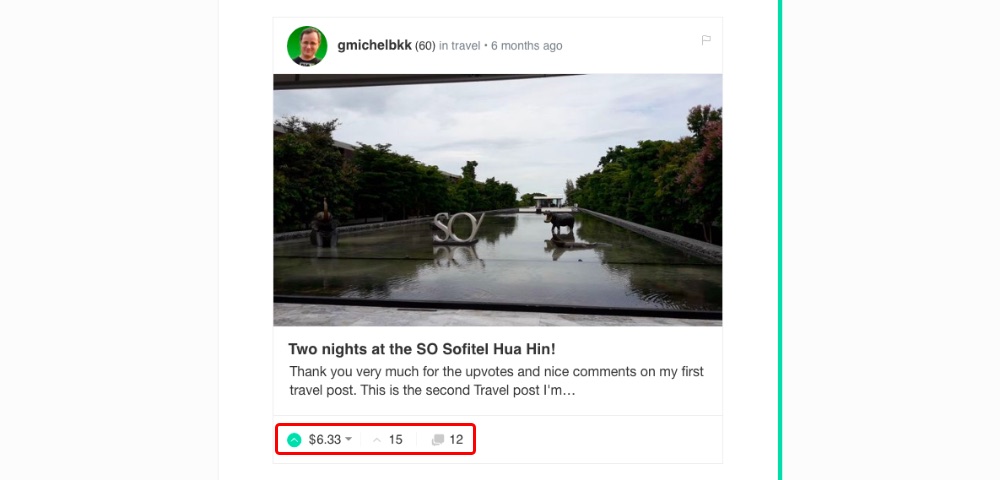 When the big upvote dropped it was hard, so I started to use bots instead to see better rewards on my posts and also give better rewards to curators. I did not use out of pocket money for the bot, just using the rewards in SBD to feed the bots and get more and more Steem Power.
According to steemworld.org/@gmichelbkk I have earned 706 SP for authoring and a few more for curating.

Now my total Steem Power is 2,751 SP, so where does the difference of 1,493 SP comes from, considering I had only 706 SP in rewards?
Remember that author rewards are 50% SP and 50% SBD and I didn't cash out anything. I reinvested all my SBD into promoting my posts with bots or exchanging them for Steem  on the market. Last month was particularly profitable when the value of SBD was very high and the value of Steem still low. You could get a lot of Steem with SBD and that helped a lot. You can see all this in my wallet's history.
I have now 125 quality posts on my Steemit blog.

Blogging every day and seeing the rewards, especially when you pay for bots, may not look like profitable immediately, but you position yourself for future market opportunities where you can change your SBD for a lot more Steem, and when the value of both increase.
Steem Power delegation earnings

Steem is not like Bitcoin, where you get nothing just by holding it, but you can actually delegate your Steem Power to other users and get a return for that. You still have your Steem in your wallet, you only lend your power and can withdraw the delegation with one click.
This is what I have delegated, almost all I have.

Every day I get paid for these delegations.

So far this month, I got 9 Steem and 49 SBD, which I exchange for Steem Power, and delegate more. It's compounding and the returns are growing every day regardless of the present value of Steem or SBD.
I hope you'd like to try that: New Automatic Daily Payouts of 60% APR for Steem Power Delegations!
My Steem Power holding.
I entered all my transactions for my Steem Power in CryptoCompare so I can see how it's going. Notice the 7 buys and the rest is all from rewards and delegations for a month.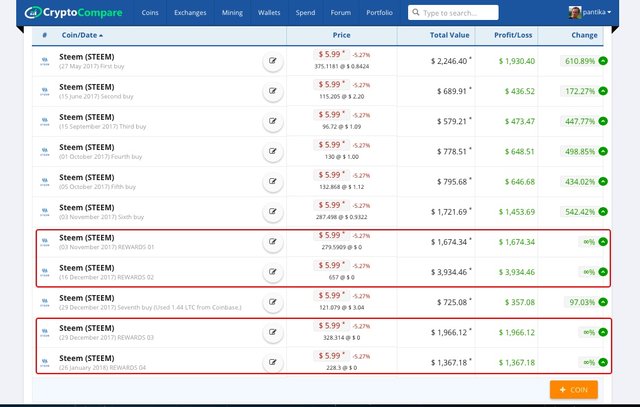 As you can see everything is in the green for profit and the rewards will always be because I had them for free.
You may be interested to read: How to Create your Cryptocurrency Portfolio on CryptoCompare
In conclusion, this is my favorite image.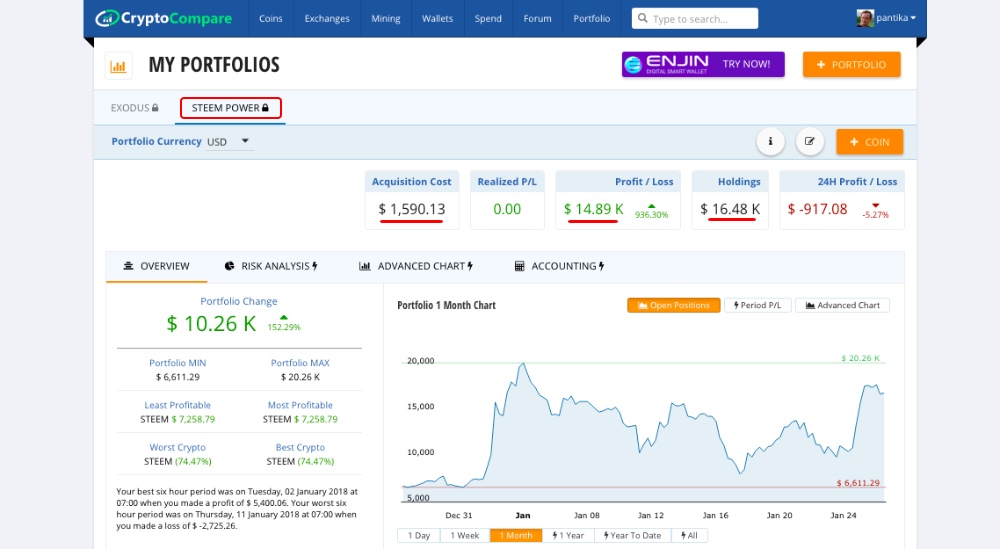 What I want to show is that with very little money, but putting the work, you can grow your Steem holding. I have some friends who had more money to invest and they had to work less for better results, and I know you may have less to invest than me, but if you put on the same amount of work, you will see your account grow, reinvesting all that you earn for a big potential return in the future.
Would you upvote this post and follow me for more because this will encourage me to write more posts like this one?
Would you please help @jerrybanfield become a top 20 witness because you can help funding projects to build Steem as explained here? Vote for jerrybanfield as a witness or set jerrybanfield as a proxy to handle all witness votes at https://steemit.com/~witnesses. Read the 5 reasons why I'm voting for Jerry Banfield as a witness and how to vote in my post.
Michel Gerard