I'd like to start this post by saying that I understand post rewards are incredibly subjective. The kind of post that I personally feel deserves a large payout could be completely different from what someone else thinks is a good post and that is OK. There really is no right answer, everyone is allowed to vote their stake however they like but hopefully here I can interact with a few people and figure out the logic behind some of the voting.
I plan on looking at one user in particular but I am sure there are dozens of other similar posts out there that would fit this scenario just as well. I also wanted to say this is nothing personal against the particular person I am going to use as an example, it just happened to be one I came across recently. Now with all that being said, lets look at an example of what I am talking about. 
What sort of posts am I talking about?
For my example, I chose this user-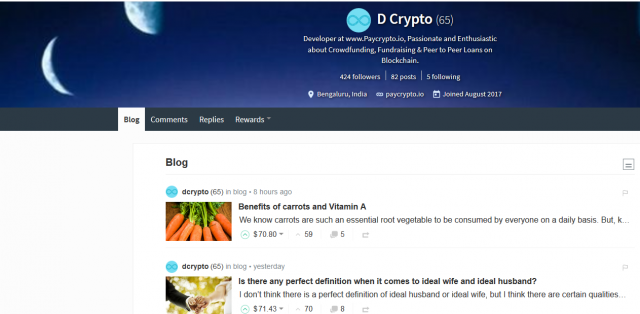 The user is @dcrypto and he joined Steemit in August of 2017. Based on his profile he seems to be from India and writes about a wide variety of topics. There are a number of health related posts, some science, some about his native India. He seems to be more interested in posting articles than commenting as he has 82 posts and only 2 of them are comments.
In my opinion I would say the writing of the posts is pretty average. Based on the grammar it is pretty obvious the writer isn't a native English speaker. There isn't anything wrong with that but sometimes some of the context of the writing can be lost in translation. So what is the point of pointing out a rather average Steemian both in terms of writing quality and quantity?
The Rewards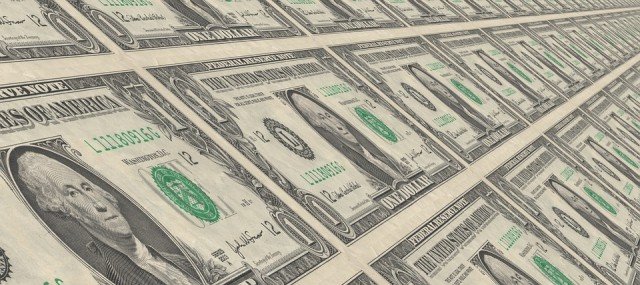 One thing that is decidedly not average about this user is their success. From his very first post on Steemit he was earning hefty rewards. He is posting a new article just about every day or every other day and each post earns an average of a little over 50$. Many Steemians would kill to earn that much per post so I wanted to see if perhaps with this post I could get a little more insight as to who values his posts so highly and why. Maybe I will be able to tease out the secrets of his success and find a way to incorporate them into my own writing. 
Who is voting for him?
http://www.steemreports.com/ is a great website to get more info about the voting habits of people on Steemit. Looking up our user @dcrypto here is what I found-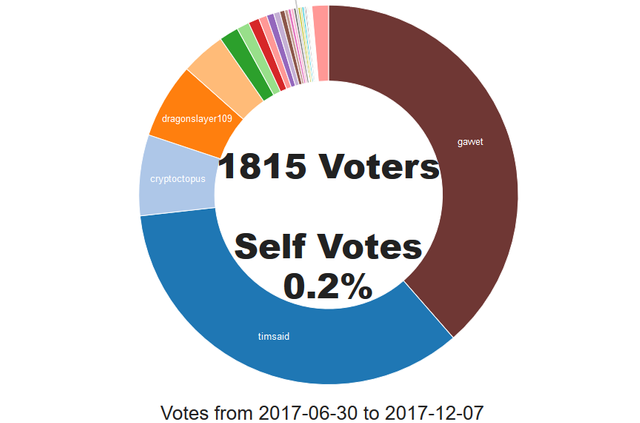 With all the debate surrounding self-voting lately it is refreshing to see a user who is definitely not even close to being controversial with voting on his own posts. Instead we see that close to 75% of all his rewards come from @gavvet and @timsaid. At 50 dollars a post and almost a post a day lately that is pretty large sum of money. 
So the point of this post is to ask, why? I would love to hear from @gavvet or @timsaid and figure out why you value these posts so highly? The topics are all really generic so I don't see anything standing out from that aspect. The translation is iffy, you get paragraphs like this one-
 However, what if thinkings are different for both people? A woman enters a man's life with full of dreams that associates with love.  She expects some surprises and gifts at earlier stages from her husband, and she wishes for an abundance of love from her husband. On the other hand, husband wishes for love but that may stay until he gets some work  to do, which doesn't mean he stopped loving.  Sadly, I think two characters who get married may be really with different mentalities. No one is wrong or no one is correct. 
So what is it about this particular author/articles that make them worthy of your daily votes for upwards of 50, 60, 70 dollars per post? Is it the subject matter? Is he a personal friend? Keep in mind that none of those are bad things. Vote for whoever you want for whatever reasons you want, I'm just trying to figure out those reasons. The articles seem to have sources and don't appear to be plagiarized or copy/pasted so none of this abuse, I just want to attempt to understand the reasoning here. I could always use a few more bucks so if articles about the health benefits of carrots, why our bodies need sunlight, or the positive benefits of commonly used rice are legitimately topics that tickle your fancy to the tune of 50 dollars a post I'll start cranking them out daily as well.
I have no idea if @gavvet or @timsaid will even see this post or care enough to respond but seeing all the posts from drcypto and thinking "meh" I wanted to reach out and see if you guys could change my mind and make see whatever it is you see in those posts. As always I hope to hear from people in the comments and feel free to leave me any thoughts/comments/critiques on this article. 
*All images in this post that aren't screenshots of steemit related sites are from Pixabay