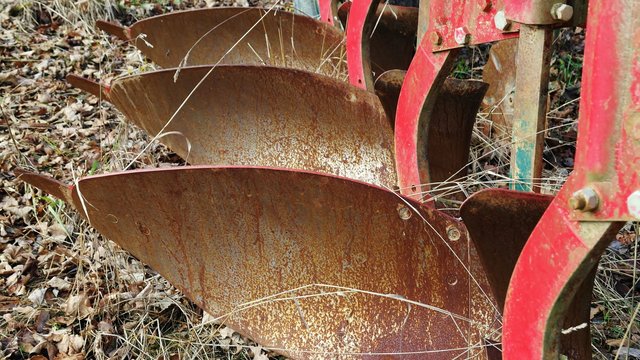 In the beginning all progress is unfair. The more disruptive its effects, the more turmoil it generates.
The First Farmer And The Plough
Let's try an exercise of imagination. Let's travel back in time, 10.000 year ago, when Homo Sapiens discovered farming.
It must have been a very disruptive thing. I mean the realization of the whole process: isolating seeds from produce, putting them into ground, taking care of them and waiting until they ripen. This was big. I don't think everybody was aware of long term impact of this thing. I imagine that in the beginning there were a lot of people still advocating hunting and gathering big time. And only very few were seeing the benefits of agriculture.
It's kind of like Steemit versus Facebook. In Steemit you put some seeds, grow them and then you wait until they ripen (I'm not talking specifically about Steem Power here, but merely about the whole idea of putting a complex economy, backed by a crypto-currency, behind a social media website, decentralizing it and generating revenue directly for participants). The vast majority of people, right now, are on Facebook. They are advocating Facebook big time, just like 10.000 years ago some people were advocating hunting and gathering. And just like the first farmers, Steemians are kind of marginalized now.
Are you following?
Good, because we're taking this even further.
Now, let's focus a bit on the farmers. They're just a small lot, but even in this small lot there are people willing to do more than others. Some of them realize, at some point, that if you scratch the ground a little, the seeds will grow faster and the crops will be stronger. And they invent the plough. And they soon think to multiply their power by using animals to pull the plough.
They invent a tool. And this tool will have the interesting effect of multiplying their results by an order of magnitude. This is huge. Like really, really huge.
Now, and I want you to be really, really honest: how do you think a normal farmer feels about the guys who are using ploughs?
I'll tell you how: he thinks they're having an unfair advantage. They tend to think that this whole plough thing is deeply unfair.
But you know what? The plough is also useful. Extremely useful.
The Bots Are Both Unfair And Useful
Voting bots on Steemit are nothing more than a tool. We may have a little bit of a hard time understanding that, because they're just some digital algorithms stored inside of a computer, but they're fundamentally just some cows pulling a plow. They're multiplying the results of a Steemit farmer. That's all.
Are they unfair? From the point of view of a farmer who never used a tool and always did his curating manually, well, they are unfair.
Are they useful? Of course. Not only they are generating relevant income for their owners but, because they are learning, they are impacting the whole ecosystem by promoting more relevant content.
I don't have - yet - a bot on Steemt, but given enough free time, I would gladly start to write one.
I think in the near future - 5 or 10 years - bots will be mainstream. And I'm not talking only on Steemit, but in many areas. There are dozens of use cases in our daily lives in which bots will be relevant, from making reservations to a restaurant, a flight or a holiday up to assisted learning.
Just like 2000 years ago you measured the wealth of somebody by the number of his or her cows, you will measure someone's value by the effectiveness of his or her bots.
---
I'm a serial entrepreneur, blogger and ultrarunner. You can find me mainly on my blog at Dragos Roua where I write about productivity, business, relationships and running. Here on Steemit you may stay updated by following me @dragosroua.

---
Vote for me as a witness here:
https://steemit.com/~witnesses