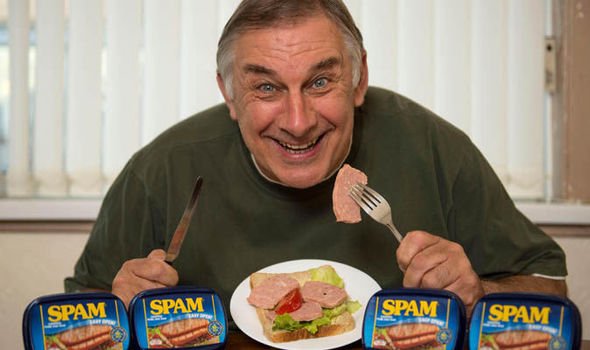 Steemit is a wonderful place to meet people, make friends, view content, make some money while goofin' off on the interwebz and just generally enjoy a nice community. The only thing is, as of late with more and more new members I've been seeing a little bit of.. well, horrible marketing. Spam. And not just any spam, but the shit that makes you just want to slap some sense into these people! It makes me wince because I'm a marketer, it's just who I am. But I don't get it? Some of the rookie mistakes are on the same level as sending a dick pic to a girl you never met before without even saying a single word. Most likely it's grainy too, your penis is shriveled up and there's a hint of herpes there at the tip. Sexy.
No but seriously, why would you go onto someone's post and just PUSH your content without even giving any content? Zero innovation and motivation on your part gives me zero interest in viewing your stuff. I try to be respectful here, so I don't flag any newbie posts (although I could easily) and sometimes I even try to give a few pointers and maybe a few cents worth of upvotes to get them on the right track.
---
Let's go through all the types of spam I see on a daily basis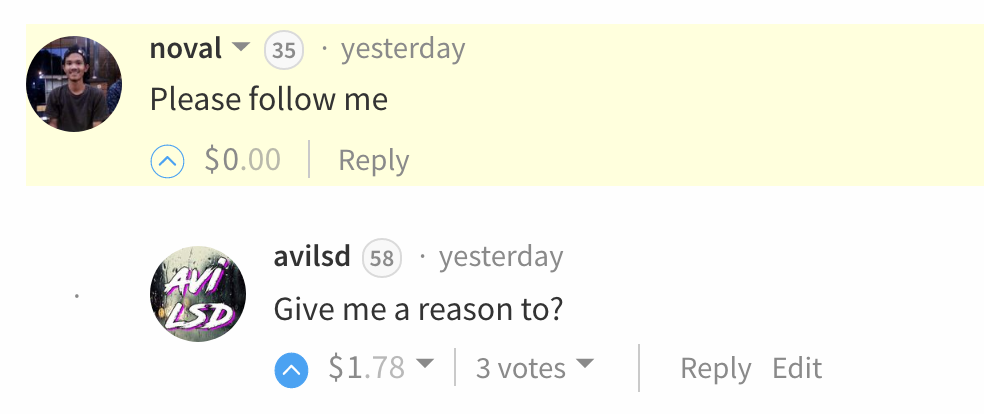 PLEASE GIVE ME MONEY - translated for you guys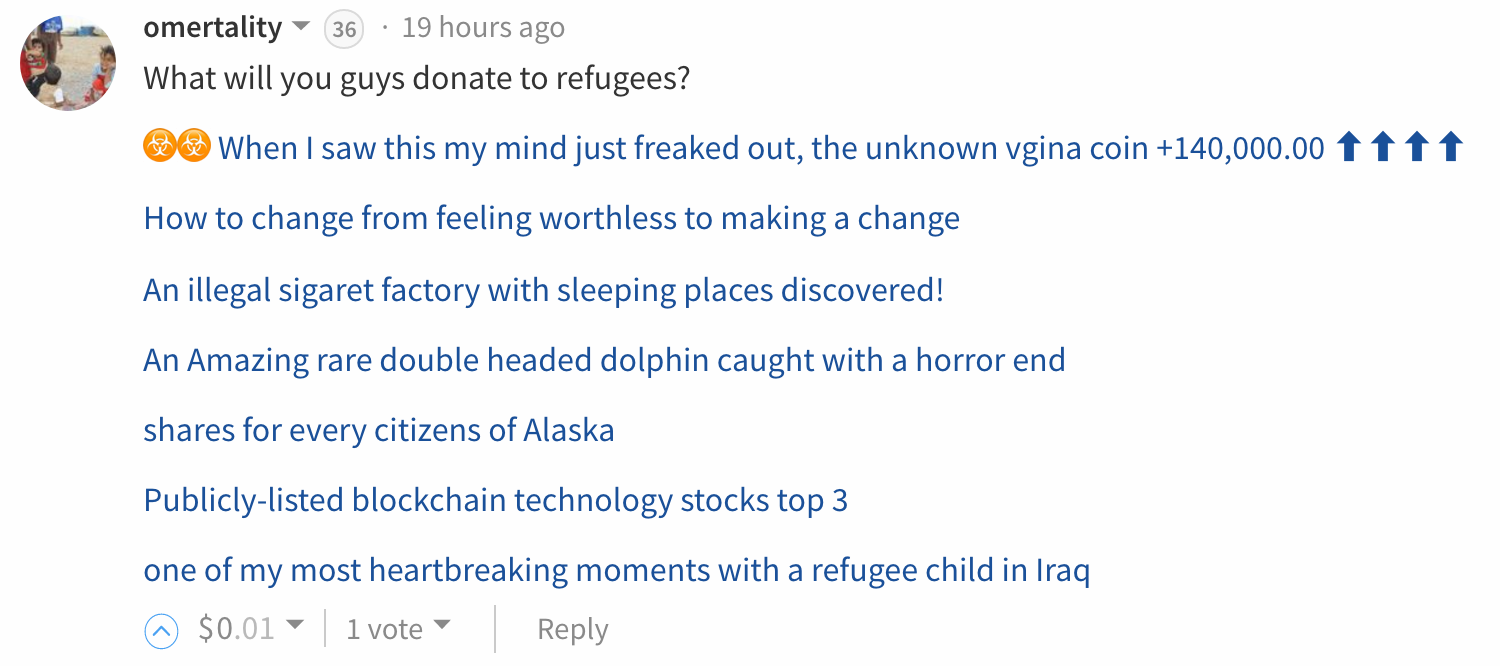 And just above that.. we have this gem (sorry, but this won't help you rake in those views either!)


The "I couldn't be bothered to even write a word" advertisement


This guy seems like he's 10x better than the rest.. but then again, maybe we've just been seeing so much shit that the standards have been dropped yet again. Spam in disguise.


I'll give this one credit, at least he's posting to try to get the attention of Jeff.. slightly better marketing
---
Anyways, so mainly you have the same formula for a PERFECT spam comment. "Hey, here's my link: xxxx, I'm new plzzzz upvote or else I get killed by my alien hostage takers"
I could go on and on for forever about the different types of spam, but let's get to the meat and potatoes here...
IF YOU WANT TO EARN A FOLLOWING, EARN GOOD MONEY, GAIN RESPECT AND BECOME A REPUTABLE PART OF STEEMIT.. (Or any community for that matter), if you're going to promote your content, at least do it this way:
Ask yourself, is this your best piece of content? No? Go back to the drawing board.
Once you have an amazing post, did you post it respectfully in areas where you're allowed to freely market (facebook, twitter feed, reddit, etc.)? No? Go snort some cocaine!
If you are going to post on someone's feed, what's your objective?
If you have everything set up.. DON'T BE SELFISH. Think as to how to best engage the person you're targeting. Just throwing links and begging won't do jackshit for you. Hell, it'll hurt ya!
Engage, engage, engage. The more you give, the more you'll receive.
Before you expect anything in return, you must give out as much as you can :)
Also just 3 lines of coke can help...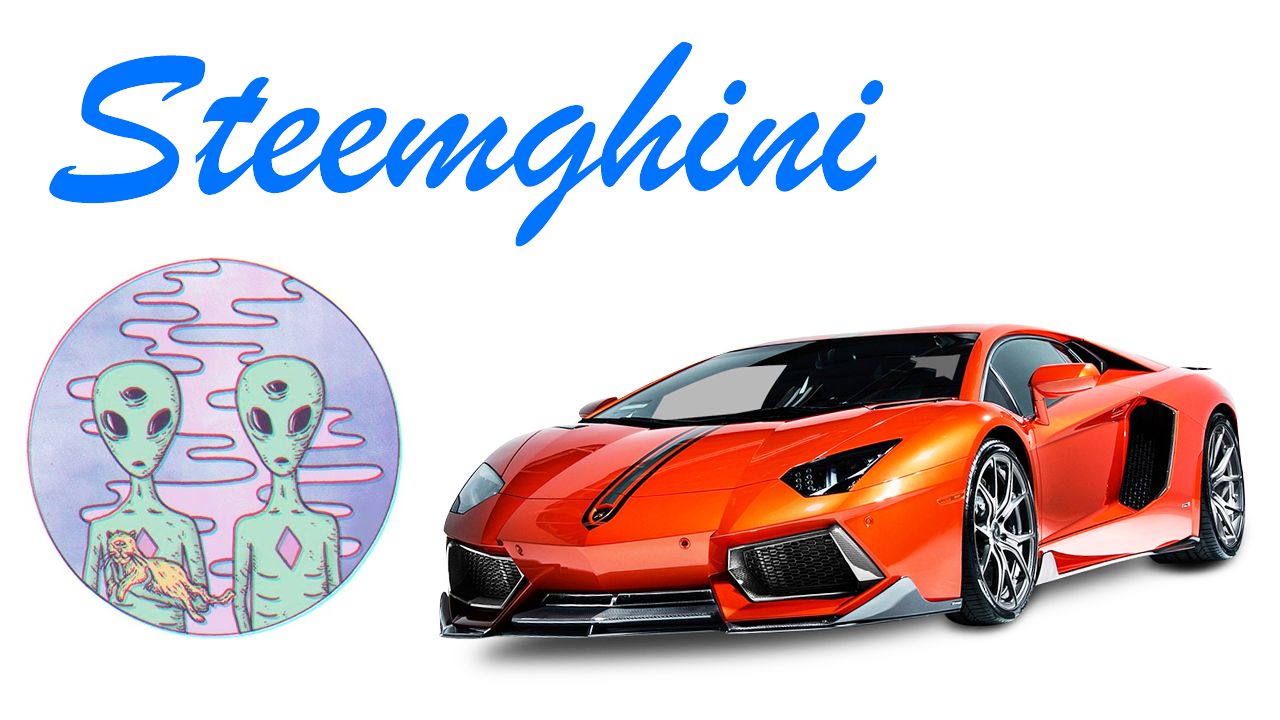 Please support my cokemobile fund, I want to save the aliens from Math!
---