😉好帖太多,时间太少。So many good posts, so little time.😉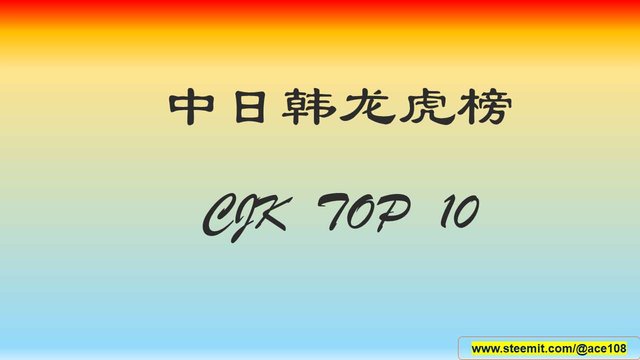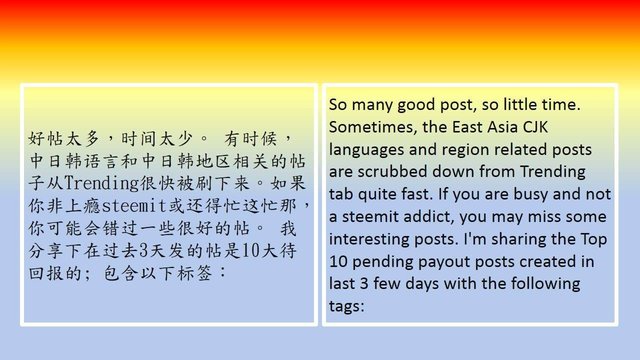 양질의 게시물이 다량으로 업로드 되고 있으나 모두 읽어볼 수 있는 시간이 부족한 상황입니다. 그와 함께 한중일에 관련된 게시물이 매우 빠른 속도로 피드에서 밀리는 상황이 발생하고 있습니다. 바쁘거나 스팀잇에 중독되지 않은 이상 괜찮은 포스팅을 놓치는 경우가 많습니다. 그래서 지난 3일간 가장 많은 보팅을 받은 TOP 10 포스팅을 공유해드립니다.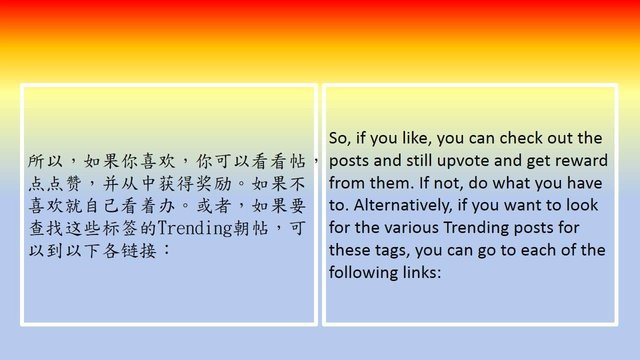 리스트에 소개된 포스팅을 읽어보시고 마음에 드시면 보팅과 함께 큐레이션 보상을 획득하세요. 마음에 들지 않으시면 여러분의 판단에 맡기겠습니다. 다양한 인기 포스팅을 찾으실 경우 각 본 게시물에 소개된 태그를 클릭해보세요.
---
🎶Meanwhile, some music for you to enjoy as you read. This piece is part of Vivaldi's The Four Seasons, particular the first of the 4 violin concertos, called Winter.

🎶让大家继续读的时候,欣赏一点音乐。这件作品是维瓦尔第的"四季"的一部分 - 4小提琴协奏曲中的第一首,名为"冬天"。

Source | 来源: https://musopen.org/
Top 10 CJK pending payout post created since 20190110->



Source of data: steemsql.com extracted 2019-01-17T02:33:33.860
Note: Korean translation done with help of
@brandonlee88
Note: Access to SteemSQL is currently provided at subscription fee of 10 SBD per month.
See this post from @arcange for more details: SteemSQL is moving to a monthly subscription model

My Referral Links to recent airdrops | 我最近参与的空投连接



Please see my other posts:
@ace108
请看我其他帖: @ace108
---

I See👀. I Shoot📷. I Steemit♨️.