Who do I Follow on Steem and Why. What's Kept Me Here When Other Social Media Sites Have failed?
How I Met Steem
Social media was something I dipped my toe in back in 2008 or maybe 2009 with Facebook. A couple of years later I'd deleted my account to cut out the frenemies and general fakeness, which was leading me down my own path of trying to be something I'm not. Better to talk to people in person and email the people I truly cared about with any catching up we wanted to do.
Some years later I was looking at getting my gardens producing food and medicine and while researching I came across Justin Rhodes, who said that whatever we were trying to do on sustainability, we should share it, however we can. Let others see what can be done and what we're learning. So I took the plunge and jumped back into social media. I opened a personal account on Facebook, purely to run The Miniature Smallholding page and opened an Instagram account as @minismallholding. I even started up a YouTube account, but knew there was little likelihood of making an income from it, with the changes they were making. I started a blog on Weebly and tried to figure out if the social media accounts could drive traffic there. To be honest, the only thing I got much traction on was Instagram and that was probably a different sort of following who were just interested in the cuter chicken cuddles photos and baby chicks.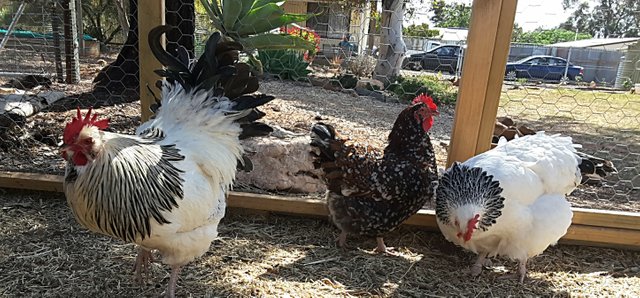 It was actually Facebook that steered me in the direction which led me to Steem. While stalking a local gardener's page, a came across a post from one of his friends saying "if only I got a cent for every word I wrote. In fact, over on Steemit, I've been getting more than that!" or words to that effect. Yes, back in 2017, this guy was promoting Steem and it lured both myself and my gardening friend, @ligayagardener, onto Steem. Sadly the promoter, @reville, didn't stay long, which is really quite a loss, because his content was always of high quality. Unfortunately, the big voters couldn't upvote all of his work, so it dropped to getting just cents, which must have been disappointing for such well researched and detailed work. If only he'd been able to stick it out, I'm sure he would be having much more consistent rewards now.
That's what brought me to Steem, but what has made me stay has to be the whole dynamic and community of the site. It's really not quite like any other social media. It's not a case of connecting with friends and family like on Facebook. It's not a popularity contest like Instagram. You don't have to just post in videos, like YouTube (making videos is really not my strong point). In fact, because it was a little complex and daunting, it meant that the community was the most supportive I'd come across as they tried to help me find my feet and is never even met any of them before!
Who I Follow and Why
Probably the first person I followed was @ligayagarden, but he lost his keys and signed up again as @ligayagardener, who I still follow today as his posting is relevant for me, if a little sporadic.
One of the first communities to find me was the homesteading one; at the time it was created and led by @greenacrehome, sadly no longer active. Just as prominent in that community and, at the time, not long on Steem himself was @pennsif. I'm pleased to say he is still around now. The likelihood is that most users today will know him, as he's really thrown himself into the support and promotion of the Steem blockchain. I still follow both accounts today, but with @greenacrehome it may only be for sentimental reasons. @pennsif has been a rock and continues to be to this day.
The next people to reach out to me were from the @teamaustralia community, for the country where I reside. @choogirl was something of a figurehead for #teamaustralia, quick to make a big impression, a bubbly, welcoming and supportive personality. She isn't as active today, but is still around, mostly working on @steemitworldmap curation. Being a part of TeamAustralia naturally means I follow @ausbitbank too. While he may not post very often he works hard behind the scenes to support not only his country's community, but a lot of other Steem projects too.
Shortly after joining the TeamAustralia community I was quickly scooped up into @mattclarke's ample embrace to join up with the Adelaide #mallsballers community. Here's another who is passionate about the potentials of the Steem blockchain and for him felt it seemed only right to connect on a more local level. Because of him, @o07 and @holoz0r, there is a physical Adelaide Steem community that meets up most months. Sadly @o07 burnt himself out and has bowed out of Steem, but I'll still keep that follow on him in the hope that he will one day return. @holoz0r and @lordnigel have done so much work on the technical side for the Adelaide Steem community and continue to do so. @lordnigel is currently building an interactive computer game, @ibt-survival, with a view to it going on the blockchain.
A few Adelaide Steemians have come and gone, some still pop in occasionally, but the other consistent ones are @shaidon, who has come such a long way with his interactions and posts on Steem, and @galenkp, with his intriguing random ramblings which are often fun and/or insightful. I may be one of the few people who met Galen before the other KP, his brother @tarazkp; another insightful writer.
Backtracking slightly, to the homesteading and natural living side of things, big influencers for me, in no particular order, have been @sagescrub, @riverflows, @eco-alex, @artemislives, @kennyskitchen, @trucklife-family and @crosheille. They are all leaders or co-leaders of the communities, @homesteaderscoop, @naturalmedicine, @ecotrain, @HomeEdders, @needleworkmonday and @tribesteemup. Communities it's a joy to be involved and which are also the reason I've been connecting with more and more lovely souls across the world. @sagescrub has been inactive for a while, since the arrival of his son, but he's taken a break before and come back, so I think we'll be seeing him again.
More recently I've started following @acidyo, @theycallmedan, who have a vision and a path to promote and improve Steem like few others have done before.
So many people have ceased activity since I started Steem and I feel like the ones who've stayed have done so because they've had a purpose, but also stuck to what they can manage without burning out. Someone I've followed for a while is @goldenoakfarm. She posts most days, often just little updates on what's been happening on her homestead and these might only earn a few cents. Occasionally she'll post something more detailed and that deservedly earns more. However, money is not why she posts. Recently she reflected on her two years here and had this to say about why she uses Steem:
"I just wanted to post about my life on the homestead. My posts serve another purpose: memory. Lyme disease has trashed my memory and by writing posts of what I do, I have a record I can go back and read."
I felt this was poignant and it's a reminder that we should be posting for our own reasons, not for what we think others expect.
I follow who I follow for a variety of reasons, but most of them purely because I like and respect them for who they are. I could name so many more wonderful people, but that would make for a very long post, so I hope you all know who you are and how important you are.
~○♤○~
---
Posted via Marlians.com