Hello and welcome to this week's featured steemian. Today we are looking at the work of one special content creator. @tattoodjay
Jay is a Kiwi (New Zealander) living in Milford, Connecticut in the USA who works in New York City.
Jay is one of those people that can point a camera at just about anything and make a great photograph. Jay is also the inspiration behind the very popular and energising #wednesdaywalk photo tag.
His photographic style and range are eclectic ranging from hidden little gems of art work in the New York metro area. To secret little courtyards and gardens that most people will never see or even realise exist in the big apple.
With his photo walks back home along Walnut Beach he captures beautiful sunsets as well as sunrises. He has a knack of painting a great picture as his tagline states. He is Singing with light
Walnut Beach
Occasionally he posts about 'trash art'. This is art that is literally made from trash and it is often quite astonishing.
On a recent trip to one such trash art exhibition he managed to grab some photos and had intended to go back for more but found that the show had moved on.
Trash Art
Lesson: - Get the shot while you can. Life doesn't stand still
The main point about good quality social media is that it shows us things we may never see anywhere else from the unique perspective of the person sharing the content.
Remember this. If you can find it on Wikipedia it is not original content.
The @steemimages project is simple but not easy. To search for good content and to encourage people and watch them as they grow and develop and to help get them some more engagement by upvoting them in a positive and uplifting manner. The account votes 10 times a day at 100% vote power.
Tip 1
If you want to improve your photography. It will help you, if you to look at as many photographers as possible both in the topic you are interested in and also some genres that you are not interested in. It can give you new ideas.
If you want to improve your writing skills then there is nothing like practicing your writing every day to see what works and what can be improved. Remember even Charles Dickens started out as a hack court reporter.
If you want to improve your coding skills then there is only one way to do it...do it.
Not everyone has that special something that is required to make great photos. You have to practice your art daily and hope that you can make progress.
Looking at Jay's considerable body of work on the steem blockchain you can see consistently good images showing us a slice of New York life that few people will get to see in person. It is my opinion that his work is a very valuable and unique collection of content on our blockchain.
Jay's take on New York streetlife
Street Art around Soho
It's a birdbath Jay 😊
Century 21
Eduardo Kobra Murals Ellis
Jay's scenes of New York give us a glimpse into a world that the casual tourist will not usually have access to. This is the power of seeing New York through the lens of a skilled photographer.
I hope you have enjoyed the work this week and have found a new steemian worth your time and attention.
@steemimages doesn't follow any accounts and we don't play favorites. We are looking for interesting content that many people will never get the opportunity to see in any other way except through the committed efforts and hard work of our fellow steemians.
The image quality (I.Q.) of the content is the most important point and the skill and eye of the photographer of these photographs shows what can be acheived.
The graphic below shows that @steemimages manually upvoted and resteemed 69 posts from 46 accounts over the last seven days. Data source Steemworld created by @steemchiller
The data can all be checked for accuracy on steemworldEvery post that gets upvoted also gets resteemed.
Steemimages voting data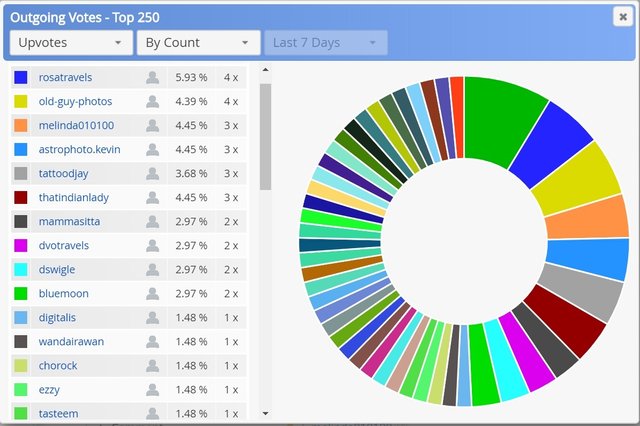 Tips!
More people will see your work if it is tagged correctly. Using the most appropriate tags for your photographs will increase the number of views and potential upvotes that you may get from people interested in that topic.
All of us steemians on the steem network have a very simple task. To find the best content and reward it. What is good content is of course impossible to quantify as it is totally subjective.
Our criteria is simple. We are looking for good content and image quality (IQ). Images that are sharp and in focus.
We hope that our upvotes and resteems will encourage people to keep posting and get more people to see your work. Don't forget to share your posts on social media for more exposure.
Tips!
It always a good idea to ask yourself why you took a particular shot? What was it about that image that attracted your interest?
We have many talented people on the steem network in various fields. All of us have an important role to play to make steem a success.
I hope you enjoyed our selection of Jay's work and we have only scratched the surface of his work here. We hope that you will spread the word about this very active steemian. Give him an upvote and a follow.
@steemimages job is to boost's good content creators to the wider community with 100% upvotes and resteems of their work
Tips!
Remember to use the correct hashtags on your content which helps people to find your work.
Please do not ask for upvotes or follows and do not send any steem or SBD to this account. If you do it will be treated as a donation. We wish to remain unbiased in our selections and we want to encourage everyone to get engaged.
If you would like to know more about what we are doing check out our steemimages faq
NB:- We do check for plagiarism on every post that we upvote and resteem.
Check our previous blog selections below

Steemimages week one Monochrome Photography
Steemimages week two Landscape Photography
Steemimages week three Street Photography
Steemimages week four Animal Photography
Steemimages weeks five and six Architectural Photography
Steemimages week seven Golden hour photography
Steemimages week eight Food photography
Steemimages week nine. Travel photography
Steemimages week ten Macro photography

Blogs in the new format. Started in March 2019

https://steemit.com/steemimages/@steemimages/steemimages-is-back-with-a-new