Steemimages FAQ updated March 2019
Steemimages is a human powered upvote and resteem curation account searching for the best photos and interesting image content on the block chain.
The primary objective of steemit and it's related steem block chain apps is to find the very best content and vote it up to reward the content creators. This is a very subjective issue and not everyone agrees on what is good content or even how to define it.
Trying to explain this concept to the general public has many complications. Let alone trying to explain what steem itself is.
Bird brains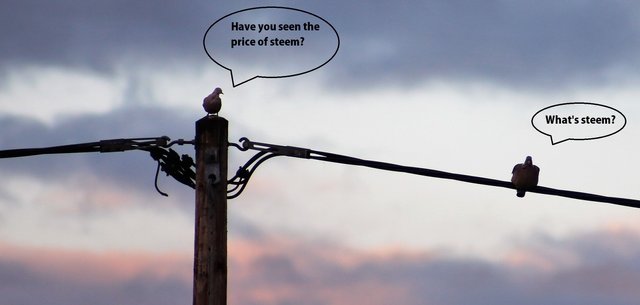 It often happens on Steemit that you come across an outstanding photograph, artwork or image that you would love to share to your followers. This can happen many times in one day and the difficulty is that you end up filling your personal blog with stacks of great content.
Then when your core followers try to keep up to date with 'your' content they have to then scroll through the many images or blogs that you have resteemed.
In an ideal world they would also 'like' the photos and images that you have resteemed but as this is a very subjective issue you can never be sure and you don't want to appear to be sharing to your followers an endless stream of what you consider good content.
It had long been a desire of many steemians to have a separate section for their resteemed posts but this hadn't happened when steemimages was started. Now that we have the ability to resteem and to hide those resteems makes this account kind of redundant.
So I decided to expand the scope of what steemimages curates and instead of just good quality images the account will be used for an alternative option to curate what I consider relevant to the various communities that make up the steem ecosysytem.
Social networks work by developing relationships with other real people and it can often happen that this is impeded by someone being over enthusiastic with sharing to much content with their followers or posting 10 times a day their own content which will just annoy their followers who rapidly unfollow such account behaviors.
This is the dilemma of steemit and related apps. There is a lot of very good content on steemit that never gets seen or rewarded because of the social constraints outlined above. There are a few curation guilds on steemit already but not enough to cope with the constant flow on new content.
Photography falls in to many genres from ariel photography to zoom photography and every other subject under the sun in between and it is quite well catered for on the system. Steemimages aim's to create weekly round up of other less visible content.
The same criteria below (which was for photography) will be the same for all types of content.
For example:- Steemimages will curate monochrome photography for the whole week with the genre changing on a weekly basis. This way there will be a solid block of specific content which will all be grouped together and should help with search functions. This will also be grouped by genre on the proposed website and app.
Steemimages faq
1 Only original content will be considered.
2 Steemimages does not charge for resteems or upvotes.
3 Steemimages looks for very good content, photographs and images.
4 All the content is selected by me alone.
5 Followers posts will not be automatically rewarded unless they meet our quality threshold.
6 Image quality (IQ) is the key assessment criteria for photos.
7 User rank is not considered when selecting and searching for content.
8 Payout is not considered when selecting content.
9 We do not accept bids for upvotes.
Plagiarized content will not be voted on or resteemed. Any funds you send to this account will be considered as a donation with no refunds. You cannot buy upvotes on @steemimages
The website is under construction and an app is on the way to host the very best @steemimages with a view to offering an opportunity to the content creators to sell their images commercially on the open market. If they so desire.
Hope this explains our purpose and mission here on steemit and we look forward to growing a strong community of great content creators, photographer's and artist's.
We will create the new hashtag #steemimages that will help group the content with sub hashtags for specific genre groups.