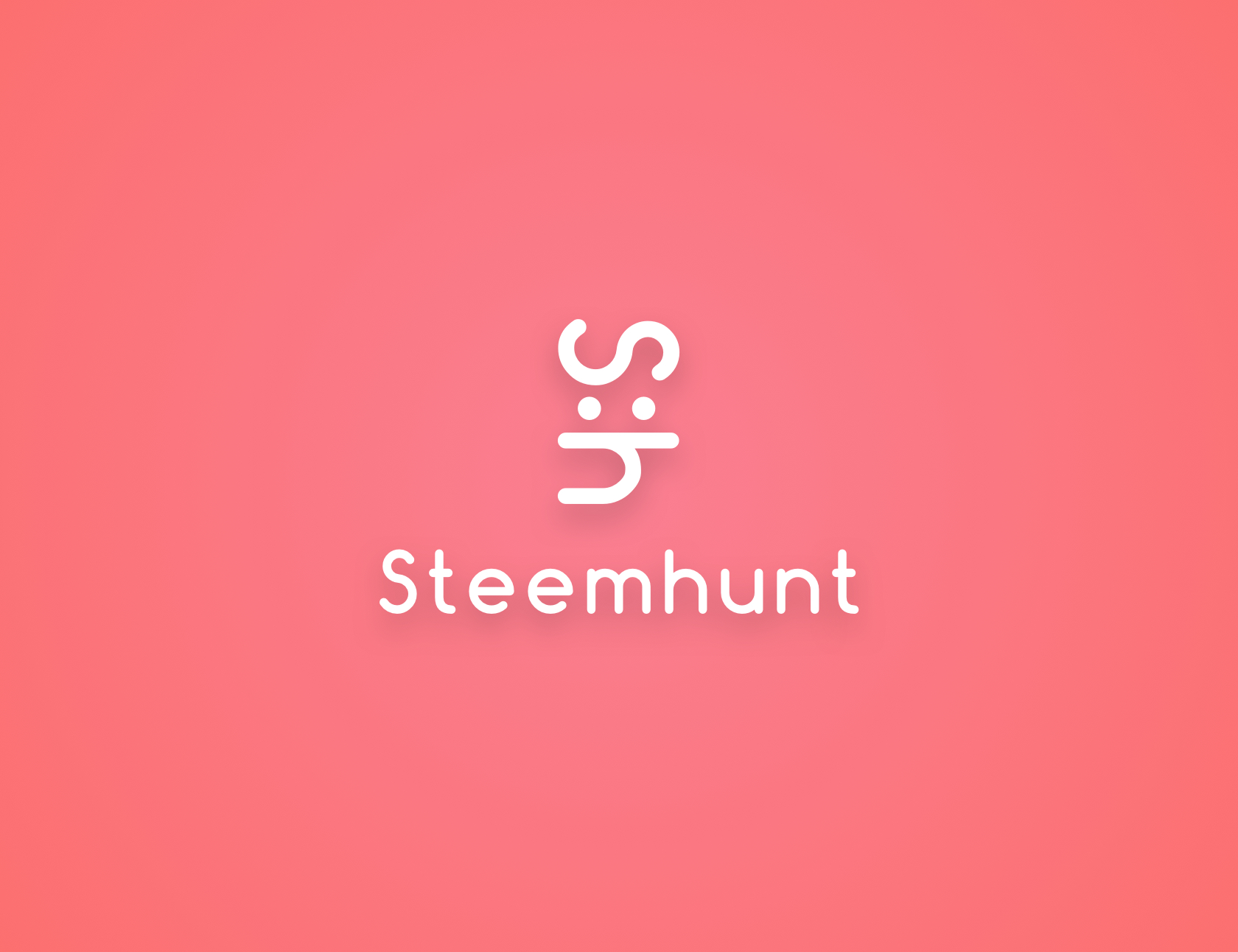 Hi, @jayplayco here.
Today I would like to give a short reminder to our community. The 1:1 Hunt Token Airdrop based on you Steempower is going to end in a few days. (Exactly 13th of September KST)
The original announcement is here
For all hunters who have claimed already their Hunt tokens, they can skip to the last part of this article. :) Otherwise, you should circle the 13th of September very big on your calendar.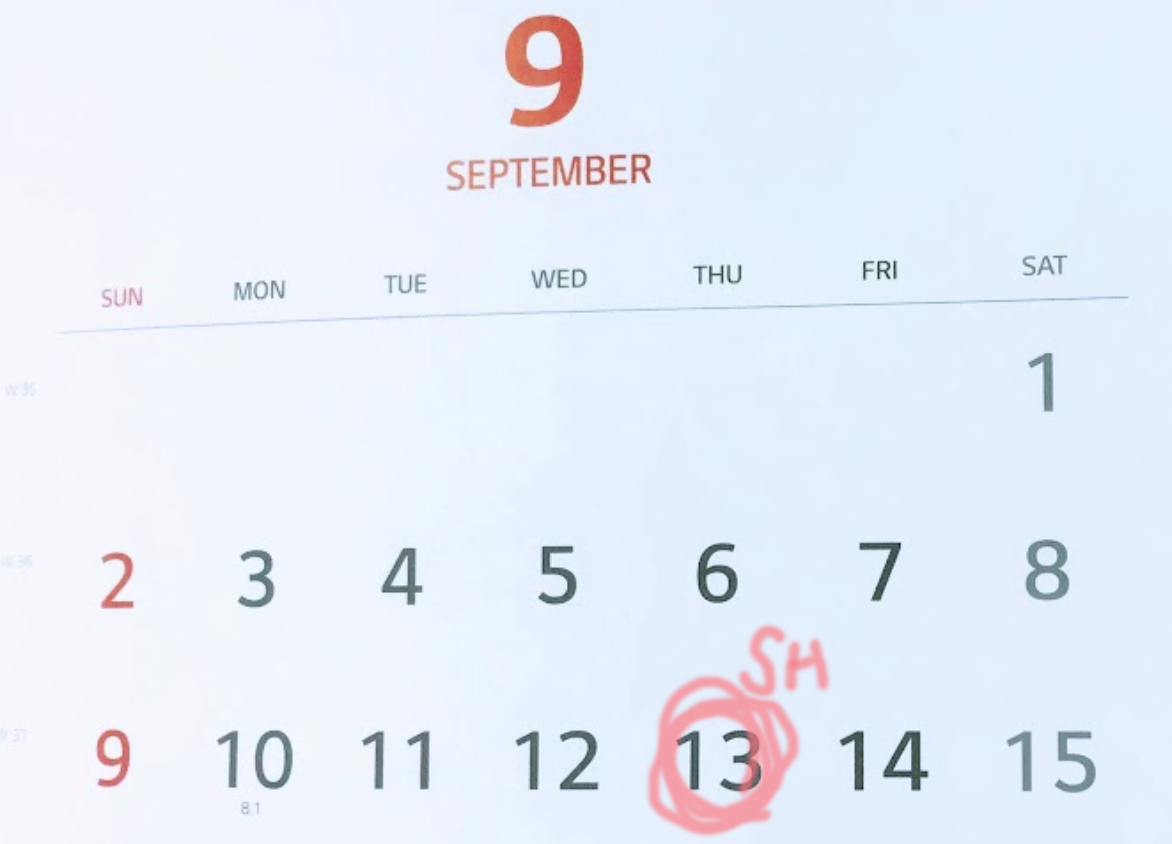 ---
Key Summary
Steemhunt is airdropping Hunt tokens in a 1:1 ratio based on your Steempower.
Delegated incoming or outgoing Steempower doesn`t matter.
This event is ending at 13th of September 2018 KST. (I am recommending to claim your tokens latest at 12th of September)
The claim is only for one time.
If you are preparing for your claim, it is recommended to max your Steempower. (Powerup, buy, etc.)
---
1. How To
Connect to Steemhunt.

Login with Steemconnect.

Click on your Avatar on the right upper side of the screen.


Click on the "WALLET".


Click on "SP CLAIM".


When you click the SP CLAIM button you will see a pop-up. It includes information on how many hunters have already claimed the Airdrop, how much tokens are left and how many tokens you can actually get.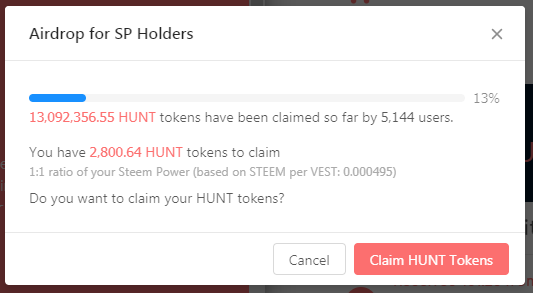 As an example, I would have 2800 tokens to claim. If you press the red "Claim HUNT tokens" button the tokens will move to your wallet.
That's it. Now you can check your Hunt tokens clicking on "Wallet" again.
---
2. FAQ about Hunt tokens
Q: What can I do when I claim these tokens?"
To make it clear, you can't do anything with it in the moment
It is planned for the very near future to activate the tokens based on Ethereum's ERC-20. At that moment it would be possible to transfer your tokens to an external private wallet like Myetherwallet. Also, P2P trades could start.
Q: Is it planned to list Hunt tokens on an exchange?
Sure, but the team is not planning to rush the tokens to any exchange just to list it. Steemhunt is more concentrated to build the product and community. When both are strong enough, the exchanges will come to Steemhunt for a listing.
Additionally, SMT is planned for March 2019. As soon as SMT is launched, Hunt tokens will be swapped into SMT. The best part with SMT is, a DEX (decentralized exchange) will launch with SMT so that Hunt tokens will be tradeable very easily on the DEX into STEEM and SBD.
Q: Is there any plan to use Hunt tokens except trading?
With the launch of SMT, Steemhunt will also launch Ideahunt, a crowdfunding platform for brands and makers, where hunters can buy the newest products with hunt tokens. This will create an own Hunt token economy, so we are good to go with our claimed Hunt tokens. :)
3. Timezones Deadlines
As recommended, please claim it before 12th of September, as you don`t know exactly when it will end at 13th. I have marked the day based on 12th of September KST 24:00.
| City | Country | Date | Time |
| --- | --- | --- | --- |
| Seoul | Korea | 13.09.2018 | 12:00 AM |
| San Francisco | USA | 12.09.2018 | 11:00 AM |
| New York | USA | 12.09.2018 | 8:00 AM |
| London | United Kingdom | 12.09.2018 | 4:00 PM |
| Berlin | Germany | 12.09.2018 | 5:00 PM |
| Moscow | Russia | 12.09.2018 | 6:00 PM |
| New Delhi | India | 12.09.2018 | 8:30 PM |
| Hong Kong | Hong Kong | 12.09.2018 | 11:00 PM |
| Sydney | Australia | 13.09.2018 | 1:00 AM |
---
Thanks for reading!
Other articles about Steemhunt.
Join our chat channels if you need more information as the community, team, and the moderators are answering very fast on any question:
Discord: https://discord.gg/mWXpgks (this is where the magic happens)
Telegram: https://t.me/joinchat/AzcqGxCV1FZ8lJHVgHOgGQ