Hi this is @jayplayco and today I would like to write about a relatively new service called @steemhunt 
I am personally using Steemhunt since a few days but as a newbie the system itself is interesting, as it rewards the content directly without using any bot, which has to be paid directly. (Yes, I learned also that a lot of bots are available to push your content, but that should be something what I would like to write about later)
1. What is Steemhunt?
Steemhunt started about 5month ago as a competitor to producthunt (https://www.producthunt.com/). Producthunt started similar as steemhunt as a platform to encourage the users to find services and products which are mentionable. But now this platform has been transferred to a place where the "makers" can advertise their products.

Elevator pitch : Steemhunt is a steemit based producthunt.
The main idea behind it is to give the revenue stream back to the hunters who are actually looking for great products to introduce using the steemit economy. You can already use this service under http://steemhunt.com

The enthusiastic team behind this project are @tabris (for development) and @project7 (for design). It seems that they are working day and night to make this project successful. Especially due to the great mix of development and design the page steemhunt.com looks very elegant and the userinterface is very easy to use. Additionally each single post from steemhunt is also well curated and designed, so you can get the information very fast and the graphics are making it easy to understand.
The project is still heavily under development and the final stage could take more than another year, but the Steemhunt function itself is already live for the last 2 month.
https://steemit.com/steemdev/@steemhunt/steemhunt-for-all-product-enthusiasts-on-steemit
Steemhunt is planning to have in total 3 different catagories, which are Steemhunt, Reviewhunt and Ideahunt.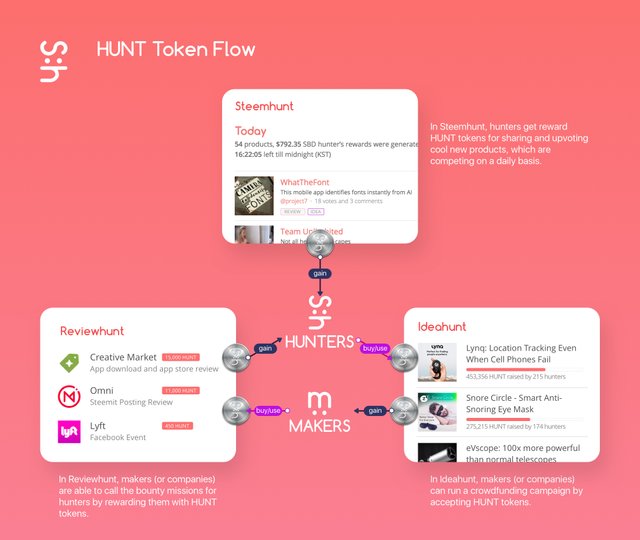 a. Steemhunt : Hunters can upload new products and get rewarded with HUNT tokens (this Hunt Tokens are going to be Smart Media Tokens, also called SMT's). The reward is going to be on a daily competition.
b. Reviewhunt : So called makers (or companies) can call a bounty to activate hunters and ask them to write product reviews or app reviews, etc. The companies will have to reward them in HUNT tokens.
c. Ideahunt : A mini crowdfunding site payable in HUNT Tokens. As soon as the HUNT Tokens get established people could buy new products or service with Ideahunt. This would be a steemit base "kickstarter" or "Indieogogo"
2. What can we do now?
As the platform Steemhunt is going to be a merger of 3 services (steemhunt, reviewhunt and ideahunt) you can currently use only the function steemhunt at the site. For this you are going to have a Steemit account and use this account to login on http://steemhunt.com . After that you are able to post a new product. 

As soon as you successfully uploaded a product it will be listed in the "Today" tab. Please be sure to upload within the posting guidelines. Otherwise your product review will be denied. Steemhunt has a very well functioning team with so called Moderators, so EVERY single post will get a review and will be accepted or denied. If it gets denied, they will leave you a reply why.

Important rules for writing a product review are like below.
 a. Only products, no business (No Apple or Microsoft)
 b. Unique IT hardware or services
 c. Only ENGLISH
 d. Product Link has to be valid website with the availability to BUY the product. 
 e. No Plagiarism - no copy and paste from the site itself. Steemhunt is checking this.
 f. Only New and Cool products.
 g. Unique product description in your OWN words.
In short, Steemhunt is checking if the products are really unique and innovative and if the description is also unique.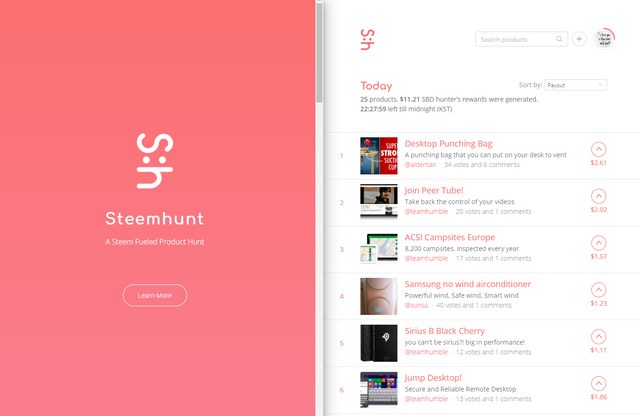 3. What happens after posting?
Your post is going to compete with other posts for the day (Ends 00:00 KST Time) After that @Steemhunt is going to upvote each single post based on the popularity (upvotes). Additionally Steemhunt is also upvoting comments with so called "Pros and Cons". At the current day I have got about 0.60USD for one post and most of the amount has been coming from Steemhunt. Additionally I have got 0.28USD for a comment to my own article.


You can find these on most Steemhunt posts as example. Below you can see that Steemhunt has voted for the comment with Pros and Cons.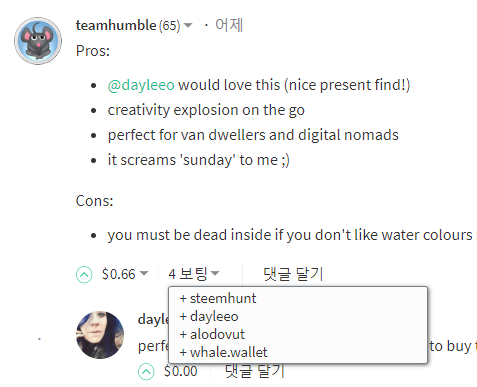 I am sure that you will have fun while steemhunting, so don`t wait and write your first steemhunt post!

STEEMHUNT
[Source]
https://steemit.com/steemit/@steemhunt/announcing-hunt-token-airdrops-for-steemians-smart-media-token-project
Many thanks to @ayogom who has been an inspiration for this post!
https://steemit.com/kr/@ayogom/5nrr12-1