Last year, there was a little Whatsapp group made with a few Steemians who attended SteemFest3 in Poland to share some images and stories and just stay randomly in contact once we all went back to our corners of the world. With SteemFest4 in Thailand on the near horizon, it has activated again with the questions of who is going and, I wish I was.
I hope all that are however are going to have a ball and find a decent local bar to become the unofficial after-hours meeting point. The new Alchemia. It was there after the clock struck 12 that the real conversations were had and the real friendships were made.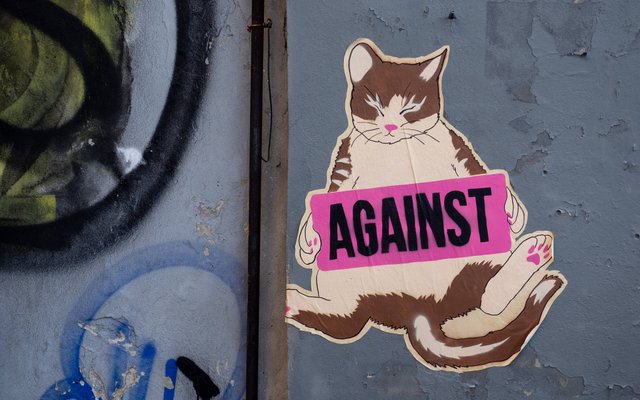 What I wonder is what would happen if a few different kinds of people went to SteemFest as well, you know, those who are highly negative, who believe it is a failure, the vote traders, the abusive downvoters, the shitposters, the forever powerdowners and of course, those who believe it is some kind of government experiment. You know, the anti-Steemers.
I wonder what happens when a notorious vote trader has to spend time with members of the community who are trying to make it a place for the better. Or, a notorious downvoter is face to face with those same people they have downvoted out of spite. Or the negative Nancies actually spending time with real members and developers of the community, not avatars and pseudonyms.
Of course, it will never happen because while there are a wide range of people who go to SteemFest from the technical to the artistic, the whale to the minnow and from all kinds of backgrounds But, what is conspicuously missing from the group are the abusers, at least those who are known, as they don't tend to show their faces in public. I wonder why? Fear of consequences I presume.
Not that they would get punched in the face, I think that wouldn't happen IRL, it is that they fear being exposed to face to face confrontation to answer for their actions and have to defend their thoughts and in so doing, risk having their limitations in knowledge exposed. I always find it interesting that often, the most outspoken against Steem, don't know much about how it all works - it is all assumption based on their own experience.
Reality doesn't drive behavior, belief does, and on Steem it is no different. People act based their assumptions of things however misguided and poor their understanding of what they are dealing with. But, because they believe they know, they feel correct as otherwise, why would they do it?
But then, when given the opportunity to actually face some kind of reality, they shy away from the possibility because then they might just find out that they are indeed mistaken, or the chances of them being correct have reduced dramatically.
But it isn't just that and especially for those who act as if they know, once they have to face people and speak on the fly, they risk exposing the reality of the situation, that what they have portrayed is incorrect. It reminds me of a guy that I used to play Ghost Recon with back in the day in an online team made up of mostly Europeans - I was in Australia and the lag sucked. 56k modem.
---
The Gamer
---
He was a great player, Scottish. He new the maps well, talked about being ex-military, spoke the talk and more often than not, saved the team in ranked team matches, last player standing hero kind of guy. Foxton was his name, if I remember correctly.
One time, the Europeans organized a LAN gaming session where they pulled team players from all over the continent and got together for the weekend. Foxton turned up with his rig too and all went well, until they started gaming. You see, Foxton was drunk - so he didn't play well, he didn't play even close to well.
Questions were raised.
Turned out of course that he was full of shit, just another run of the mill hacker - and, he had never been in the army, he had been rejected for being physically unfit. This is why the majority of the full of shit don't turn up to public appearances - The fear of exposure.
---
And this is something that is rife online with those who are able to have all of the support of Google to feel like they know what they are talking about, but when push comes to shove - they haven't got much that is new, original, or even a fork in the road from what can be found elsewhere. This is also likely why when it comes to Steem, the criticism doesn't go into the technical aspects, it only looks at the surface level of it because, the technical aspects take far too much research and work for someone who only likes to Google for answers. It is also why the "fixes" they suggest are narrowly focused and don't have a chance of scaling, as this hasn't been done before.
It is actually something that a lot of people who are negative don't consider as while they believe they base their view on reality, it is always past based and assumes that the future is going to be no different. this assumption implies that all outcomes are already known and have been tested without considering what is yet to be known or whether what is known and tested failed because of alignment problems where things weren't possible because of timing, infrastructure, the current culture, the skillset, the education level, the health conditions, the size of community, the available resources... the list goes on.
A surefire way not to be exposed to the risk of being found out is to avoid situations where one has to perform what one portrays and those who can actually do it, have no fear in fronting. Those that can't have 1001 excuses.
I'm so clever, I'm so rich, I'm so talented... online.
If someone has skills online they can't demonstrate offline or can't apply to something that can't be Googled, do they hold the skill? If when called out the excuses roll in avoidance, the answer is pretty clear. Online, every one has a large penis and knows how to use it - ladies - is that your experience in the bedroom? Face to face, people have to be able to be more dynamic, more lateral in topic and more demonstrative of knowledge and skill and there are those who continually avoid the opportunity to demonstrate what they have portrayed.
I would have loved to again go to SteemFest this year and could have, but it would have to be a family trip and @smallsteps is unable to travel, especially that far with no real possibility to ensure the food is allergen free. What I am looking forward to is hearing some of the stories and of course reading the many posts that are hopefully going to flood my feed about the new ideas and especially, the fun that is had between friends met for the first time.
I have a feeling that there won't be too many SteemFests in the future like this and I am glad that I got to one at least. SteemFest will be "InvestorFest", but perhaps the tradition will be kept alive though and instead there will be SMTFest like a Comicon event that gathers a whole lot of distributed communities sharing their experiences and tech while running on Steem and enabling cross-pollination of the communities to strengthen and stabilize the network further.
Have fun everyone and, make sure you post.
But don't drink and blockchain - unless you are talented at one of those two.
Taraz
[ a Steem original ]