Weeks now really fly by. Our daughter is luckily very laidback, as I am typing this she is strapped around my belly, giving this lovely sleeping sighs. Somehow she sleeps very well on @SteemBirds' latest global hit "SteemFest3". I'll certainly miss her when in Kraków, although to be honest there will not be much time for missing :)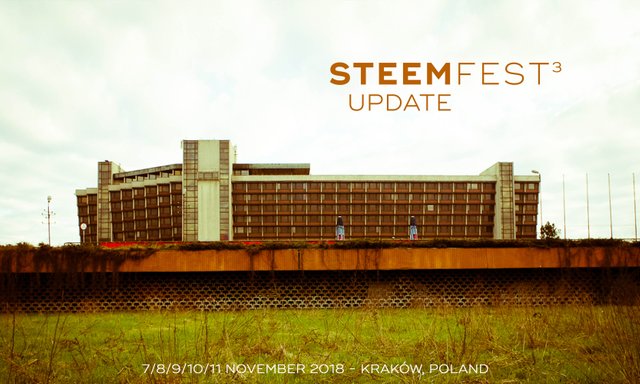 Forum Prszestrenie by Boguslaw Mielec on Flickr
This was a week about "print". All week prepping for printing. Illustrator, Sketch, Indesign, Photoshop. Making the handout map. Making some stickers, designing some roll-up banners for the Wall of Dapps and reaching out to all exhibitors, designing bags, flags, decorative banners. Making a nice bear for the SteemFest Bear bowling (did you make your team of 3 yet?), designing the plaques for the "SteemFest Bear Bowling Cups - place 1,2,3" etcetera, etcetera.
Also found some time to debug most of the mobile app so that can be submitted most probably over the weekend, so Apple has enough time to make a fuzz about it prior to getting it live out there. Btw, it is going to have a fun little game by @steemitboard integrated.
I'm warning that this is the last week prior to the final price hike which occurs in 7 days from now. Should you have difficulties finding funds to come to SteemFest, but still want to make the trip? I am encouraging you to join one of the many Ticket-Give-aways currently running elsewhere on Steem.
And have you seen that give away by @steemitblog! 5x all expenses paid round trip to SteemFest. If you then blog some about your experiences, you literally get paid to attend the event. Let me ask you, did Zuckerberg ever pay you to come visit F8 conference in Palo Alto? I guess not :)
Win 2x SteemFest Tickets by sponsor PBSA!

PBSA, Peerplays Blockchain Standards Association is sponsoring this year's event and gives away 2 tickets to SteemFest to the lucky winners!
Peerplays Blockchain Standards Association is a non-profit organization registered under the Canada Not-for-profit Corporations ACT. The purpose of PBSA is to promote provably-fair gaming standards for the Peerplays blockchain in Canada and internationally.
Checkout the post on the @steemfest blog to participate in this give away!
Travel Reimbursement Fund -
helps lighten the costs of travelling for SteemFest attendees.
Just like previous years, this year the
@t-r-f
(note the dashes) account is open for your donations. All Steem & SBD donated to
@t-r-f
will be redistributed to SteemFest attendees who apply for "their piece of the pie" during SteemFest in Kraków at the conference venue.
The full amount of the funds held in the @t-r-f account will automatically paid out in a linear ratio based on the "line-of-sight"-distance between city of origin and Kraków. In other words - the more miles you travel, the bigger your part of the pie. Please note that there is no obligation to register for your piece of the pie. If you don't you leave more for others to share!
Quite some steemians already donated some to the T-R-F which currently totals about 1800 STEEM and 143 SBD. @pharesim is running a SteemBay auction for one SteemFest ticket actually of which all proceeds go to @t-r-f, which is pretty cool :)
Eight more new names!
Ongoing SteemFest ticket give aways
---
Get your SteemFest ticket at steemfest.com
Ticket prices increase in 7 days!
read more about the price increase algorithm here
Have a nice weekend!
Greetings from Amsterdam,
Liquid rewards from this post will go to organising @steemfest
SteemFest's ticket reductions are made possible by generous donations from: