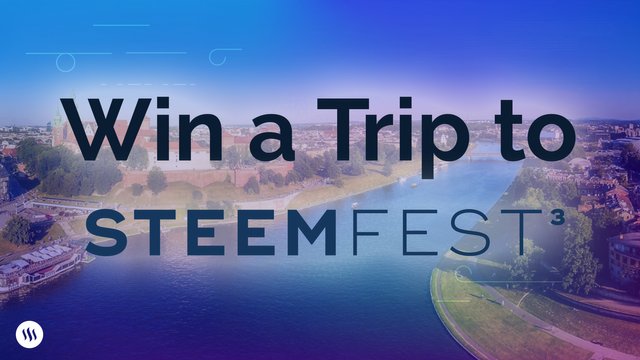 Nominate your favorite Steemit creator for a chance to win a trip to SteemFest3!
Contest ends October 19th.
It's almost that time of the year again! SteemFest! This year Steemians from all over the world will gather in Kraków, Poland for the third annual festival.
Nominate Your Favorite Creator
Along with a sponsorship of the event, we at Steemit headquarters want to give the best creators on the platform a chance to win a trip to SteemFest. We invite you to nominate your favorite Steemit creator for a trip to (and optional, performance) at SteemFest next month.
We are specifically talking about Steemit creators who are singers, songwriters, djs, performers, painters, photographers, artists and stand-up comedians. But anyone who nominates others can also enter a raffle to win a ticket too.
Nomination Categories
Here are the nomination categories:
2 Music / Performing Arts
1 Stand-up Comedian and Spoken Word
1 Artist (painting / drawing / photography / writing)
1 Open raffle for all
Here's what the 5 winners will each get:
A fully paid trip to SteemFest*
Fully paid accomodations in Krakow*
SteemFest ticket, optionally a performing slot (if deemed fitting)*
*max price per winner capped at 2K USD for trip, stay, steemfest regular ticket
Please note
You cannot nominate yourself. We want you to nominate those you feel deserve a spot to perform at SteemFest or display their works of art. You will only be entered into the wildcard raffle after you nominate people for the other categories, and also specify that you'd like to be enrolled in the wildcard raffle.
The last day to enter is October 19th. Winners will be announced, October 22nd.
Here's how to make a nomination:
Copy paste the text below, fill in your selections, and leave a comment below this post:
A. I suggest that these great creators should win a trip to SteemFest Krakow

Music / Performing arts 1: @...
Music / Performing arts 2: @...
Stand up Comedian / Spoken word: @...
Art: @...

B. For the wildcard free tickets to SteemFest Raffle for anyone pick between::

Please count me in for this raffle too! I'd love to win airfare, accommodations and tickets to SteemFest.
Please do not add me to this raffle, I cannot make it to Krakow this year.
See you in Kraków for SteemFest3
Steemit Team