SteemFest² Updates - New Names Announced - Bitfilm Contest Awardshow - Venue Spotlight: Conference Day 1 - Centro Cultural de Belém
Shy of 2 weeks ago after the initial announcement of the ticket sales start it is great to see "old faces" from last year coming again to SteemFest², but also new users! So far I've heard from a Japanese delegation of 10 people as well as a Korean delegation of 5. Humbling to hear people coming from all over the world to Lisbon on 1/2/3/4/5 November for SteemFest²!
TLDR;
New names added to the SteemFest² site (now with minor mobile optimisations)
Submit your movie short about crypto for the Bitfilm Contest
SteemFest's HF Hotel Deal Still Available: from € 75 / room / night (incl breakfast) - Book before 5 september or prices may most probs go up!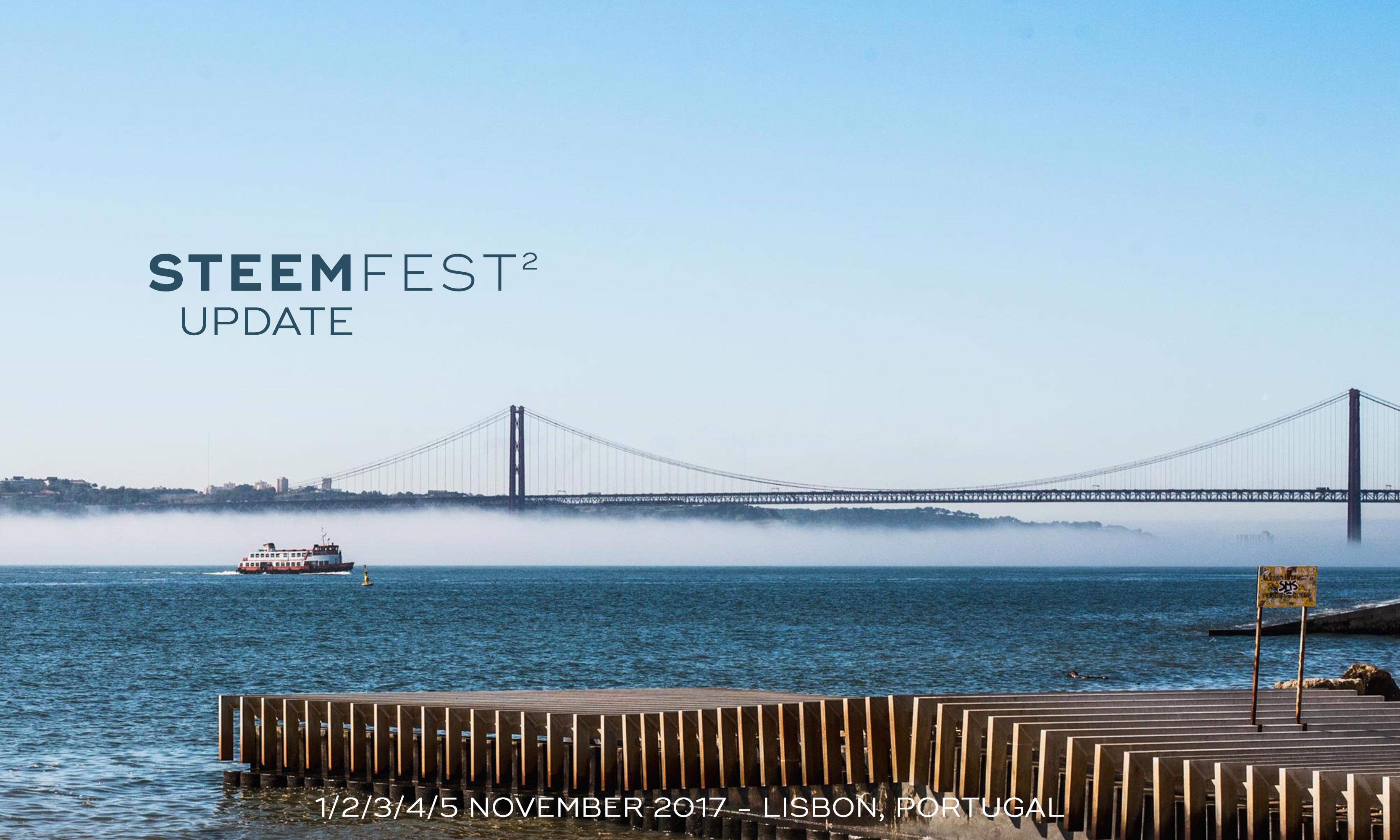 New names talking / performing at SteemFest² announced:
---
Join the Bitfilm Contest with your crypto movie: Awardshow at SteemFest²
@aaronkoenig
is organising another edition of the
Bitfilm Contest
series and this year the awardshow will be held during 'A night of Steem' on friday 3 November at SteemFest². The topic of the contest is "The Crypto Future". It's up to you how you interpret this. Your film may be about cryptography, cryptocurrencies or any other cryptic, futuristic issue and have a maximum length of 10 minutes.
Please submit your film by October 1st latest!
Read all about the Bitfilm Contest here
.
---
Venue Spotlight: Centro Cultural de Belém - Conference Day 1
The idea of SteemFest² is to show you as much of Lisbon as possible, both during the conference days and ofcourse when you explore the city during the DIY Citytrip Weekender afterwards. Hence, every main activity is taking place ina a different venue across town. Some logistic challenges, but manageable, and all to keep things dynamic.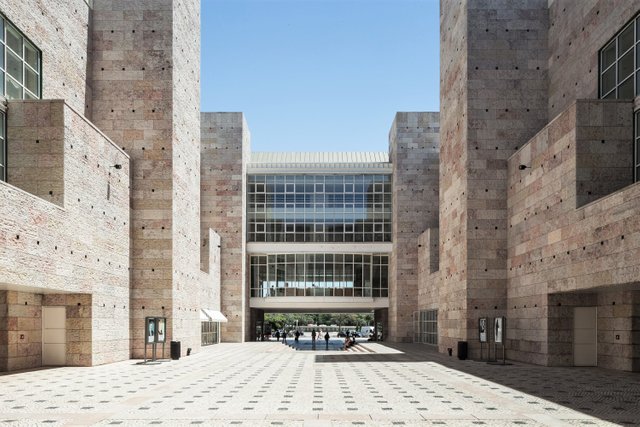 Introducing the Centro Cultural de Belém where we will have the Conference Day 1 on Thursday 2 November. SteemFest Transfer Busses depart in the morning from the Hotel Fenix Lisboa area to Belém (12-15 minutes trip depending on traffic) directly at the River Tejo coastline to this impressive conference center and museum. For the conference we will take up a dedicated part of the building near the entrance with 2 halls and a foyer area for breaks. A dinner hall is reserved for the food at night.
Right around the corner you can check up on many monuments & sights: For example the Jerónimos Monastery, the Palace and the Tower of Belém, the Museum of Archaeology, the Planetarium, and the Monument dedicated to the Discoveries at the riverside. Additionally, just a 2 minute walk away through the imperial square park & gardens you find one of the most well known Pasteis de Nata - pastry bakeries: Pastéis de Belém. Tip: if you go here, skip the queue and take a seat directly in the vast seating area, to be served within a couple of minutes by one of the many helpful waiters. The queue is only for the take away area. If you do want to take same, just order some extra with your waiter.
---
More names and location updates to be announced :)
Please... Don't forget to book your SteemFest's HF Hotels Package for € 75 / room / night including breakfast via http://steemfest2017.hfhotels.com. Prices may and most probably will go up after September 5!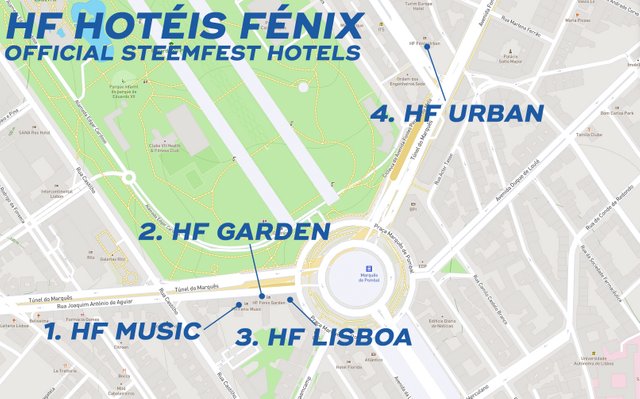 | | | | | |
| --- | --- | --- | --- | --- |
| 1. | ★★★ | HF Music | brand new with a swimming pool on top | € 84.00 |
| 2. | ★★★ | HF Garden | build in 2008 with several awards and a city garden | € 75.00 |
| 3. | ★★★★ | HF Lisboa | cosmopolitan 4 star hotel with city garden and spacious lobby - this will be the SteemFest homebase | € 97.00 |
| 4. | ★★★★ | HF Urban | spacious rooms (at 500 meter walk from the above 3 hotels) | € 81.00 |
---
In other news... I did the craziest Kite-surf challenge in the weekend after the previous update - kiting the whole coastline of the Netherlands (130 km's / 80 miles straight line distance). It was a fundraiser for the dutch heart research foundation. We kitesurfed about 130 KM's from dawn till dusk and raised just shy of 100,000 EURO for the heart foundation. It was quite a trip but conditions couldn't be any better.... Wind was great at 25 knots and sun all day. Especially the 2nd, 3rd and 4th leg gave us very shallow and forgiving shorebreaks (iaw, no breaks, just almost flat water) and we could really race those. But then the 5th and final leg, at the north of the Dutch coast has these mega breakwaters going about 100 meters (330 foot) into the sea. The organisation had summoned us to be better safe than sorry and go up to 200 meters (660 foot) out of the shore. It's where the sea gets depts of 10m - 20meters and so where the waves are fricking high. Having kitesurfed on one side for 100KMs, with a sore leg and salty eyes it was quite the challenge and I was so happy after another hour and a half of concentration to finally see the lighthouse of Den Helder, the end of the Dutch coast. All in all it was epic and what I took from that is a memory not to forget, a medal and ofcourse the Strava log :P
Have a nice weekend!
Greetings from Amsterdam,
---
Liquid rewards from this post will go to organising @steemfest