TLDR: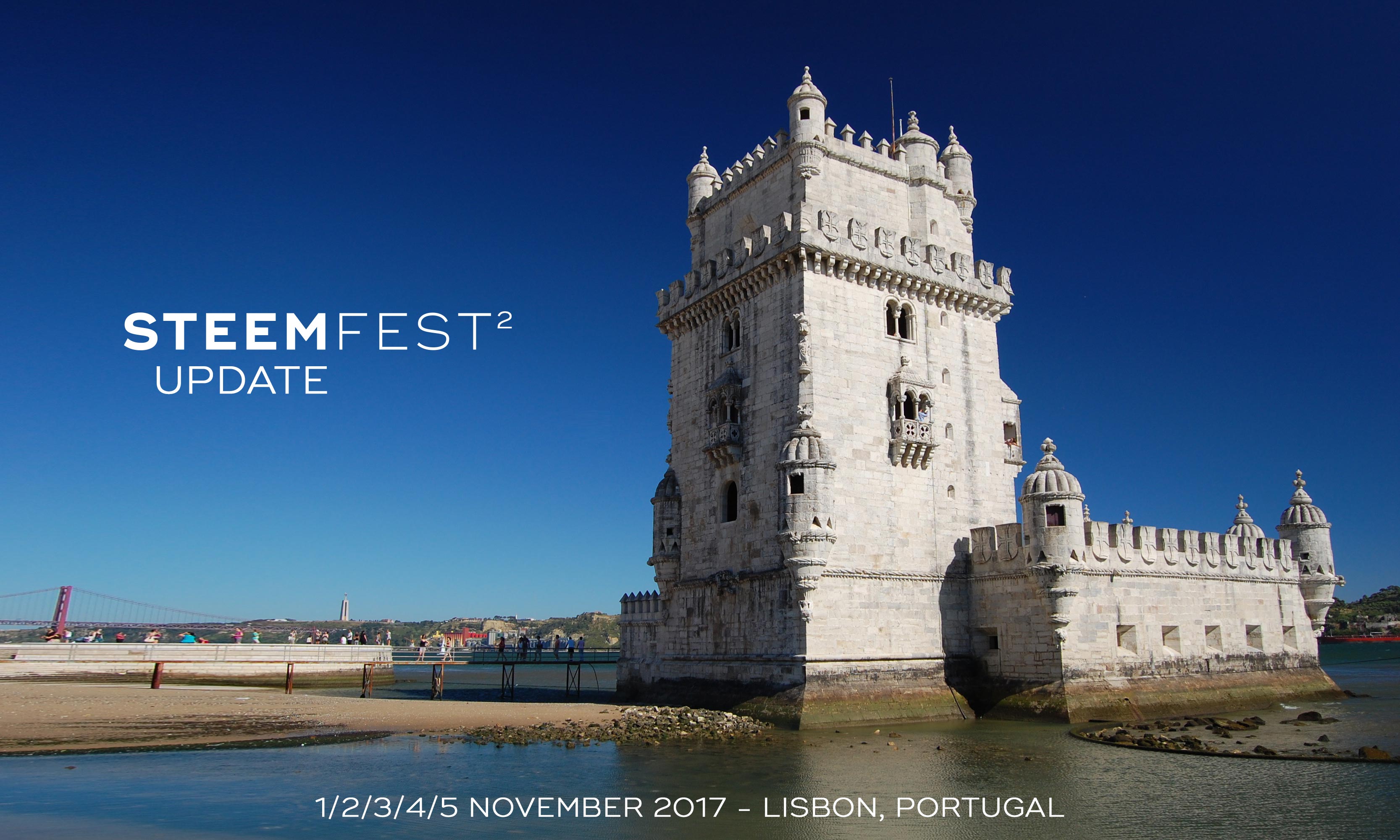 Wow, I was reading back on last year's endevour into launching SteemFest and noticed this year in comparison the organisation is about 1 month ahead, so that's great, plus almost all venues and budget have been arranged. Also the @firepower crew is already get psyched and hyped up again and I'm having some great help, for example @gtg who arranged the 10%-15% discount at the Official SteemFest² Carrier TAP Portugal.
Recently I had been getting some questions about the next updates. I know there had been some time in between since my visit to Lisbon and posts about SteemFest², however I must admit that things seem to go a bit slower in Portugal :) Also, because it's summer holidays it seems to influence response times. Nonetheless, from now on the rat race to 1 November is on!
So as of now, you can visit the completely updated SteemFest website which includes program details, map of the venues, first speakers (many more to be announced) and links to the ticket shop / integral crypto ticket buy mechanism.
SteemFest tickets starting at € 222.22 (1/3 of costprice).
This year's minimum ticket price is a bit more expensive then last year, but still (IMHO) very attractively priced:
This year we add a full extra day of conference which means a full day of F&B & location rentals and tech / livestreaming.
Social events outside of the hotel means: more venues to be rented this year (about 4 more in comparison to last year)
Last year's event had an unrealistically high subsidisation :)
That said, the 'Minnow Ticket' € 222.22 is priced at about 1/3 of the costprice of your attendance, thanks to the support of Steemit.inc and many whales' individual contributions, who like the idea to have an event to be as inclusive as possible. Be sure to also read more on the @t-r-f page about the Travel Reimbursement Fund.
I kindly ask, if you can reasonably afford it to look into options of buying another 'Ticket Type', for example the 'Regular Ticket' priced at 50% of the cost price of your attendance or even higher levels. Check out the SteemFest site's ticket section to learn more about all ticket types. Note that all tickets are equal by means of what you can do with them. Everybody is a VIP, it is just a matter of how much you contribute towards the event.
Buy your ticket with crypto or fiat.
Like last year you can buy your ticket again with crypto. This year the options are SBD, Steem and BTS through
SteemFest site's ticket section
or with BTC, E-banking and Credit-cards via the
SteemFest Paydro ticketshop
Manual Crypto Payments done through the SteemFest site in SBD / Steem / BTS are processed minimum every day at 10 AM CEST and 22 PM CEST by checking our email inbox and validating the incoming transfers on the @steemfest wallet (and the @steemfest wallet on Bitshares). Then we mail you a coupon code to claim your ticket. (you still need to claim your ticket after we mail you the couponcode!)
First Names SteemFest² Lisbon:
I'm happy to announce the first names for the 2017 edition of SteemFest:
Presentations, workshops and performances will generally last about 20 minutes max, unless more in-depth time is required. Yes also this year's event will be livestreamed.
(Many) more names and location updates to be announced soon. Expect more frequent updates :)
Don't forget to book your SteemFest's HF Hotels Package for € 75 / room / night including breakfast via http://steemfest2017.hfhotels.com.
Win tickets & trips to SteemFest:
In other news... I'm doing the craziest Kite-surf challenge this weekend (saturday) - kiting the whole coastline of the Netherlands (130 km's / 80 miles straight line distance). It's a fundraiser for the dutch heart research foundation. We'll be surfing with 100 kitesurfers from 6AM till approx 6PM with about 5 breaks every other 30 km.
Have a nice weekend!
Greetings from Amsterdam,
---
Liquid rewards from this post will go to organising @steemfest