More Steemfest!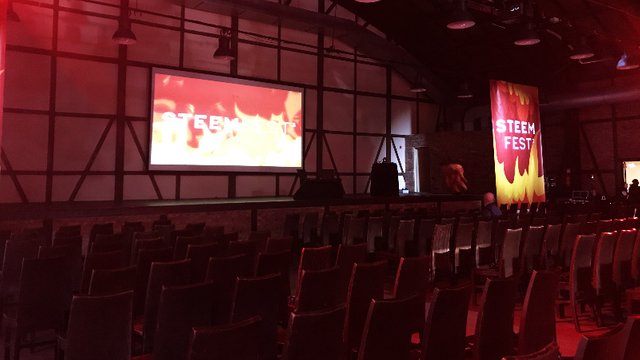 The burning question for me is: how is anyone here at Steemfest finding time to post? Good grief! I'm finally getting this one up three days after the fact. It has been nonstop, and for someone like me who has serious health issues, the pace is deadly. So by the time I show up for the 'Fest, take all the pictures, have all the conversations, then rest enough to keep breathing--there's no time to post a thing.
Happily, we had some down time this morning and I'm using it. I'll tell everyone some things about the goings-on here. Wednesday night we all met in the Qubus hotel lobby for opening drinks. Suffice it to say that a great time was had by all. I met some Steemians who just blew me away, folks I've known for a while but never seen face to face, like @alexvan (top photo) and @martibis (bottom photo.). Alexvan is the reason I'm at Steemfest to begin with. His witness, ro-witness, provided the ticket to get me in the door in the awesome contest they held. Martibis is a fellow writer and we've known each other a while. Let's just say pictures don't do these guys justice. A warmth radiates from both of them that the camera completely misses. They're people you want to be near just because they make the world around them brighter.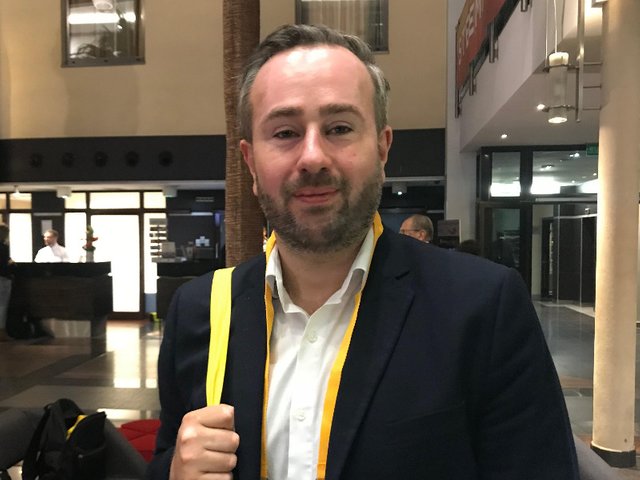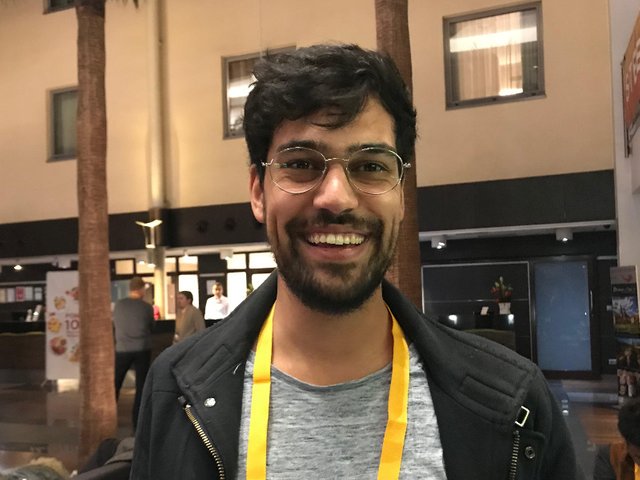 The same thing is true for the guys in the next photo, with some differences.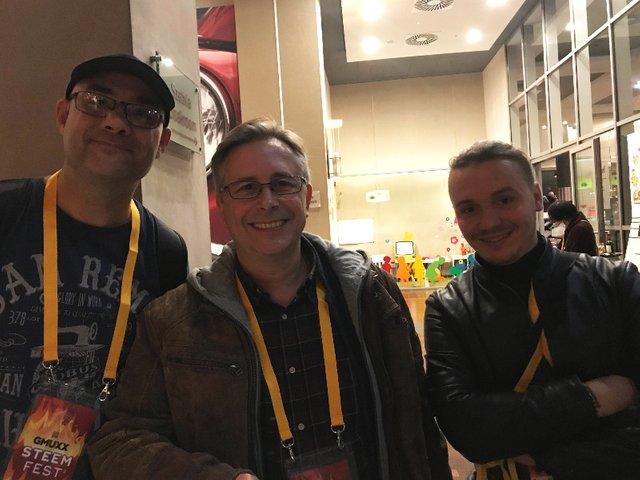 @GMuxx, far left, is one of my bestest best friends in the world. We have a lot in common, but our frighteningly similar health issues make it almost prudent that we stay in close proximity. Either of us could have a crash at any moment, and both of us did while we were here. Someone who hasn't been around M.S. or lupus likely has no idea to how handle an autonomic meltdown-- but we do. I think it's largely because of this experience dealing with the problems caused by autoimmune disease that neither of us ended up in a Polish hospital. Let's just hope that nonsense is behind us now. It certainly isn't fun.
In the center of the photo is @arcange, who I already adored and voted for as a Steem witness. But you know what? He surprised the heck out of me. Not what I expected. Oh, no. He faaaar exceeded my expectations and now I'd go so far as call him friend. This guy is the real deal. That ear-to-ear smile? It's as genuine as they come. Never miss the chance to meet him in person. That's my advice for the day.
On the right is @Michelios, someone I only just met here at Steemfest. But he's another one that lights up his corner of a room, and I regret not having a chance to talk further. GMuxx and I had to deal with a bit of a medical emergency on Friday and I haven't seen Michelios since I went tearing out of SNDbox presentation looking for Muxxy.. Gaah! Hope to see you at the closing dinner, man-whose-name-I-can't-pronounce. LOL We all very much enjoyed meeting you and hope we can all stay in touch on Steem!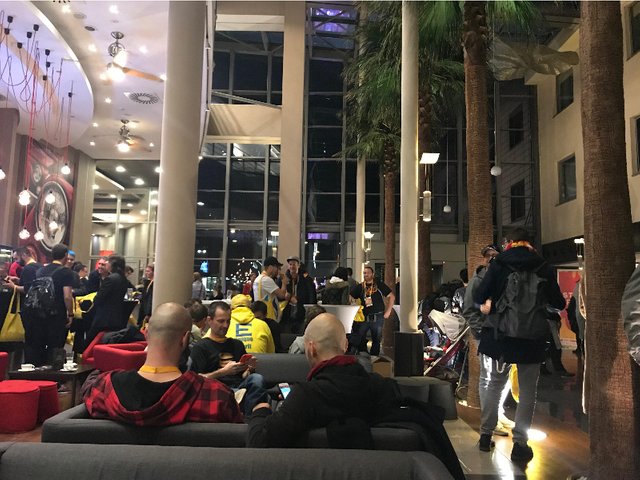 Above, the Qubus meet and greet in the grand hotel lobby. Good memories!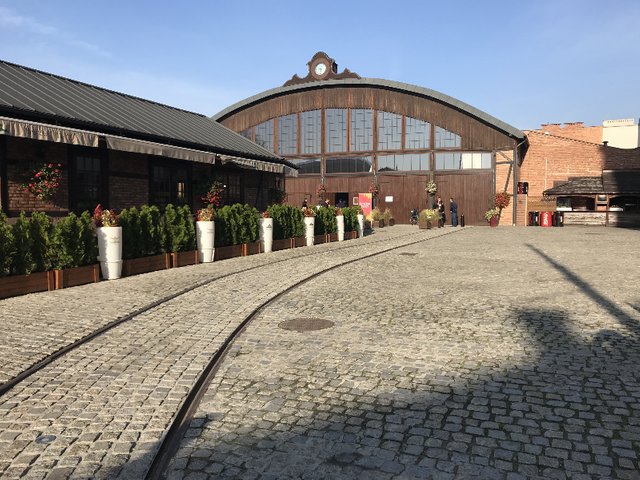 Krakow is a truly fascinating place--a blend of past and present with old world architecture and modern buildings side by side in a thriving city. Above is the exterior of the Stara Zajedznia, and below is the interior and one of the "barrel" booths that made such good seating for the presentations.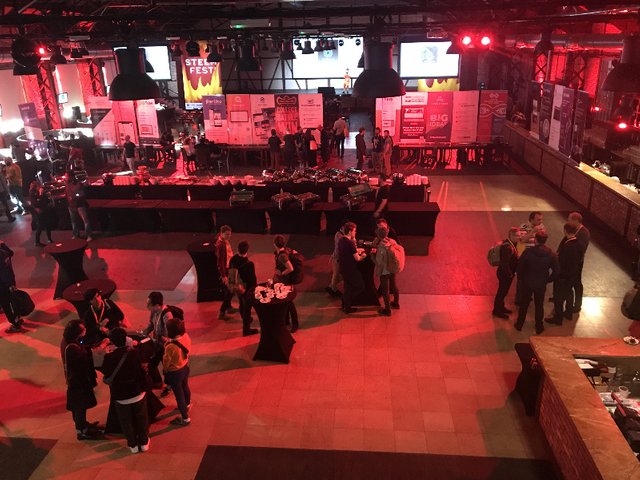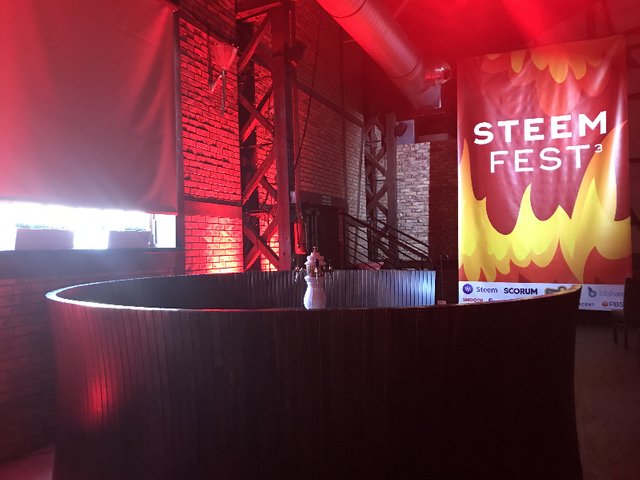 I met a lot of wonderful folks over the past few days, all of whom I didn't get photos of. For example, half of the @Fundition team who was here--@goyard and @free999enigma. However, Muxxy and I did get a pic with @hightouch and @addictedtolife, who I'd spoken with on the mind-blowing post Fundition did about The Writers' Block.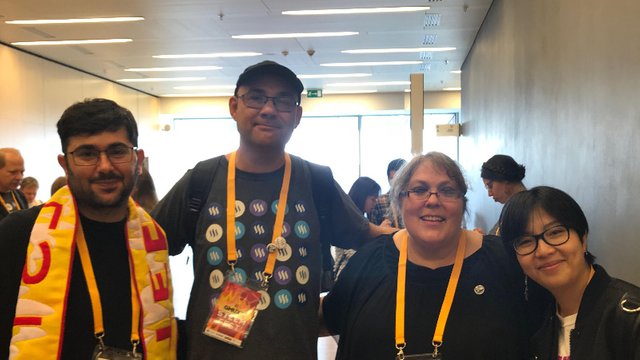 Other notable people I got to meet but unfortunately got no photos of:were @ura-soul, @starkerz, @blocktrades, @revisesociology, and @karinxxl . And oh gosh, so many others. But I did manage to snag some people with my lens, like @ezzy, shown here with Michelios just before The Writers' Block presentation. Everybody knows I fangirl over Ezzy--even Ezzy knows this. I think his writing is strong and commercial and is, in fact, what gave me the idea that blockchain and fiction are a good match.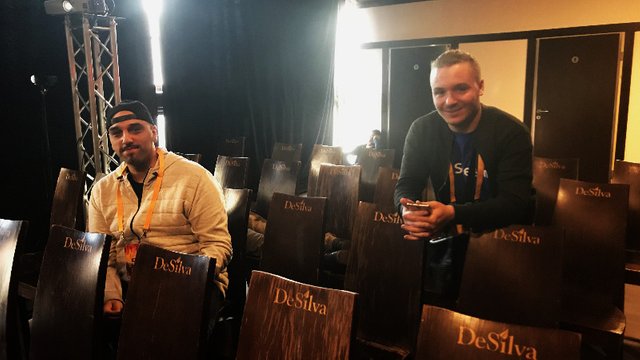 Then there's @fredrikaa, whose work with @steempress-io has been nothing short of amazing. I am a personal fan of Steempress and The Writers' Block is both supportive and grateful for this initiative. To meet and spend a bit of time with this developer was a privilege I don't take lightly. Pictured right to left below in one of the Stara Zajedznia "barrels" is Gmuxx, Frederikaa, and @Jayna.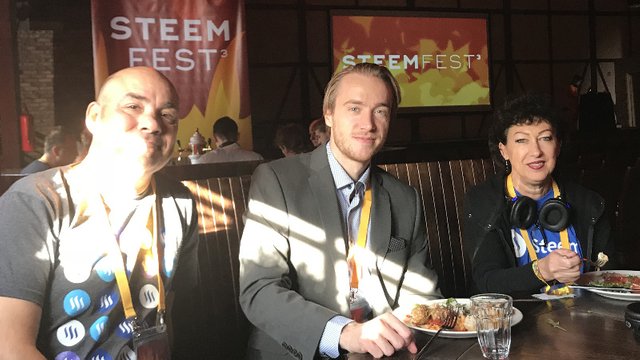 I also got to meet and spend time with @elizacheng, whose warmth and sincerity blew me away. Still another lovely Steemian whose energy lights up a room. Here she is proudly showing off her family--I made a special point to get this photo at this moment because of the joy on her face. Elizacheng, it is a real joy knowing you. :-)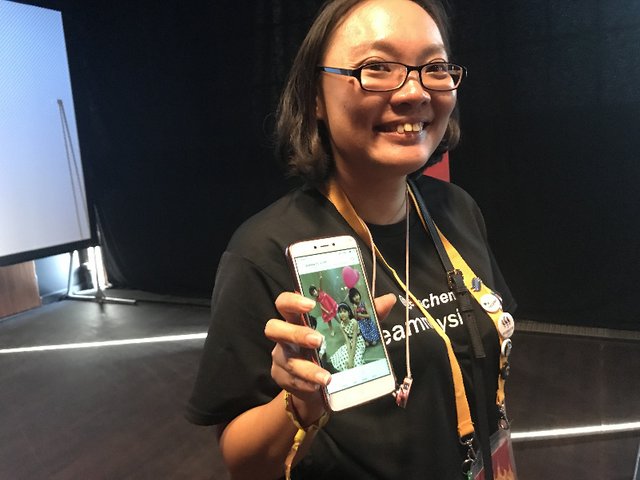 Two other people I met who I hope to stay in contact with are @bugavi and her mother, @olga.maslievich. They brought such joy to me during this conference, and as is the case with Michelios, are people I won't get to say goodbye to unless they are at the closing dinner tonight. I had to abandon our plans of further conversation when Muxxy and I left the Congressional Center in such a hurry on Friday. Needless to say, I hope we have a chance to talk a bit more very soon!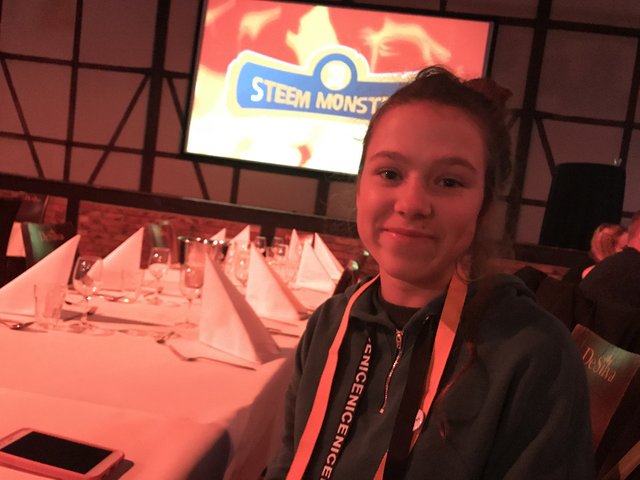 And now, just some random photos I took of a K9 S&R trainer's car and some other lovely scenes I found on my walk to the Stara Zajedznia.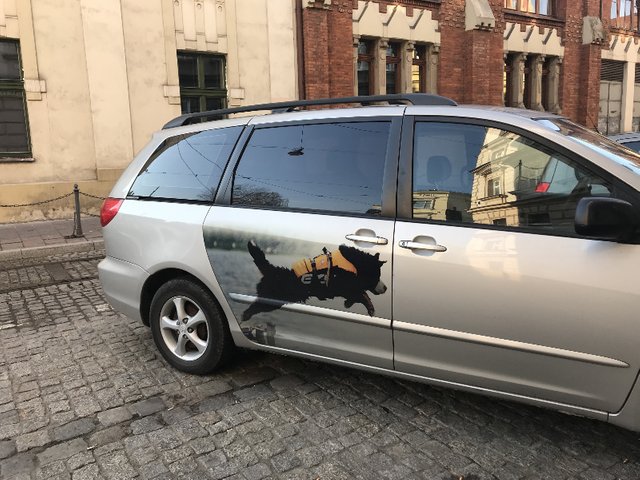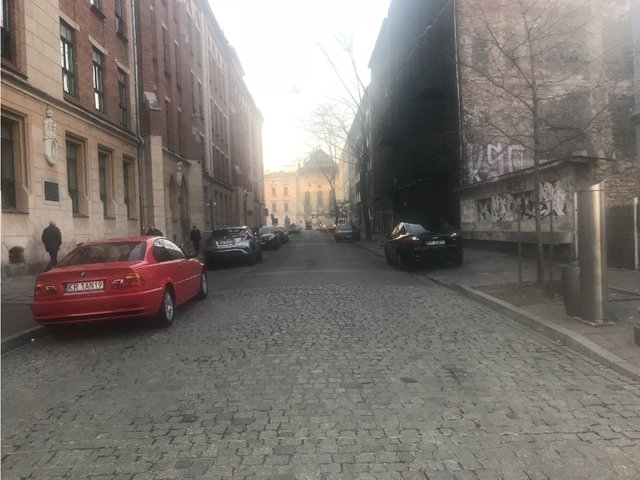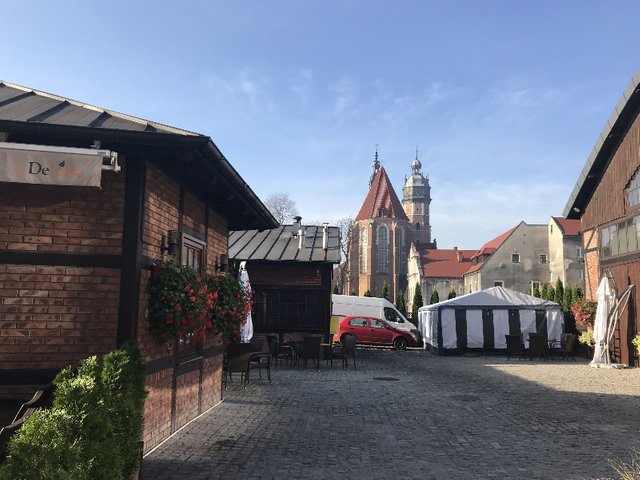 Last but not least, an edited video of TWB's presentation about Steemhouse publishing and Wordrow. It's edited to exclude reference to the witness group I left last night due to differences in alignment. It's otherwise intact. Please be sure to watch it! It's only 20 minutes long, and chock full of information some of you may not know!
Happy Steeming!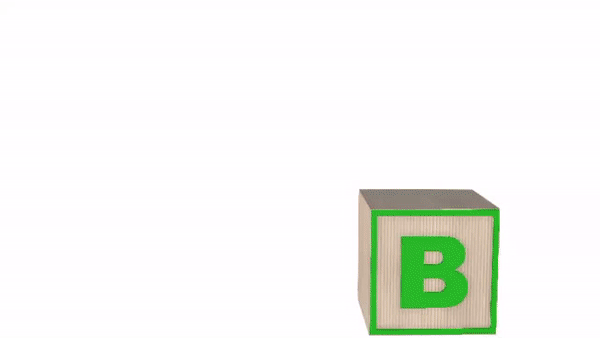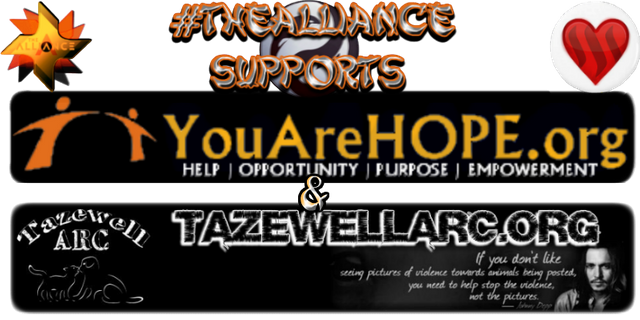 ---
Posted from my blog with SteemPress : http://www.authordianeryan.com/uncategorized/more-steemfest-2/
---