Creating A New Dapp For Steemit Open Mic - Talks With @prc The Creator Of DSound
This year at Steemfest 3 I had the opportunity to meet with @prc, the creator of DSound, and he has graciously agreed to help create an app for the Open Mic community. This is exciting news and will help grow community engagement.
@prc is a very talented developer and we are lucky to have him interested in helping us build an app. He's also a Steem witness who I suggest you support with an upvote for witness.
We discussed creating some basic features for the app like cross-posting from other apps like DTube, Steemit, Busy, Steempeak, etc., showing votes, comments, and rewards, making it searchable by week number, user, and winners, along with a few other features. We sat down and came up with a plan for an Open Mic DApp that he agreed to start working on. It will be coming out soon and we'll need beta testers when it does. I'll keep you posted.
The idea is to get the app up and running well enough to release it to the community so they can start using it and asking for their feedback and suggestions for additional features. We'll create it as an open-source application on GitHub so that additional developers can improve it over time.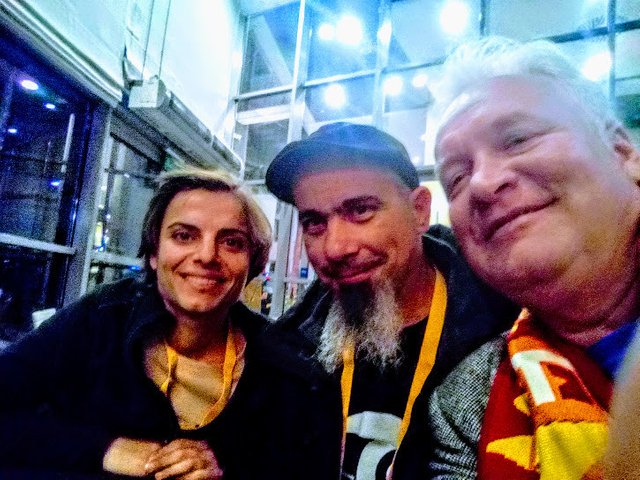 We began talks about creating this project months ago when @prc and I were guests on a Discord show hosted by @pennsif, Founder Support for @fundition, which is like KickStarter for Steem. My original idea was to create a marketing campaign to attract funding on @fundition and use those funds to pay @prc to build the app, but after meeting in person at Steemfest @prc decided to get the app started at no cost. He said he didn't feel right charging us to get the basic app started and would do it for free.
I want to thank @prc for his valuable time and generosity in helping us get this project off the ground and I can't think of a better way to thank him than to upvote him for Steem witness, which I have done and suggest you do as well if you like supporting music and musicians on Steemit. Thank you so much @prc for everything you do to help this platform.
We'll keep you posted on the progress of the app as it's developed and will be looking for community input and suggestions too.
---
I have also launched a witness node that is running smoothly and want to thank everyone who has voted for me. If you would like to support more community projects please consider upvoting me for witness. You can read more about that at:
---