SteemFest 4, we are coming!
---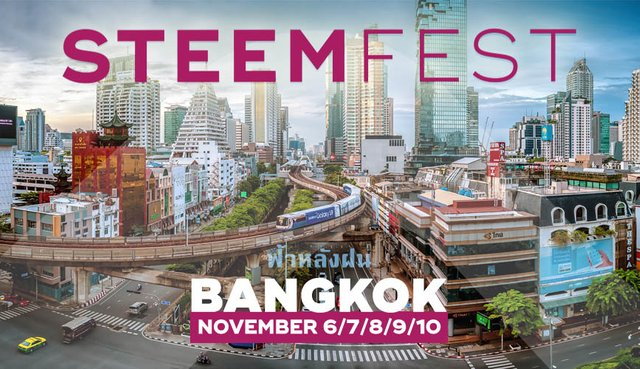 ---
Hi Steemians, in case that you have not yet made the decision if to go to SteemFest 4 or not, I will give you another really good reason to take part: my family and I (@kobold-djawa, @steem-queen, @jaki01) decided to join and did already all the necessary steps. So come and lets meet there. ;-)
As I miserably failed to win a SteemFest ticket by playing Steem Monsters, there were quite some things to organize/buy:
Three flight tickets from Germany to Thailand (dear my money, I am seeing you melting like snow in the sun!). :)
We will fly at November 1st with Emirates from Frankfurt via Dubai to Bangkok.

Two SteemFest tickets. We decided to pay with fiat money in order not to spend Steem when it is as cheap as nowadays ...

We will stay in the Prince Suite Residence.

I also had to order a new passport (it cost 60 euros plus photo, and I really don't like that nowadays one cannot stop the state anymore to take one's fingerprints to get one).
Why did we decide to join?

The trip will be rather arduous and is not really cheap (to express it euphemistically). In addition it was not easy for me to get 10 days free of work during this time of the year. So why did I decide to join?
I love STEEM!


"But @jaki01, come on: you are sceptical by nature and criticizing the platform all the time!"
Criticizing and making suggestions implies the wish to improve something because one cares about it. If I wouldn't care about STEEM and its future, be sure I never made the effort to criticize or searching for improvements.
I am convinced that - apart from all its challenges and problems - STEEM with its fast and fee free transactions still is the blockchain of the indefinite opportunities, the blockchain whose amazing community comprises lots of capable programmers, skillful content creators of every kind and many free-thinking individuals.
STEEM is the place where people can freely express their opinions and save their thoughts, ideas and precious moments forever on a blockchain without being afraid of censorship. In addition there is the possibility of getting some rewards for writing, photographing or making videos.
I shouldn't forget to mention the perfect suitability of the STEEM blockchain to build DApps like Steem Monsters or NextColony on top of it!
Where else you can find all that in one single place?

We were at SteemFest 3. It was a really great experience, and even if since then @ned has already fled the battlefield, :-) there are still so many other amazing and loveable people (too many to mention them all) which I met there and want to meet again!

I really like the location of SteemFest 4: last year, as part of our big Asian trip, we also visted Bangkok, where we made friends with the Thai Steemians @mayasiam (and her Polish boyfriend @earworm), @tangmo and @waybeyondpadthai. In Jakarta we met @anggreklestari and @riyuuhi, and in Malaysia we were the guests of @redpalestino.
I really hope to see all of you again!
"What are you looking forward about the Thai life?"

@anomadsoul asked "What are you looking forward about the Thai life?"
Well, apart from meeting nice people and keeping up to date with the newest STEEM developments, I am looking forward to eat real Asian food again. Especially my Asian (Indonesian) wife, @kobold-djawa is eager to taste real Asian street food, which she is sometimes missing in Europe.
Beyond that, for our little daugther it will be very interesting to gather the multifarious impressions, a huge metropolis full of life, like Bangkok, has to offer.
In addition, of course, Bangkok is full of points of interest. If you find the time, among others, I really recommend you for example to visit the Grand Palace, which you see in the picture below:
---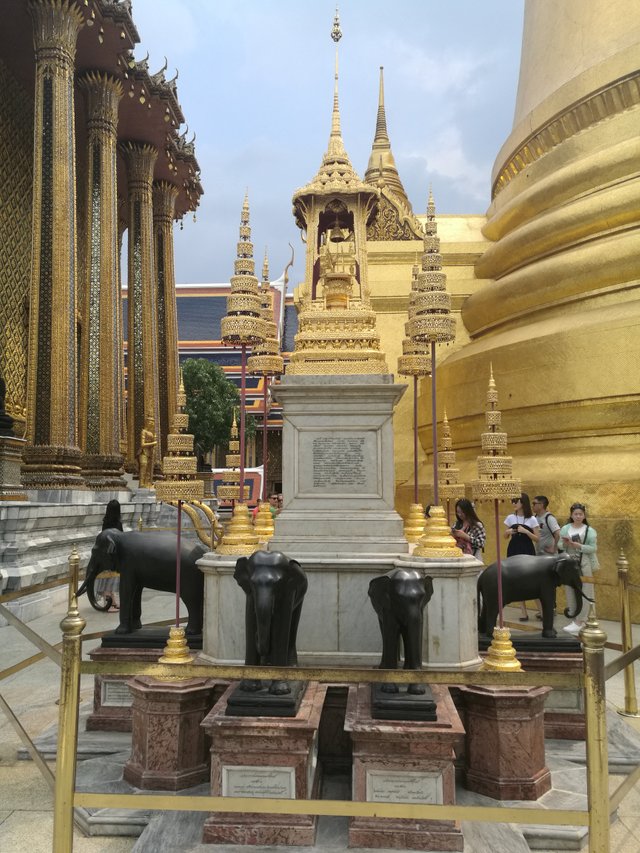 Photo of the Grand Palace in Bangkok, made during our last stay there in 2018.
---
What I also like is just going to any park (in South Asia I prefer the evenings when it's not so hot anymore), sitting on a bench and observing environment and people to feel the atmosphere of a place. Every location, every city along with its inhabitants, is different, and Bangkok is very special for sure!
So what are you waiting for? Bangkok and many amazing Steemians are waiting for YOU! :)