Did you miss my post about Day One of SteemFest? If so click here to read it.
---
The second day of SteemFest began with a canal boat tour of the city that embarked just a few blocks from the hotel on the Amstel river.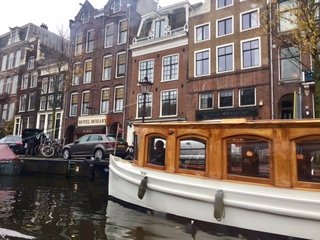 The euphoria of the previous day was still running high as we lazily made our way under dozens of bridges made of brick and stone to the oldest part of Amsterdam for Sunday's Red Light Mashup Tour.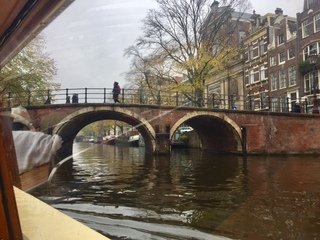 This day's events were more relaxed could be taken at your own pace, which was a nice counterbalance to the first day's intense schedule of presentations and workshops. By day two the ice had been broken and it was apparent that deeper bonds were forming between many of us. We felt like real friends now instead of just online acquaintances.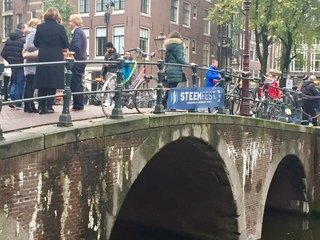 First off on the Red Light Mashup was the Quartier Putain coffeehouse where @fairytalelife did live portrait drawings and many of Steemit's artists displayed their work.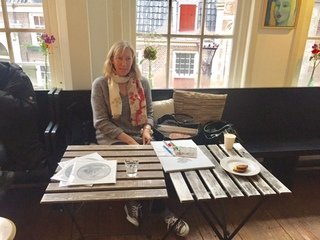 Complimentary drinks were offered with the show of a SteemFest wristband. It was nice to enjoy a warm cup of good coffee on a cool day and soak up the wonderful creativity of the talented visual artists on the platform. They represented themselves very well.
Our next stop was the coffee shop, De Koffieschenkerij. On the terrace @roelandp 's father and younger brother made us authentic Dutch pancakes from their very own family recipe.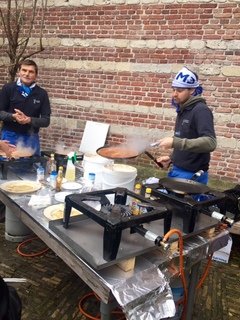 For those of you who've never had a Dutch pancake they were nothing like pancakes we have in America. They were paper thin (like a crepe) and made of whole wheat. They came off the griddle piping hot and were sprinkled with powdered sugar and honey and then rolled up before they were plated. These things were fabulous. Even though they were filling I could have eaten two or three.
After we were full of pancakes and happy we made our way to the Old Church for a quick look inside before for our 3:00 time slot to climb to the top of the bell tower. This church was cavernous, beautiful, and cold. It actually felt colder inside the church than it was outside. We had to laugh at the fact that some of the big old Dutch banks had very ornately carved wooden pews that were elevated at least five feet above the rest of the seating in the church (to the left in the picture below). I couldn't help but think these special pews were probably the great-great-great grandfather of the corporate box seats we see at sporting events today.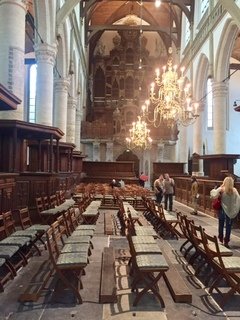 Next was the Old Church's bell tower, the mother of all climbs. This tower was built in the 1500's.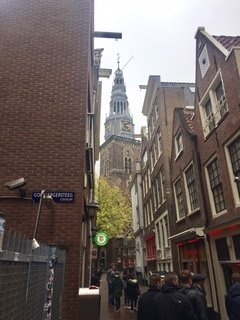 The stairs were so steep they were more like a succession of wooden ladders. I wish I could've gotten a picture of the stairs but I was concentrating on the climb. At the half way point the original bells of the tower were on display.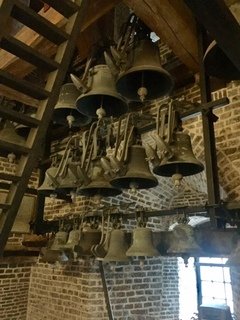 After we climbed a bit higher we saw the main bell, made in 1659.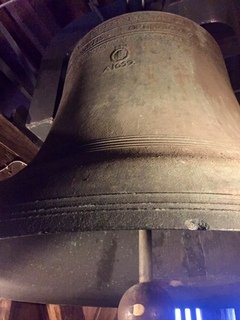 Those brave enough to make the climb were rewarded with a breathtaking view high above the oldest neighborhoods of Amsterdam. Even more arduous than the climb up was the climb down. Those ancient wooden stairs were so steep they had to be descended just as you climb down a ladder, backwards.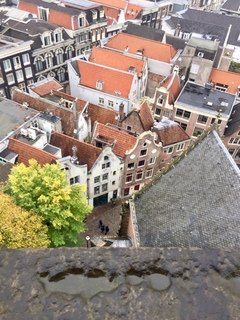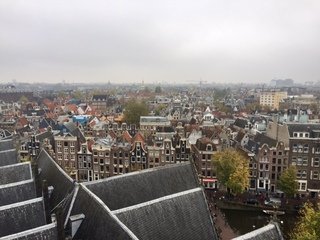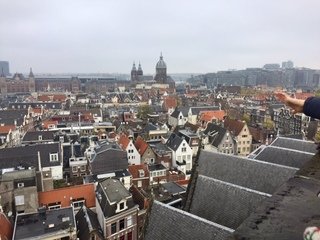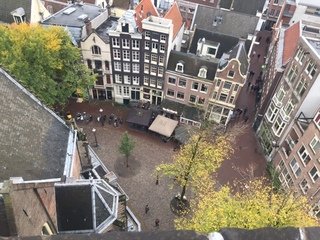 Day Two ended with the SteemFest's closing dinner at the Volkshotel at 7:30pm. We were treated to a delicious meal after a short speech by Roeland and @ned. @nanzo-scoop introduced himself and I had the pleasure to chat with him for a few moments. He's been a great supporter of my work on the platform and it was nice to meet him. I was seated next to @steemrollin and we had a deep conversation about the next books in the ACD trilogy of novels, his online marketplace Peerhub, and ideas to improve the user experience on the Steemit. I also spoke with @ballinconscious, @michelle.gent, and @xanoxt.
As I wrap up this post the flight tracker tells me we are about thirty-three thousand feet somewhere over the mid-Atlantic, my energy is even soaring higher. I was going to try to sleep on the flight but I can't because my creativity is on absolute hyper drive. The thought of going back to the grind makes me a little sad but there's a multitude of thoughts, ideas, and emotions swirling around in this head of mine.
This weekend changed me in ways I can't yet fully explain. It was a vital step in my life's journey. The core of who I am is the same but now I feel more fearless, more ambitious, more open, and I have many new friends…maybe even a few lifelong ones. My wife and I fell in love with both the freedom and charm of Amsterdam as well as the openness and kindness of its people.
I feel as though for once in my life all of the stars were in alignment and I happened to be in the right place at the right time. I'm one lucky bastard because this weekend I was a part of history, the first annual SteemFest. I can't shake the thought that one day there will be a film made about this weekend (akin to movie The Social Network only much better of course.) I can't help but wonder Who will play me? My best guess is Rowan Aktinson. : )
Thanks to all who contributed to the event. I already can't wait for SteemFest Two, I hope to see you there!
---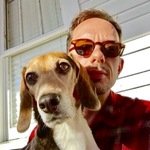 To follow my unfolding story please visit my website here to sign up for my author newsletter.