Let's Promote Steem - 1k SP Delegation Contest
Once again, I find myself somewhat demotivated by Steem as a blogging platform. Sure, switching to @steempeak has made my Steeming easier, but I still spend very little time curating. Especially if you compare it to how much time I invested in curation, comments and content creation. It's not that I don't have time, I just feel like I lack the passion.
One thing I did the other day did give me a bit of the encouragement I lacked. Someone randomly (and jokingly) asked on some non-crypto Facebook group about people's crypto-coin of choice. I answered STEEM, and said I didn't quite choose it - it chose me. The guy showed interest, and one thing led to another, and now he's checking out the Israeli Steem group on Facebook and chatting to me about setting up an account.
This, combined with the inspiration I drew from the contest @suesa published last week, brought me to write this post.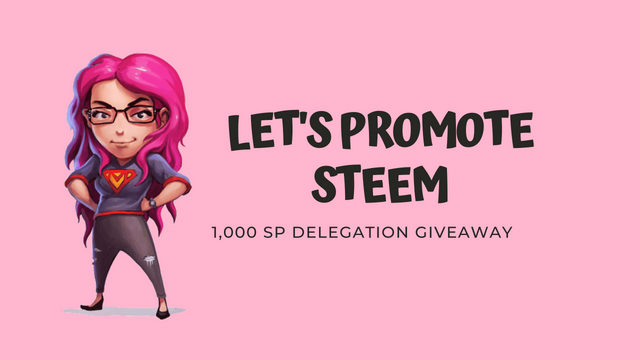 Paying it forward
One of the main drivers for my growth on Steem was the delegation I was fortunate to have from @steempty back in 2017. It helped me grow my stake and feel like my vote meant something (back then it was as high as $8 at some points).
Now is the time to pass it on to the best of my ability. Currently, I think 1,000 SP is a reasonable offer.
Contest Guidelines
To participate, write a post (not just a comment to this post as I will flag your ass for not reading the guidelines) about what you are currently doing to promote Steem. Do you mention it in comments on social media? Talk about it on forums or at physical meetups? Do you think it's more important to attract content creators, traders, or passive hodlers? How can we, as a community of users, promote our coin to grow its volume and value? Throw your ideas and passion at me, friends.
There is no minimal length to the post. It can be a video, a short text with a lot of screenshots attached, a funny story or anything you think will inspire me and amuse me enough to give you that delegation.
To make sure I see the post, please tag me in it and the wonderful Gina will notify me. If you're extra diligent, you can dump the link here in the comment for the extra little upvote on it.
In 7 days (when this post pays out), I will choose the author of one of the posts published and they will receive a 1,000 SP delegation from me for a period of 30 days at least. That's right - at least. The recipient of this delegation will get to keep it for as long as they continue to curate and create quality content, or until I decide that I need that SP back for some reason.
Since I don't want to end up with a contest that is not a contest, it will run only if at least 5 posts were submitted.
Questions?
Look me up on the Steem Discords - I lurk in most, and named techslut in all.
Good luck!