The price of steem has been in the doldrums for a long time. Frustrated investors have watched the price of steem do nothing while the bitcoin price has climbed and climbed. Here is a long term chart of the price of steem in bitcoin.
You can see that on the long-term view, steem's price is currently very low compared to bitcoin:

Let's look at the long-term chart another way. Here it is in Candlestick form: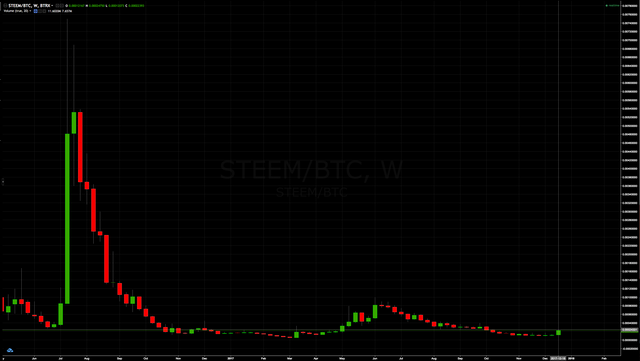 Look at the green candle on the far right-hand-side of the chart. It shows the price is starting to edge upwards.
Let's home-in on the last 3 months to see how that rise looks closer up: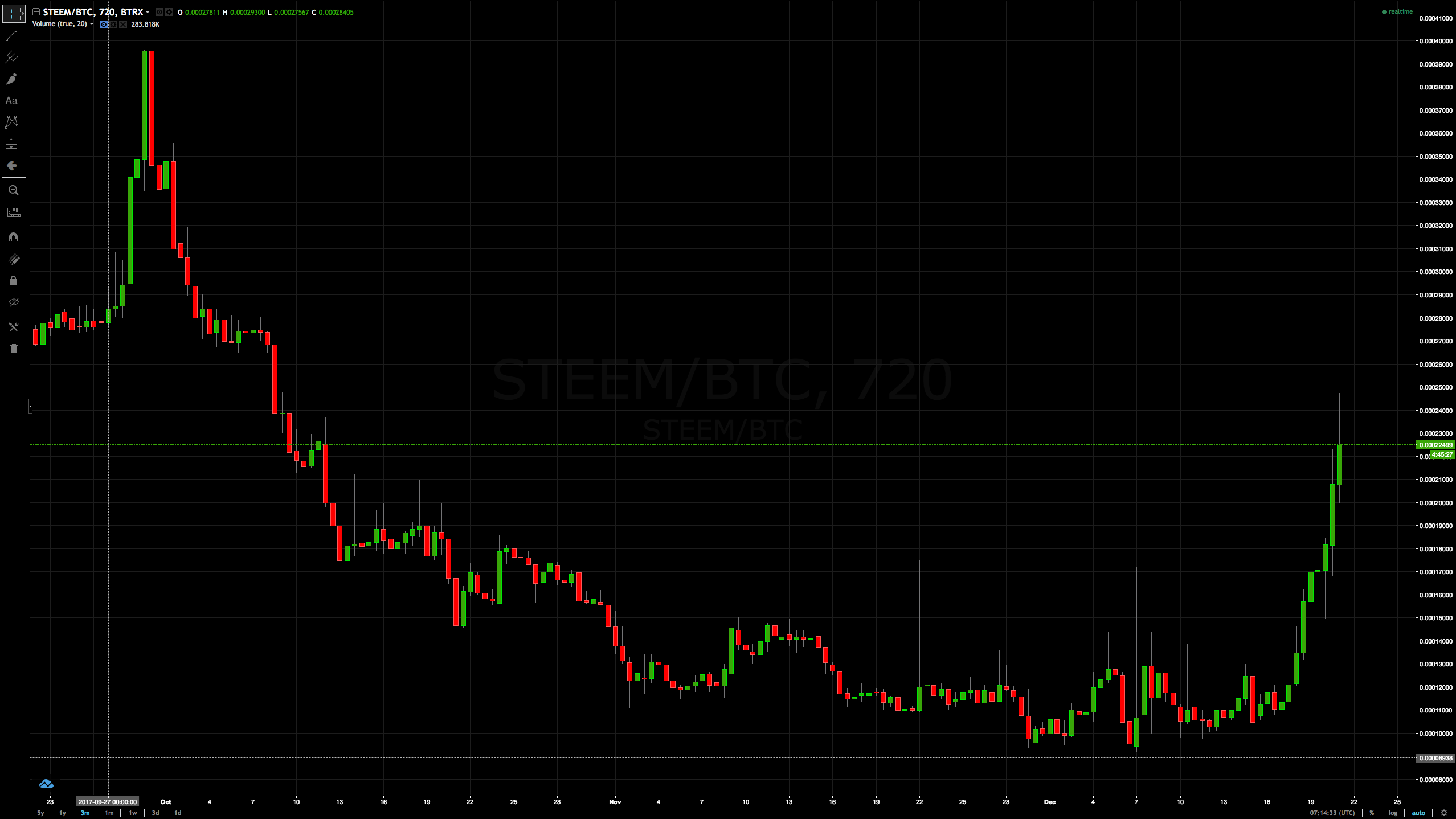 In the above chart you can clearly see that the price of Steem has broken out of its long term downwards trend. (Don't forget - this is the porice of steem in bitcoin terms, not USD. It is also rising in USD terms.
Homing in a bit more, you can see the price in Satoshis has risen over the the last few days from around 11'000 satoshis to around 22'000 satoshis. Steem has literally doubled in price compared to bitcoin in about a week. You can see this below:
![Screen Shot 2017-12-21 at 08.19.46.png](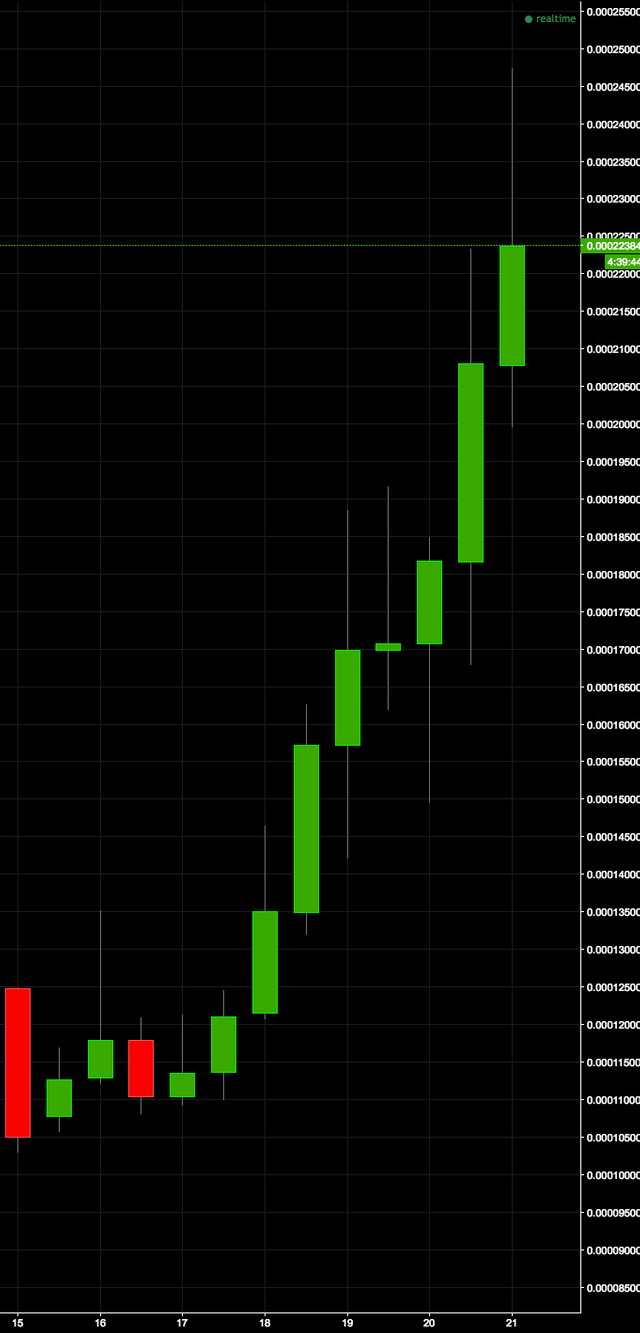 What is causing the rise in the price of steem?
(1) The number of active daily users of steemit is rising. Here is the latest chart of active daily users provided by @penguinpablo: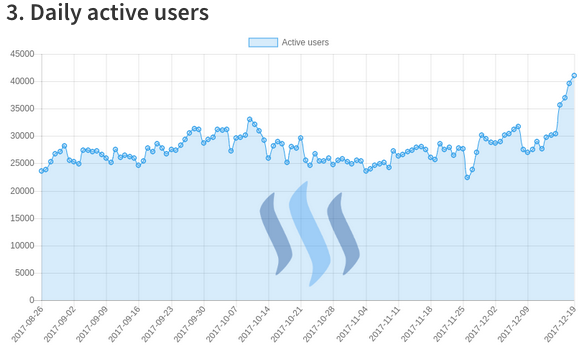 (2) The bitcoin and Ethereum net works are completely clogged up. I am still waiting for a bitcoin transfer of more than 24 hours ago to go through. According to blockchain.info the standard fee for a transaction in 60 minutes to 24 hours is over $50 and for a priority transaction (less than 60 minutes), the fee is over $60. People who want fast transactions and free of charge transactions are looking at steem. In other words, if you hold bitcoin on an exchange and you want to move them somewhere else, it's better to change the bitcoin into steem and move the steem.
Take a look at these statistics from https://www.blocktivity.info/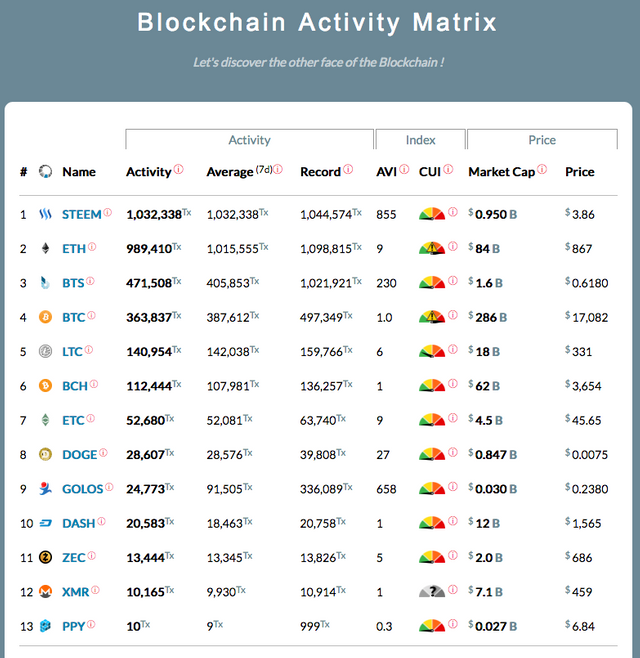 Do you notice the little yellow triangle- warning next to ethereum and bitcoin?

The warning sign means the network is clogged. Here is what you see if you click on the little "i" next to the warning for ethereum or bitcoin:


See how clogged those networks are. It takes forever to do a transaction.
On the other hand, the steem network isn't even close to 1% of capacity. Look at the number for steem below:

Simply put, steem is seeing more transactions than any other network and isn't even close to 1% of its capacity. (see below):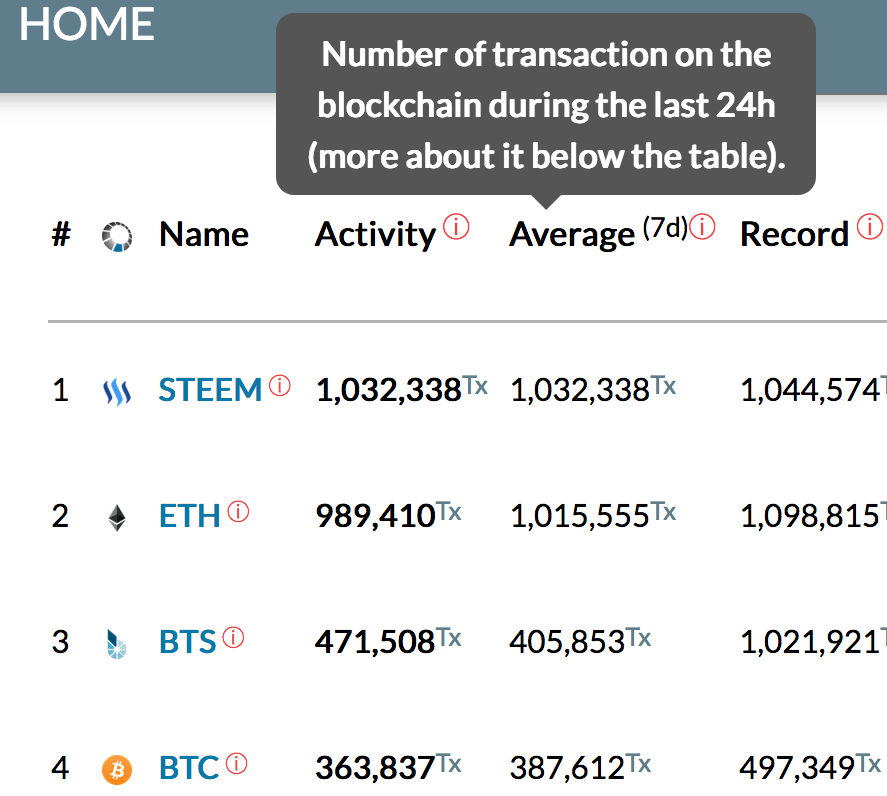 In my opinion, the best predictive indicator you can have of a crypto-currency's future value is how much it is currently being used. Steem is currently the most used. (Should I say "thank you" to all the spammers on steemit?)
Simply put, people are moving into steem because they can quickly and instantly move steem at no cost.
Here is a transaction I did to transferring 1000 steem. It cost me only 1 cent, and it was instantaneous:

Compare that to the cost of sending bitcoin as below:

You saw it right? $65 to send bitcoin, or only 1 cent to send steem. Bitcoin takes hours and steem is instantaneous. People want to own steem for the speed and low-cost of transactions.
In terms of volume, steem is still not a very important currency. It is 34th in terms of market cap and 57th in terms of daily volume. Below you can see the places where steem trades: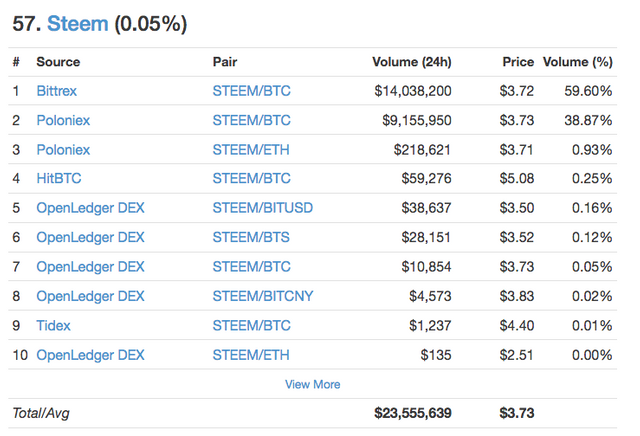 What about wealthy investors?
There is no denying that wealthy investors want to own digital assets. I have many friends who manage wealth for all kinds of investors from pension funds, to family offices to millionaires to companies. they are getting regular calls about bitcoin. Today, it's only about bitcoin. It's the only thing everyone wants to own. Of course the bankers are pushing back. They are saying "We don't really recommend bitcoin, but if you really want it, there's an ETF...."
Today it's all about bitcoin
Bitcoin has gone bonkers and everybody wants to own it at any price. They don't care that there banker tells them it's a scam, or a fraud or a bubble. They just want it. Bitcoin is the first digital asset anyone wants to own.
Tomorrow it will be about portfolios of digital assets
The value of bitcoin is that it is the King-daddy of crypto. It has the brand-name recognition, like Starbucks, McDonalds, or Apple. People simply don't care whether it is the best, cheapest or fastest. they just want to own bitcoin at any price. It is the mother-load of the crypto-world.
The mantra of every investment manager is that you should diversify. Wealthy people know that.
Having got their bitcoin, they are going to want to know what other digital assets they can own to diversify their portfolio. They probably want to have several crypto-currencies with different features and use-cases.
Steem is an obvious choice as a diversifier.
Steem has one of the strongest "use-cases" of all the alt-coins. You can argue that - saying that maybe ethereum or some others have a strong use case. However steem is the most obvious to me.
Steem is a "vanity" asset
Why do women wear makeup? Why do men polish their shoes? Why do you want to be the manager? Why do I want want more steem-power?
It's all about vanity. These things give us more power, more influence, more respect. It's like wearing a gold watch or a large diamond. Owning lots of steem-power gives you respect, influence and power. People just want it. Go to any minnow and offer to delegate your steem-power to him. He's going to take it! If your friend lends you his Lamborghini to go on a date, you're going to take it. So it is with steem. People want to own it, wear it, display it.
In the above respects, steem has a strong utility value. There is a clear reason why people want to own it, to use it. They want to be the king-of-the castle. The more you have, the better you feel. It is a desired asset and it is going to be more desired in the future when wealthy people start to diversify.
Hard-Fork - steem owners to get free coins?
I am not sure how probable this is, but I link below a post by @taskmaster4450
https://steemit.com/steem/@taskmaster4450/holy-s-t-steem-hardfork-at-block-18-500-that-is-two-weeks
The blog suggests that a porn site called vice.com may use a copy of the steem blockchain, and we will all get free porn-tokens or vice-tokens. I'm not sure if it is plausible - as I have not read the vice.com paper, - but that's the opinion of @taskmaster4450. Make your own judgement.
Here is an extract of what he wrote:
There you have it. This looks like the Steem blockchain is being forked and we will have Steem and the Vice blockchains. For the trouble, steemians are going to get 400,000,000 Vice tokens (I am guessing it is a 1 for 1 token "dividend").

All characteristic of the Steem blockchain are mentioned in the Vice white paper. Quite frankly, I cant figure out another way to have that happen other than a fork.
Steem price forecast
Anything is possible in the crypto world. We have watched the price of bitcoin climb from less than $1 to nearly $20'000.
When making a prediction you can say a direction, a time-line or a price, but never more than one. I will stick with the direction and leave the time-line and price to you.
I have a bullish forecast. I think the price will go up. I think it will go up alot. I think it will rise faster than bitcoin did.
I think we are at the earliest stage of that rise. It's the first few days of a multi-year ascent. You can work out where the price would be if it became 10%, 20% or 30% of a typical digital assets portfolio. Let's just say, there is a long way to go. We are at the start of the journey.
Example of a diversified digital currency portfolio: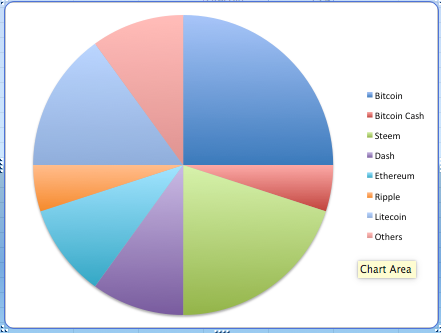 Up-to-the minute price
As this was a long post, you may worry the price moved the wromng way while I was writing it. The price didn't move. It's still at around 24'000 Satoshi. Here is the photo of the bittrex website: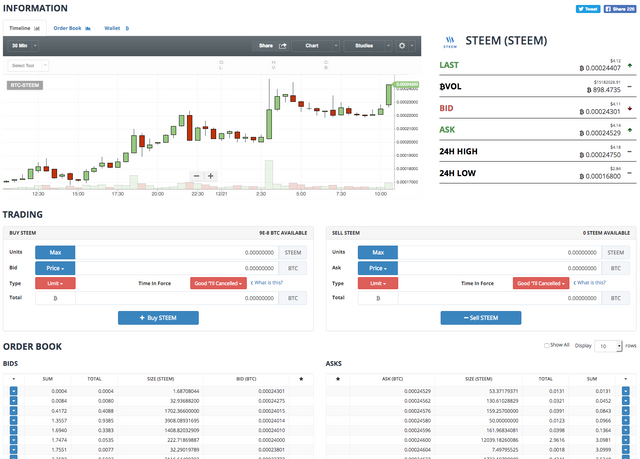 Disclaimer
The above article is for fun and should not be construed as investment advice. It is debatable whether crypto-assets like bitcoin or steem have any value. One thing is certain. Digital assets are very volatile and you can make or lose a substantial percentage in a short space of time. Don't invest the money you need for Christmas, or your children's education. You may lose it all. Don't invest if your spouse will divorce you and your children will hate you if it goes to nothing. Tell nobody, so they can't laugh at you and say "I told you so" if it goes wrong.
Be truly alone on this journey.