Welcome to the Redfish Power UP League and Wall of Fame. Its week 50.  This week we have no new graduate. and 3 new redfish. There are now 160 redfish growing with us and tracking their road to minnowhood and also 92 graduates. I wish each and every one of you success in growing your account on Steem. The aim of this challenge is to grow your own SP to 500. To learn more about this initiative please do have a read of the introduction post  .  

A big shout out and thank you to @richatvns for this amazing artwork - feel free to add it to your posts and promote the redfish league
NOTE:  There will be NO Redfish Power Up League next week.  the week after (26th June) will include power ups for 2 weeks
Do you want to join?
You can join, or leave at any stage, all you have to do is leave a comment below and let me know that you want in or out.   
Support Each Other
This league gives you the perfect opportunity to visit the accounts you would not normally visit.  Take a look at the league and visit the profiles of one account above you and one account below and let's show each other a little support.
I would like to very much thank @sparkesy43 for doing this the last while.  It's really encouraging to see you use this league to support other like minded people.  We are all trying to grow our accounts, let's support each other.
Redfish Power UP League
Every Wednesday I will be connecting to the SteemSQL database managed by @arcange and gathering details on the Owned SP for each person in the league.The current weekly owned SP will be compared to the SP held when the person joined the league and the average weekly % SP growth will be calculated. The person with the highest % weekly SP growth will be on top of the league. When a person reaches owned SP of 500, they will be removed from the league and added to the Wall of Fame.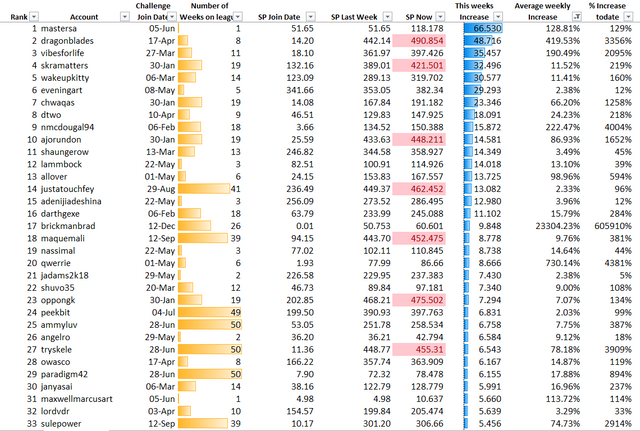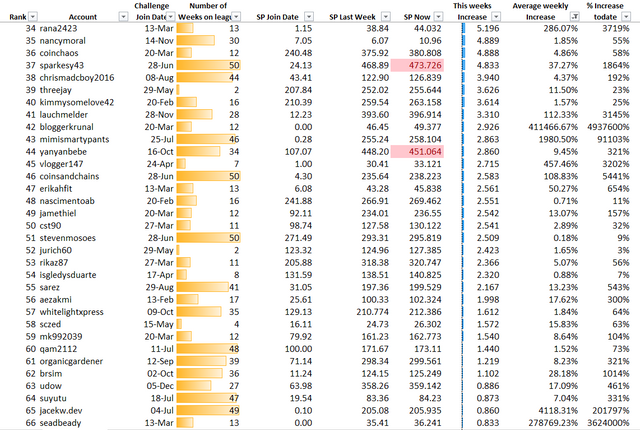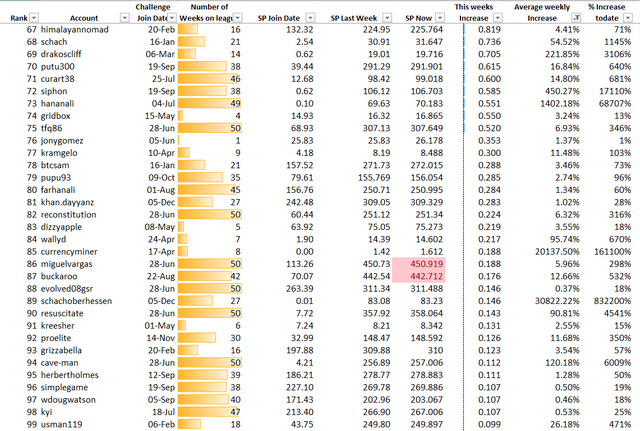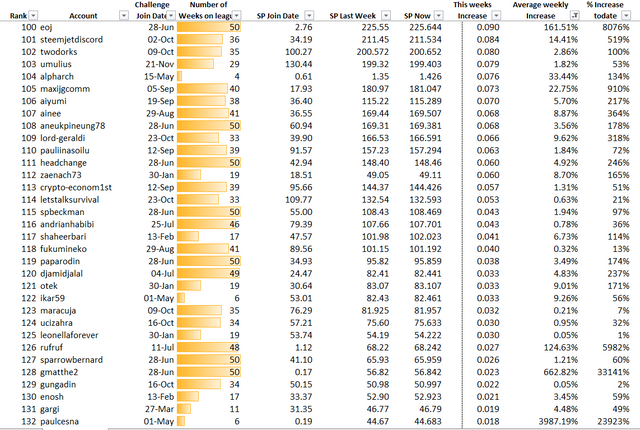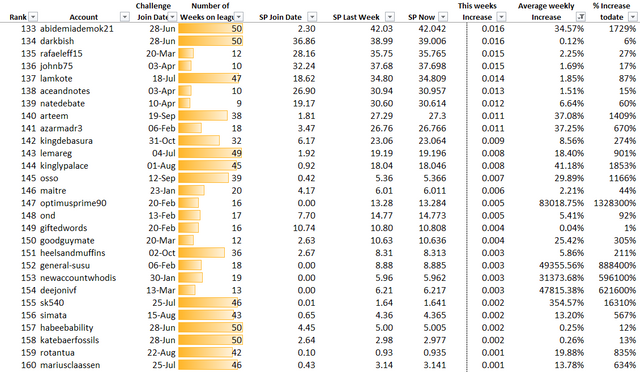 accounts with no growth or powerdowns this week are not included in the list above
A shout out a welcome to all of the new people this week  @mastersa   @jonygomez   @maxwellmarcusart. Welcome to the league.  Do check out the accounts above and below you in the league, visit their blogs and show each other support.      
Congratulations
Well done @mastersa being first in the league with a massive power up of 66.53 sp since the last league post.  This puts you first in the league.  You will be sent an SBI unit. And it is your first week with us. nice!
@dragonblades  you are so close in second place I just have to send you a prize too 44.716SP power up, nice work.  You are crushing it out there.
Congratulations also to  @vibesforlife  @skramatters  @wakeupkitty  @eveningart  @chwaqas   @dtwo   @nmcdougal94 and  @ajorundon  as you were all in the top 10 this week with fantastic growth.
Spot Prizes
Lucky number 5 @wakeupkitty you will be sent 1 SBI unit. 
Lucky number 15 @adenijiadeshina you will be sent 1 SBI unit.  Congratulations!
Lucky number 20 @qwerrie you will be sent 1 @SBI unit.
Wall of Fame  
We have a whopping no new entrant on the wall of fame this week.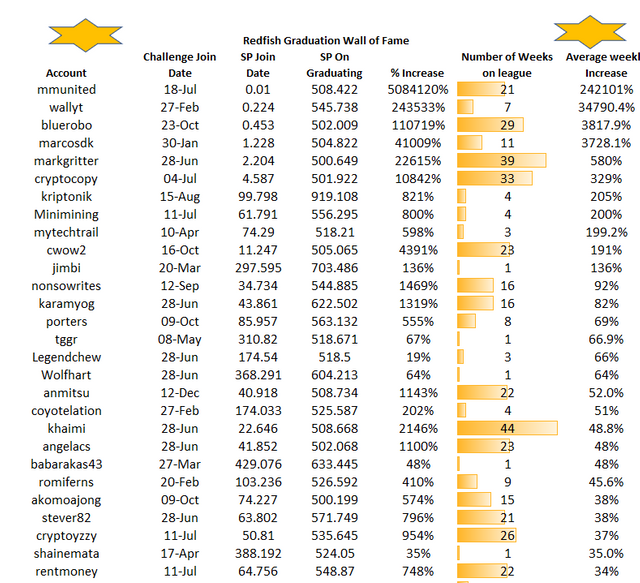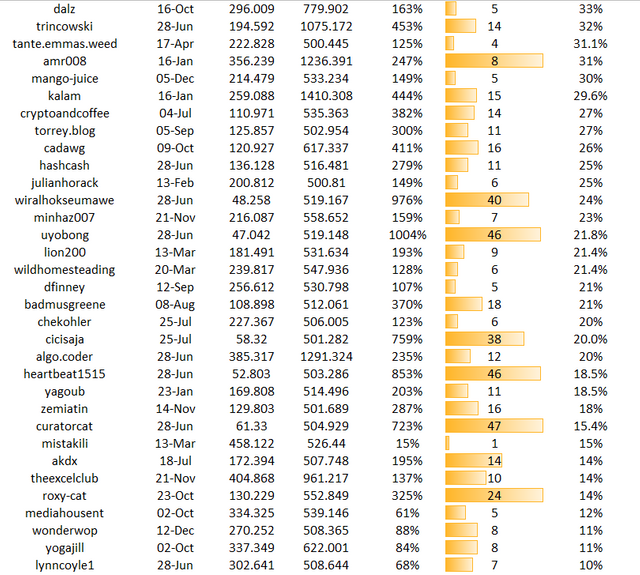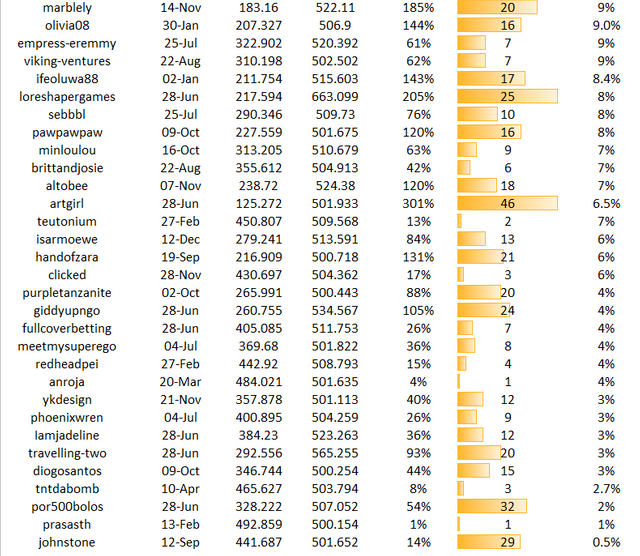 Shout out to   @maquemali   @tryskele @skramatters  @oppongk   @dragonblades   @sparkesy43  @ ajorundon   @yanyanbebe   @miguelvargas   @buckaroo   @hobo.media. You are all on the home stretch.  Won't be long now before you are minnows.  Keep going everyone.              
Minnow Power Up League
I am delighted to tell you @steemcommunity account is now taking names for the Minnow Power Up league.  If you have SP of 500+ we would love you to join.  You can read the introduction post here
https://steemit.com/engagement/@steemcommunity/announcing-the-minnow-power-up-league   
 Prizes
This weeks league is sponsored by me.  All prizes have been sent

Newbie Showcase, FREE STEEM Training and FREE STEEM Power Delegation 
Do you want to fast track your learning and earn some free Steempower delegation to help out with resource credits? If so then you need to check out this post
  https://steemit.com/steemit/@paulag/free-steem-training-and-free-steem-power-delegation-and-learners-showcase-17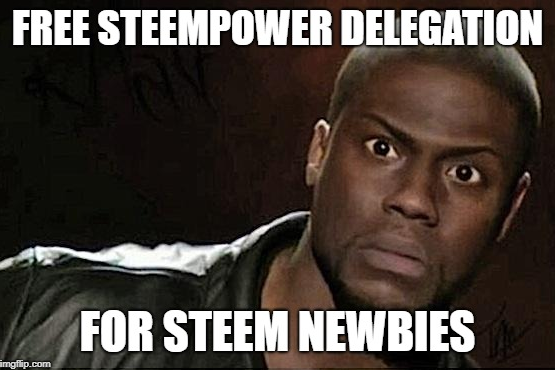 Looking to join a steem Community?
Check out our directory of steem communities or you can search the steem community directory and find a community to suite you.Don't see your community listed?  Submit your community to the steem community directory now