I've still been closely following the Patreon disaster that's happening recently and I've found even more creators that have either been deplatformed themselves, or they are planning to leave out of sheer disgust at Patreons behavior. This led me to dig into learning more about @fundition. I've known Fundition existed for as long as it's been around, but I've never really looked into it too heavily because I thought it was basically Kickstarter for Steem. I was also ignorant of some of the features of Fundition leading me to an incorrect assumption about it's usefulness.
After learning more I think Fundition could end up being one of the if not THE most important dapp for the Steem blockchain, especially for content creators. If that sounds like a pretty grandiose statement please keep reading and allow me to explain why.
One of the main issues being tossed around the SBC is how we can bring value to Steem, not value in some intangible idea, but literal fiat. I've heard some steemians mention that people that are just creating content aren't adding any or adding very little value to Steem, only extracting value on the assumption that those content creators are ultimately earning Steem with the intention to sell it.
My knee jerk reaction to this was that without content creators bringing people here to look at their content, who would want to come here? What reason would anyone have to come here? But the more I thought about this I started to to accept there is some truth in this line of thinking.
The reality is, there's probably not that many non-steemian people coming here to look at my or most other content creators content. While I personally haven't ever sold any of the Steem I've earned, I'm also only bringing in fiat by buying Steem myself or onboarding new members and walking them through the buying process. I've done this with several people so far, but the ideal is each content creator being able to bring outside fiat into Steem.
Intro Fundition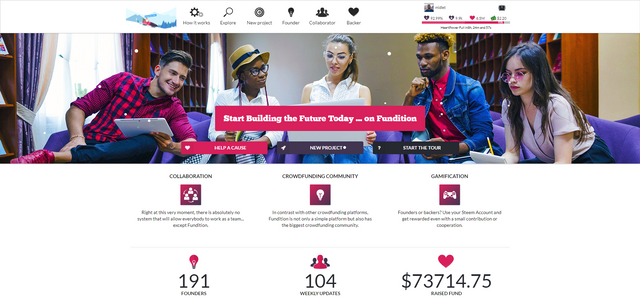 So all this time I'd thought people could support Fundition projects either through upvotes(HeartPower) or donations via Steem, what I didn't know is that you can support a project with a variety of different cryptos(which fundition will convert to Steem then send to the project Founder) but also...via Paypal.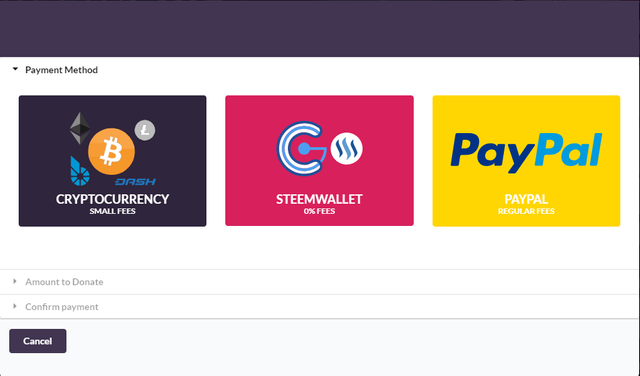 This is a HUGE x-factor for Fundition when it comes to content creation. It also adds value to Steem because Fundition converts the payment to Steem and sends it to the founders wallet. The person that donates in this way also
- DOESN'T NEED A STEEM ACCOUNT -
Up until now I would have thought that this was either impossible or impractical because if this is doable, why isn't every single frontend doing this? A friend of mine @sisler003 was very adamant about a tipping system on Steem, I wasn't all that into the idea as I was thinking of tipping via Steem. Where some people might do it, I felt like most people here wouldn't donate large amounts of Steem. I think this is a psychological thing, but I can say for myself, if I donate one Steem to someone I don't feel like I'm donating whatever the current value of that Steem is, I feel like I'm donating the value that I'd be tempted to sell at. But psychologically I think $1 is $1 and won't ever be worth more than $1(of course $1 could buy 3 Steem right now, but it just doesn't process that way). I spent $7 just testing out their system to figure out how it worked.
Anyway, I would use this if it was available on the different frontends. I would even be okay with the different frontends taking a small percentage to help support themselves, I think that would be totally fair. This also would give content creators on Steem an incentive to share their content outside of Steem as currently there isn't much of one, since someone would need to be a member of Steem to actually give any sort of reward.
But anyway, back to why I feel Fundition could be the most important Dapp for Steem. As I mentioned in my previous post there is a current scramble for Patreon users to find another platform. One that is decentralized and censorship resistant. I'd been thinking that with a few tweaks we could be that platform, but I didn't realize that Fundition is already poised to be able to offer a large amount of the functionality of Patreon. (Still missing automatic recurring payments, but I've been in contact with the team, specifically @goyard and they've communicated to me that these features are in the works)
So if we can reach just ONE of these prominent Patreon users and get them to use Steem/Fundition, that could equal thousands of dollars of Steem being bought with every piece of content produced.
If you didn't see my previous post, Sam Harris, one of the people that left Patreon was making between $23,000 - $65,000 per podcast. If he came to Steem and brought his users and without them needing to even make Steem accounts, they could buy $65k worth of Steem per podcast, that would not only be an amazing use case for Steem it would be good for the overall economy. Even if he sold it all, it would draw a ton of people to Steem and illustrate its value and usefulness. If the creators themselves came to understand the value of Steem, they more than likely would stake some of it, therefore overall adding value to Steem.
So on the one hand I want to reach out to @steempeak, @good-karma, @steem-plus, @stoodkev to see what the likelihood is of this feature being added to your frontends? Because I think it could be a huge value add for the overall ecosystem.
Then I'd love for everyone to reach out to these people on youtube that are fed up with Patreon and drive them to Fundition. I'm going to create a video for youtube for this very thing, but we can all reach out and let them know we're the future of monetizing content. If not only Fundition, but the other frontends can give us the tools, content creators can add a lot of value to Steem beyond the actual content. I think this is a great way forward to us.
I'd love to hear people's thoughts on this. Being that this is a content platform, and we've been talking about how to monetize Steem, this seems like a great way. What do you all think? Let's start the conversation!