How should Steemit Inc decentralize their stake?
In the 2017 Roadmap, Steemit Inc pledged to decentralize their stake. Here's what they had to say.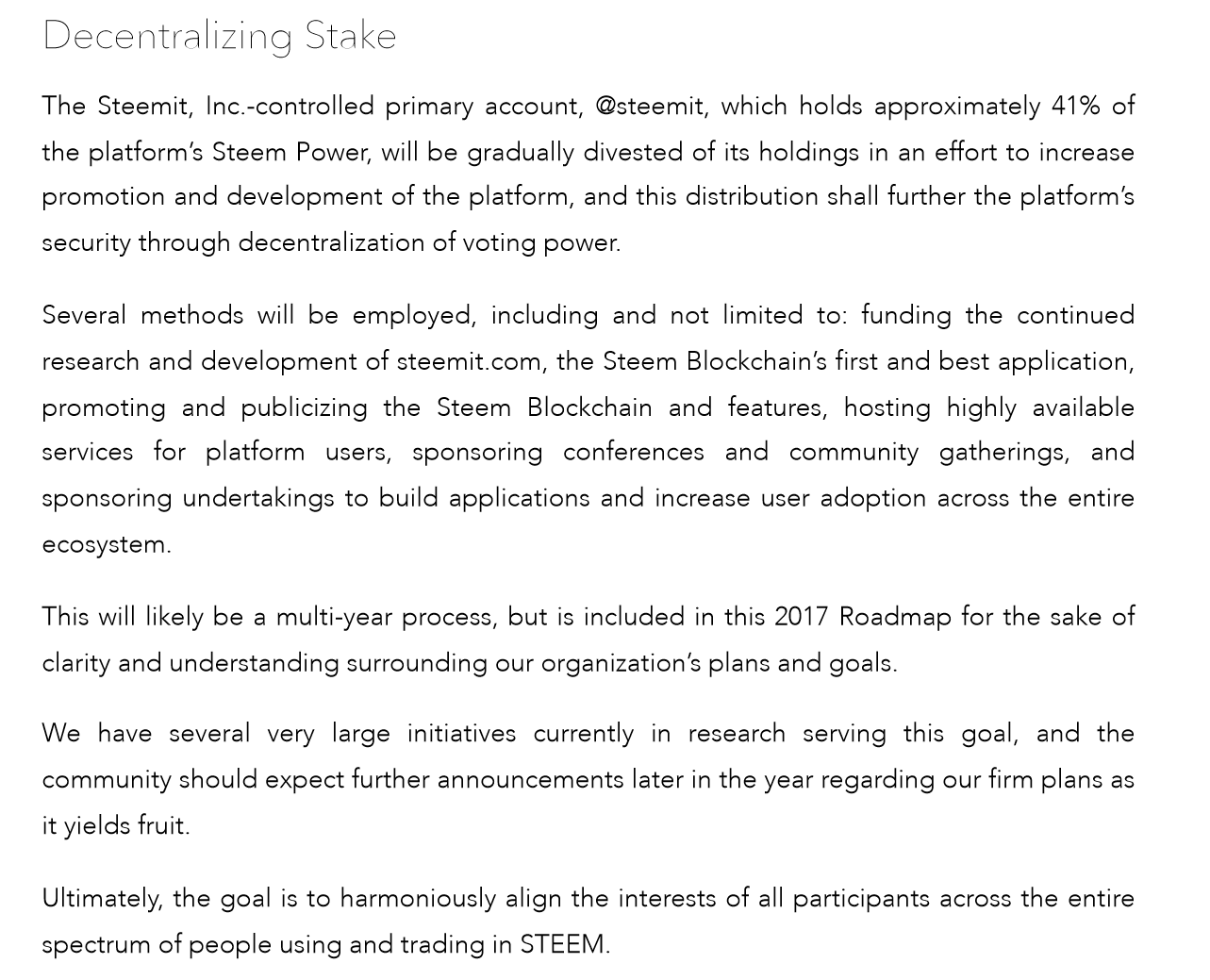 Of course, Steemit Inc will continue to invest in initiatives like SteemFest, developing the Steem blockchain and Steemit.com, and hopefully soon, marketing. However, while all of that seemed like a significant portion of the ~$7 million stake at the time, today, Steemit Inc's stake is closer to ~$350 million. Increasingly, there are calls from the crypto community in general, and the Steem community in particular, to achieve a better distribution of Steem tokens. To be clear, I'm not fussed either way about who holds tokens, but if this leads to greater adoption, as an investor and witness I agree it's something that must be done.
Indeed, it might be beneficial to Steemit Inc too - if a large number of crypto whales refuse to buy Steem because of the distribution issue, Steemit Inc may yet leave with a higher valued stake in USD / BTC terms, even if their Steem holding is down to less than half.
First, let's get through some things that must happen either way, then we'll discuss some options about further measures.
Faucets - While Hardfork 20 is set to bring a limited number of free registrations, Steem will still be needed beyond that limit. Steemit Inc has been working on an universal faucet for registrations, and I expect to see not just Steemit.com, but any app on the Steem blockchain be able to use this to register accounts. As an added bonus, all Steem used for registrations will be burned, reducing the supply of Steem.

Marketing - There needs to be a massive, multi-million dollar marketing campaign for Steem in general and Steemit in particular. It's a killer product, and would be a relatively easy sell post-Communities.

Continued research and development - Steem is one of the most advanced blockchains on the planet. Considerably resources must be invested to keep it there. The startup mentality is all well and good, but at some point, the team needs to expand to execute on the next level. On a related note, contribute to research and development for apps built on the Steem blockchain.

Community delegations - Steemit Inc has been investing in delegations, though this is currently too biased towards developers. Never forget that the content creators and curators are whom Steem is built for, and even developers are ultimately a means to that end. I hope to see delegations go out far and wide to the best communities on Steem. Mind you, however, there should be a limit to total Steemit Inc delegations - too many delegations from Steemit Inc will mean less demand for Steem Power as other users will be squeezed out of the reward pool. Currently, far too much is being delegated to too few people / initiatives.

Community events and community building - SteemFest is great, but ultimately too niche an event. Community building needs to be expanded far and wide.
And of course, keep Steemit.com running as one of the more reliable websites on the internet.
Alright, so that's a few minimum expectations of how Steemit Inc's stake could be expended, but that still leaves a vast majority.
Burn - This one's the simplest. Just send dozens of millions of Steem to @null. This directly addresses the distribution problem. Everyone left with stake now owns a significantly higher percentage of the Steem network. With a significantly lower supply, combined with the PR win a burn always brings in crypto world, will inevitably lead to strong buying pressure and a much higher price. [Addendum - As @onthewayout points out, since the reward pool is tied to the inflation of supply, a burn would lead to significant reduction in the reward pool in Steem terms. However, I do believe the increase in demand / price caused by a burn will more than outweigh this drop, in BTC / fiat terms.]

Sell on exchanges - Of course, do so responsibly, to add volumes at higher prices to entice crypto whales. Liquidity has been a problem with Steem, with very little available on the markets. The drawback, is of course, it could artificially keep price at a low level while the decentralisation of stake is happening.

Sell directly to institutional investors - A riff on #2, but potentially with the same drawbacks. It could also mean a few institutions continue to dominate the stakeholding. (Of course, that's not a problem, and the norm for any capital enterprise - but somehow frowned upon by crypto traders.)

Airdrop existing Steem Power holders - Existing Steem Power holders will increase their stake proportionately. It'll also drive significant demand for Steem, and lead to the price skyrocketing in the short term. As we have seen before, there's always a frenzy when there's free coins on offer, whether it be forks or airdrops. The drawback here is, the supply remains the same, and a medium-term dump will follow as people start powering down following the airdrop.

Airdrop the "best" Steemians - This will probably be the most controversial, and one I don't support at all. However, it'll probably be the most efficient way to really improve the quality of content in this place overnight. Of course, power may corrupt the most honourable, so that's a risk too.
Addendum - 6. Airdrop existing Steem and Steem Power holders - As suggested by @smooth, this is similar to #4, but airdrops on both Steem and Steem Power holders. (Will need exchanges to co-operate, of course, but that shouldn't be an issue) Crypto traders tend to favour liquid over lock-in, so this does make more sense to me than #4. It'll perhaps lead to a steeper dump short-term.
This is, needless to say, a quick and incomplete list. I'd love to see you add to this - what do you feel would be the best ways for Steemit Inc to decentralize their stake?