I just read a post by @wa7 announcing that DLive is migrating from the Steem blockchain to the Lino blockchain.
Here's the section of the post that explains why they are migrating which I think should concern us.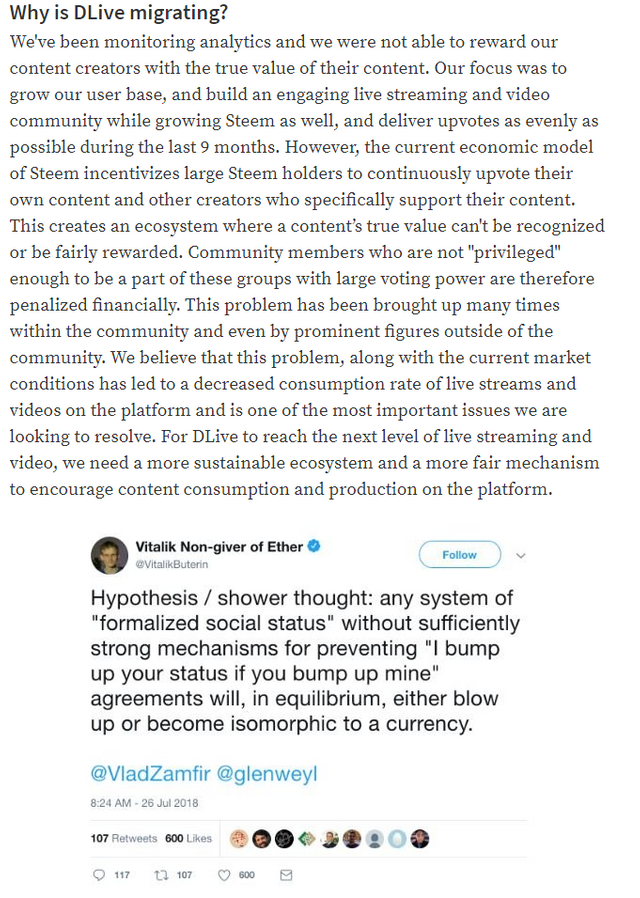 I admit that I am not an expert on how the rewards system works or how the different types of reward curve affect the platform but I do know that I've read numerous posts on the subject that all seem to be saying a similar thing. One post that comes to mind that I have quoted before was by @freebornangel. Here's a quote from the post setting out their point.
Too bad the class war continues.
After the fork, redfish votes will not round down automatically, but they will still not count unless they total .02stu.
That is a real bummer for the little guys.
Many of whom pick up the pennies in the streets.
Just one more slap in the face from our class enemies that control the code.
They can say anything they want, but you can know the truth by their actions.
Why don't they fix that?
Ask them.
They know that linear rewards makes steem a pay for play proposition.
They knew it because @dan told them, and avoided it with the original design.
When he was here, you could get downvoted for selling your vote.
It breaks proof of brain.
The problem with superlinear rewards is that it exponentially favors the haves.
They get exponentially more from their vote than you do, dear reader, with your's.
@smooth and @abit had that solved.
The community rose up and those with the ability put the kibosh on the greedy whale's greed.
Our vote values grew, exponentially.
Rather than let that play out,...
All hail, stinc!
They hurried up and hardforked the code to give us the very things that Dan intentionally excluded.
With a superlinear voting curve the largest accounts have to abstain from voting.
Stinc knew that.
It's still a curve now, when a whale votes we all lose vote value because it goes to pay the whale, that hasn't changed.
With superlinear rewards, and responsible whales, we could have grown a middle class by now.
Instead, we have what we have, we take pennies from the poor.
We force the newbs to buy rewards.
All hail, stinc!, and the other devs.
As I said before, I don't know enough about the topic to weigh in with anything particularly useful (I will do some research) but I wanted to post this to see if I could get some comments from people who do know something.
There are whales/witnesses who have been pointing out problems with the system for a while now, @berniesanders being probably the best known/infamous ;-) and I read a post by @ura-soul recently that talked about bidbots. Both ura and bernie are witnesses so there are people heavily invested in Steem in both terms of time and money that want to see the platform thrive with promising new witnesses like @helpie coming on board too.
I'm interested in what people think on this topic and also people's views on Stinc and whether they are doing the best for the platform so please add a comment and start/continue the discussion and if you think the post is worthy, resteem it to get more eyes on the topic and hopefully more discussion.
Thanks for reading.
Jim