This is my thirteenth day from the 30 days writing challenge I'm doing during January. Basically, I'm writing each day an article on a topic that I'm interested in, or something that I'm just learning. I tag these posts with #challenge30days, if you want to join, all you have to do is to use the same tag. Each day I will also pick 3 articles and give them a full upsteem. For all the details and the motivation, have a look at the introductory post.
Top 10 Cryptos
At the moment of writing, top 10 cryptos were predominantly green, with only one in red.
---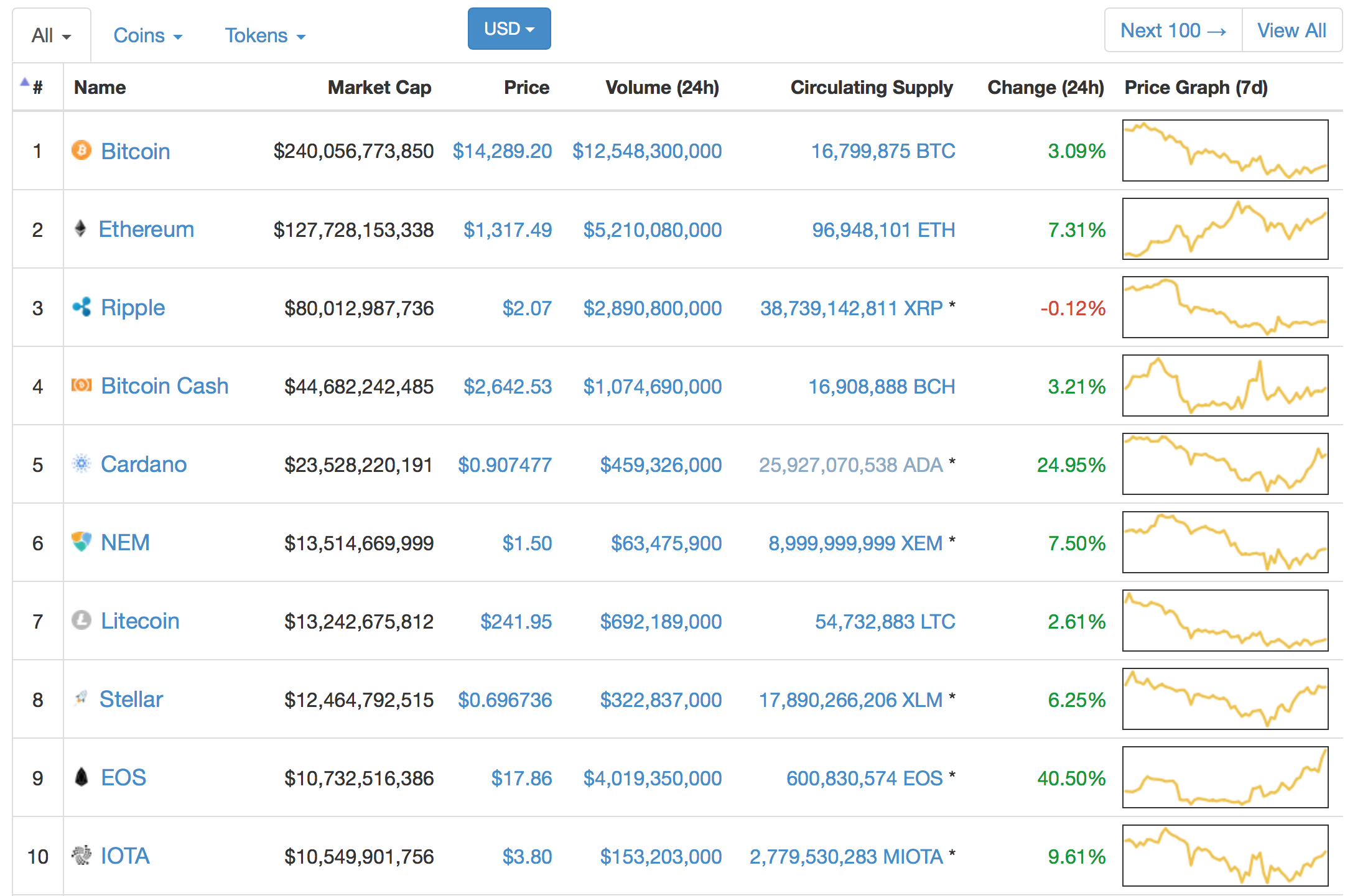 ---
Markets seem to recover sharply after South Korea FUD vanished. Bitcoin is stationary, at $14.3k, trading slightly up. Ethereum is again over $1,300 and widens the gap between it and Ripple, which now stands at $47 billion. Just a week ago, the situation was completely reversed, with ETH being led by Ripple with a $40 billion advantage. There is a very interesting newcomer in top 10, EOS (briefly noted its entrance in top 10 yesterday and also wrote a longer piece on Cardano, EOS, Steem and SMT). Apart from ADA and EOS, which are both seeing double digit appreciations, all other top 10 currencies are looking cautiously up.
STEEM And SBD
At the moment of writing, STEEM was trading, on average at $6.29 on Coinmarketcap, sharply up from yesterday, with almost 30% appreciation. On Bittrex, the 30 minutes chart is showing a sharp breakout from 39k satoshis to 46k satoshis, followed by a very small correction.
---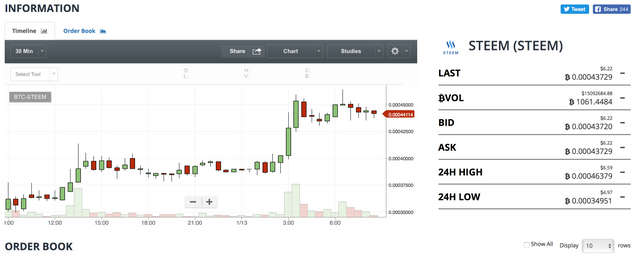 ---
The 1 hour chart shows that the correction for the upswing is relatively small, indicating remaining pressure upwards.
---

---
The 1 day chart confirms STEEM has left the danger zone (35k satoshis) and banked two consecutive green candles.
---

---
SBD was trading, at the moment of writing, at $6.99 on average, sharply up from yesterday. The 30 minutes chart on Bittrex shows two consecutive attempts to break up beyond 50k satoshis, with highs as big as 60k satoshis and a stabilization around to 49k satishis.
---

---
The 1 hour chart supports the above trend: breakout over the 45k satoshis zone and stabilization around 49k satoshis.
---

---
The 1 day chart shows a slowdown of the downtrend channel and a potential resistance around 49k satoshis.
---

---
Overall opinion: STEEM seems to be over the correction stage and is testing a new upwards channel. SBD is slowing down depreciation and looks for a resistance around 49k. The 1 to 1 parity between the two is imminent.
Previous Posts In The Challenge
Disclaimer: I'm not a trader and this is not trading advice. I'm writing these articles for my own educational purposes and they are not meant as an investment foundation. Please make your own due diligences when investing and never invest more than you can afford to lose.
---
I'm a serial entrepreneur, blogger and ultrarunner. You can find me mainly on my blog at Dragos Roua where I write about productivity, business, relationships and running. Here on Steemit you may stay updated by following me @dragosroua.


---
You can also vote for me as witness here:
https://steemit.com/~witnesses
---
If you're new to Steemit, you may find these articles relevant (that's also part of my witness activity to support new members of the platform):