This is my twelfth day from the 30 days writing challenge I'm doing during January. Basically, I'm writing each day an article on a topic that I'm interested in, or something that I'm just learning. I tag these posts with #challenge30days, if you want to join, all you have to do is to use the same tag. Each day I will also pick 3 articles and give them a full upsteem. For all the details and the motivation, have a look at the introductory post.
Top 10 Cryptos
At the moment of writing, top 10 cryptos were all in green, recovering mildly after yesterday's panic sell.
---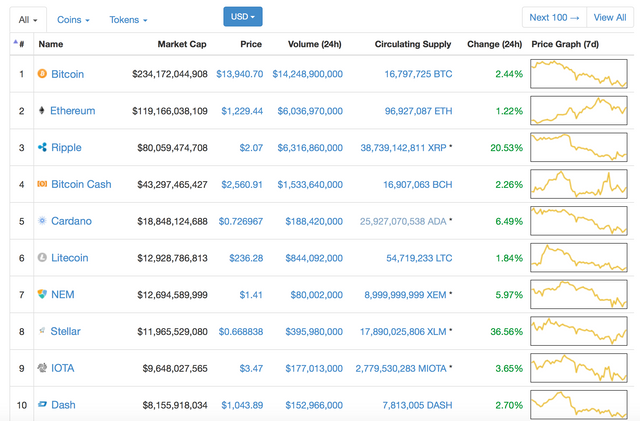 ---
Although we see increase everywhere, yesterday's loss was in the double digits for half of the tokens. The only ones seeing double digits increase are Ripple and Stellar. It's worth noting Bitcoin tentative to go beyond the psychological $14k level, where it seems there isn't enough upward momentum, and Ethereum stabilization in the $1,200-$1,300 corridor. The other alts are recovering cautiously.
STEEM And SBD
At the moment of writing, STEEM was trading, on average at $4.88 on Coinmarketcap, up from yesterday. On Bittrex, the 30 minutes chart is showing an inflection point at the 36k satoshi resistance line, and then a reversal following by a recovery.
---

---
The 1 hour chart shows recovery close to the previous levels before the panic sell.
---

---
The 1 day chart shows a fragile stabilization around 36k satoshis. There's not enough indication of a clear trend forming, but without significant upside, there's still room to go down until 22k satoshis.
---

---
SBD was trading, at the moment of writing, at $5.85 on average, slightly upfrom yesterday. The 30 minutes chart on Bittrex shows a failed attempt to break up beyond 45k satoshis and a pull back to 42-43k satishis.
---

---
The 1 hour chart suggests SBD entered sideways trading in a lower corridor than before the South Korea news, 42k-43k satoshis.
---

---
The 1 day chart confirms the creation of a down channel, with the resistance level around 25k satoshis.
---

---
Overall opinion: STEEM and SBD recovered after yesterday's moment of panic, but are continuing their correction down, in a healthier way.
Previous Posts In The Challenge
Disclaimer: I'm not a trader and this is not trading advice. I'm writing these articles for my own educational purposes and they are not meant as an investment foundation. Please make your own due diligences when investing and never invest more than you can afford to lose.
---
I'm a serial entrepreneur, blogger and ultrarunner. You can find me mainly on my blog at Dragos Roua where I write about productivity, business, relationships and running. Here on Steemit you may stay updated by following me @dragosroua.


---
You can also vote for me as witness here:
https://steemit.com/~witnesses
---
If you're new to Steemit, you may find these articles relevant (that's also part of my witness activity to support new members of the platform):