Opinion Poll: What Will Happen To The Bots If Steem Drops Under $1?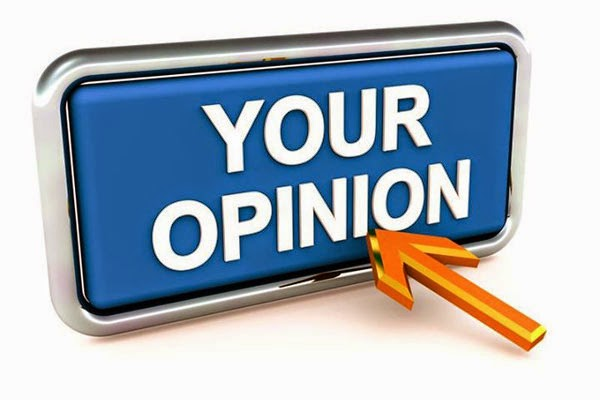 In case you are living under a rock lately, you have seen the incredible 3 week plunge of all crypto (including steem and sbd). For those of you that use bots, you are used to taking your sbd and using it to buy votes from those bots.

However...
With the drop in the value of steem/sbd, 3 major things have happened:
#1 The voting values have been destroyed and even the larger bots have seen the amount they cast go down.
#2 The amount of sbd you are getting now at $1.30 steem is only 1/3 of what you used to get. That means that for every bot vote you are getting less and less sbd, thus the available pool of sbd for bot investors is shrinking by the day at a pretty rapid rate.
#3 The typical bot buyer has been hammered in this 3 week plunge. So not only are they getting less sbd upon payout, they are getting far less payouts because the vote values have dropped with steem. In other words, they have lost a considerable amount of money over the last 3 weeks.

All of this leads to a situation where the bot owners have lost their voting values at a time where their customers have lost their amount they can invest. So a drop in supply AND demand... hmmm
So that got me to thinking...
What if the value of steem keeps dropping and actually cracks the $1 mark for an extended period of time? Will they continue to shrink the amount of sbd upon payout to the point where we get 1 to 5%? Will the already damaged bots limp along and survive, or will they give up and go home like so many we have seen leave? And finally, what about the customers, will they keep using the bots if they keep losing money?

Here is a simple poll that I am taking to get your opinions... Feel free though to comment in the comments section and elaborate more on your thoughts.
Disclaimer: I am not passing judgement on bots in this post. I have used them and continue to use them in various ways. I also understand the people that don't use them and want them to shrivel up. So this is a survey only, it is not meant to sway anyone's opinion either way

To take the poll click here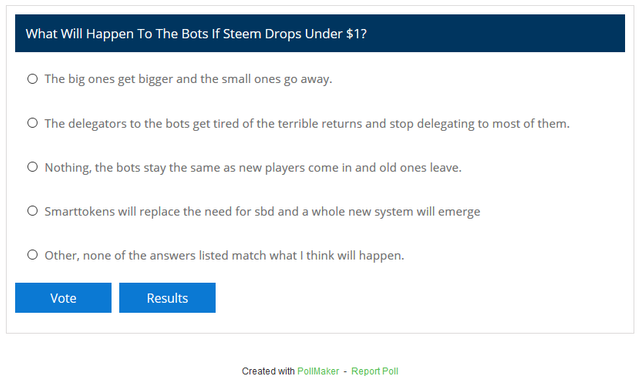 To see the results of the poll click here