Hello Steemians! Even with the suppressed Steem price and the overall bearish crypto market, nothing seems to be stopping fellow Steemians from BUIDLing. As I was browsing through my feed today, I saw a plethora of projects updates and new initiatives. I am making this post to name a few which I think have some good potential to become something great.
---
Steem UserAuthority
Are you among those who feel that the built-in Steem reputation system is flawed? For those who are aware of the recent Byteball airdrop, you might have also read about how it was abused during the early stage. The airdrop sent free Byteballs to Steem users based users' reputation. However, the cost of buying upvotes to boost an account's reputation, to a level admissible to receive the airdrop, was lower than the airdrop value. Hence, many people abused the system by creating multiple accounts, upvote those accounts and collect the airdrop at a profit. More info on the abuse can be found here.
From the above example, we can see how easy the built-in reputation system can be manipulated. Fortunately, Steem being an open platform, the community is free to develop our own reputation system. And today, a new reputation system called the Steem UserAuthority is LIVE.
In essence, UA can be seen as a new Reputation metric: it looks at the entire Steemit Follower Graph and carefully tracks who follows who. It doesn't directly care about how "rich" an account is, or how old it is, or how much an account has posted, but please keep in mind that those factors do indeed indirectly influence any account's UA score.
The currently used Reputation metric used by Steem itself, can be "bought for": to put it simple, "Rep" looks at the total amount of "upvote value" a given account has received over time. However, by self-promoting a few published posts, any user could quickly increase its own "Rep Score", which doesn't really reflect that account's True Reputation. We had the idea to develop a Score that better reflects an account's True Reputation: UA is that new score!
Based on the introduction post, it seems like the @steem-ua calculates your authority by analyzing how close you are to the trusted accounts (mainly the Witnesses). Since the algorithm is based on your degree of separation from the witnesses, you can expect a high UA score if you have a number of witnesses directly following you,
As you can see below, my UA score is unsurprisingly low because I don't recall being followed by any witnesses 😂. You can also check yours at Steem UA site.

Anyway, this reputation system is certainly much more difficult to abuse and it is probably fairer than the existing system. I will likely use this as one the metrics to measure my progress on the Steem platform. If you are keen to use Steem UA for your project, the @steem-ua team have developed an API to be consumed. Just talk to them at their Discord server to get started
---
Musing.io
Musing.io isn't new and I have used the site since some time back. For those who have heard of Quora, Musing.io is the Steem equivalent of Quora. The site allows you to ask question and anyone can provide an answer. The key differentiator of Musing.io from Quora is that good questions/answers will get upvoted and therefore rewarded in Steem.
There was a period of time which I stopped using Musing.io. A few days back, I suddenly thought of paying the site a visit again. I took some time to answer some of the questions and to my surprise, I was upvoted by @musing with >1 STU worth of upvote. This was quite substantial and upon checking @musing's account, I found that they have received over 415k worth of SP delegation! That explained how they are able to provide such high value votes. In addition, I noticed an explosion of questions (from 5000+ to 7000+ questions) being asked over the past 3-4 days. From this, we can clearly see that Musing is gaining good traction. That being said, I think the Musing team do perform some kind of curation and not all answers will be able to receive votes from them.
If you have not checked out their site, I urge you to do so. If you want to learn a bit more, you can read their recent reintroduction post.
---
Two Other Honorable Mentions
Steem Snake
Have you ever owned an old Nokia 3310? If you did, you will probably remember the iconic "Snake" game. Now you can play this ultimate time-killer and get to earn some Steem. The game is brought to you by @fbslo and can be played over here. After playing a game, you will be told your score and asked to enter your Steem ID and posting key. A comment will be posted on @steemsnake's post and you will get an upvote.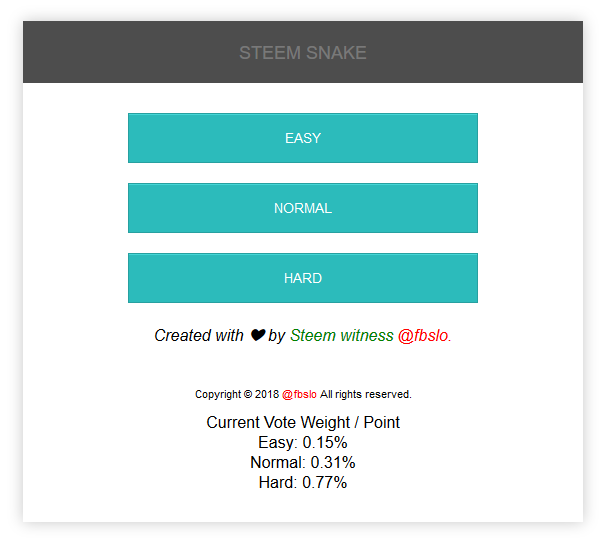 The upvote value will be based on the difficulty selected and the number of points you got. I gave it a shot and sure enough, I received upvote on my comment. It is pretty neat! For more info, do check out the introductory post.
Just FYI, as an ex-pentester, I quickly spotted how this game can be abused. I believe @fbslo also knows how it can be abused and that is why he said, "Abusers will be flagged and blacklisted." I won't disclose the exploit here and I strongly encourage everyone to play by the rules 😎
---
SmartVote


Source
@smartvote is a new delegation service which aims to encourage quality content and contribution to the Steem platform. Hence, they do not indiscriminately upvote whoever delegated to them. Here are their rules:
These rules are created to protect both parties involved and to promote better content to the Steem blockchain and add value to it. The major rules to participate in the SmartVote community are:

Quality content: single photo, short posts, plagiarism, copy/pasting, spam and scam posts are not allowed.
Violence, self-harm, politics & political opinion, religion, nsfw and drugs are not allowed.
We won't allow transfer of your vote quota to a second choice if you don't have any posts or comments during the day.
If your post is good, they promises 10x ROI from your delegation. Which means you can expect to get a 2k SP worth of upvote by delegating 200 SP to them! Sweet...
---
Summing it up
The Steem platform is as lively if not more lively than ever. Every day I am seeing new updates on various projects. All these updates get me very excited because every successful project on this platform will be able to get more people to join. Furthermore, seeing all these projects also allowed me to appreciate the beauty of a decentralized and open platform, where everyone can contribute for the better future of this platform.
After reading up on @steem-ua and @smartvote, I have decided to delegate some SP to them as a form of support. Hopefully, I can get some good upvotes from them at the same time 😋. Once again, thanks for reading and let me know your thoughts on the various projects listed here. Please also share if you are aware of other good projects out there that might be huge in the future.
Projects/Services I am working on:
---
You can find me in these communities: