Beginner's Guide For Steemies | Part 1 - Intro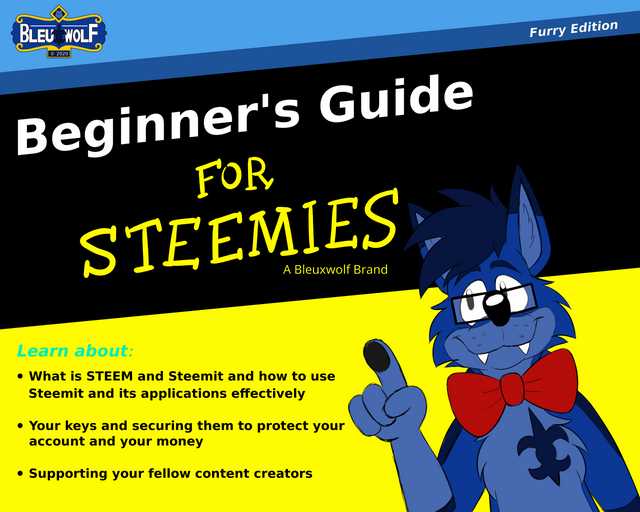 Note: Some of the content in this guide may be outdated due to Steemit updating the site not longer after I wrote this guide and some services ending. Oof! XD But most of the content is still relative.
Hey y'all!
So first and foremost if you are reading this and are new here, welcome to Steemit and congrats on becoming a Steemian! (Yes, I know the title says "Steemies" and the official term is "Steemian" but Steemies was for fun parody. ;) ) If you've been here a while or even been a follower of mines, welcome as well and thank you for your time! So to cut to the chase, as I was encouraging new folks particularly my friends and supporters to this platform, I recently thought about doing a simple, "For Dummies..." beginner's guide for new Steemians. Especially since that way even I could use this to show new folks the ropes here and it'll be easy to understand. Now, I'm not the most advanced technologically wolf here, but I think I've learned enough here to share my knowledge and simplify a tutorial for y'all. This intro will be a little wordy here, but I promise the following posts will be much simpler. So bare with me through this is you want the basic background here!
---
First Thing's First
First, what is Steemit. Simple. At its core, it's a social media platform, no different than any other social media platform like Facebook, Twitter, Instagram, Reddit, Devianart, etc. You blog, post pics, share videos, share music, comment on posts, upvote posts, etc etc.
"So what's the difference and what makes this place any more special than other social medias?"
Well, here unlike the other platforms, you actually get rewarded for your activities! You can get paid for your work here. No middle man or advertisement (besides you advertising yourself :P) required. So if you are any type content creator, this platform would be like being on YouTube or Patreon and getting paid without the need of YouTube, Patreon or any payment processor themselves as a middle man, or without the need of your supporters to actually have money to still be able to support you, while the supporters could get paid themselves!
Now, I will do my duty for this platform to say...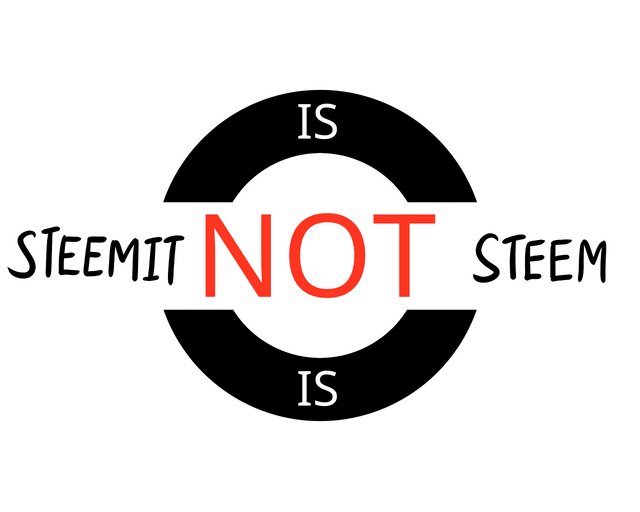 If you're interested in more detail explanation on that statement, just click that statement above and it'll take you to another article that explains it. But it's you want just a TL;DR, it's simple:
STEEM = the blockchain & cryptocurrency/token
Steemit = a social media platform & UI (user interface) on the STEEM blockchain
---
Cryptocurrencies
If you are new to cryptocurrencies and are wondering what they are, there are plenty of resources about them. You can start with the first one ever made, Bitcoin, through their website, particularly their FAQs and their white paper aka an official document that explains exactly what the crypto does.
A good summary about cryptos before anyone gets scared away by the word "cryptocurrency" or "crypto", basically:
Crytpos = Digital Money
Just like how most of our money nowadays is digital except cryptos are decentralized. It's value can fluctuate no different than stocks or even how our traditional currencies to each other that we commonly use do. Some derive their values by their use cases along with the number of folks using it like with Steem with this platform and it's current and future other uses on the blockchain, and Bitcoin with its use case is to store wealth and transfer any amounts of money much quicker than any current traditional financial institution. And some only derive their value based purely off speculation rather than an actual use case. Always do your due diligence before investing any money!
Keep in mind, when you hear the term "altcoin", it is not bitcoin. In fact, altcoins are simply any crypto that is not bitcoin. ;)
---
Intro Conclusion
Alright, now that the rough stuff is out the way first, the rest of the beginner's tutorial should be easier to digest. Now I may have links linking to other helpful articles in my posts to read further details and explanations on certain topics if you are interested in more information, but my goal for these posts is to summarize and simplify this tutorial as simple as I can. :3
Also another thing to keep in mind is that you don't have to be heavily into cryptos to be involve with this platform!
Considering likely you're one who had registered for Steemit using the free option, you don't even have to necessarily put up any of your money to use the site and build it. Simply making good posts can yield you STEEM over time. Though if you like the platform and believe in its growth, investing some into it would help build your account more. Of course, don't take this as financial advise and do your own due diligence! Only put up money you are willing to part if in case worst case scenario happens. And of course, you can always easily move your (unstaked) money and rewards out from rewards if you're not fully comfortable with the platform yet.
So stay tuned for the following tutorial posts! Hopefully I can make these as simple as possible.
---
---
You can go directly to each topic below or simply click the link at the end of this sentence to begin your lessons!
---
Lessons:
Part 1 - Intro
Part 2 - Registering and Keys
Part 3 - Account, Wallet, and Tokens
Part 4 - Getting Steem
Part 5 - Posting and Tagging
Part 6 - Tribes
Part 7 - DApps
Part 8 - Curating
Part 9 - Delegating
Part 10 - Stat Tracking and Transaction Searching
Part 11 - Key Managing
Part 12 - Steem Engine
Part 13 - SMTs, Bonus Stuff, and Conclusion
⚜ ⚜ ⚜ ⚜ ⚜ ⚜ ⚜ ⚜ ⚜ ⚜ ⚜ ⚜ ⚜ ⚜ ⚜ ⚜ ⚜ ⚜ ⚜ ⚜ ⚜ ⚜ ⚜ ⚜ ⚜ ⚜ ⚜ ⚜ ⚜ ⚜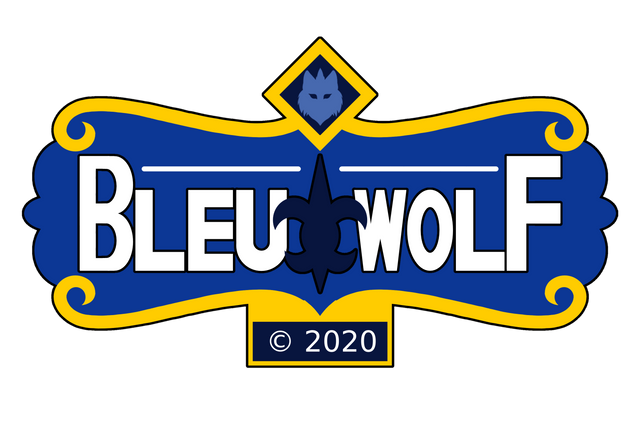 If you liked the content, an upvote and resteem will and always be greatly appreciated!
If you like to check out my other content like drawing and step-by-step tutorials, feel free to browse my channel and give me a follow to keep up to date with my postings!
⚜ ⚜ ⚜ ⚜ ⚜ ⚜ ⚜ ⚜ ⚜ ⚜ ⚜ ⚜ ⚜ ⚜ ⚜ ⚜ ⚜ ⚜ ⚜ ⚜ ⚜ ⚜ ⚜ ⚜ ⚜ ⚜ ⚜ ⚜ ⚜ ⚜
Interested in more of my portfolio of works or interested in me drawing you a pic, feel free to also check out my personal portfolio/commission site. Arts by Bleux