Steem Music : Our Very First Contest (#1)
The Initiative
---


Source
The music community #steem-music has been growing from strength to strength. Apart from having an online presence, we thought it fit to bring music direct to the people and engage with different communities and for that we started having our fortnightly gigs.
Now we decide to take it one step further by announcing our very first steem-music challenge.
Rules and Regulations
---
Participants must use the tag #steem-music
Every participation must enclose a video either through D-tube or Youtube (embed) and the opening words before the music would be 'Steem-Music Challenge No. 1 by @(name of participant)'
Participant must resteem and upvote the post. Upvote need not be at 100%. It is at the discretion of the participant.
Prizes
---
First prize of - 8 SBD
Second prize of - 3 SBD
3 consolations of - 1 SBD each consolation prize winner
Every winner for each challenge will be entitled to enter a final round in Week 10 for the grand prize and the first season of #Steem-Music challenge for a grand prize of 80SBD.
2 Judges will be appointed to choose the winner. In the event of a disagreement, a guest judge will be invited to decide on the eventual winner. The judges will be announced 2 days from today.
All genres of songs are accepted. It can be classical, jazz, pop, blues or rap. For those who choose to use D-sound for techno music, the same rules apply, There must be an introduction first. You can sing, you can do a full instrumental, you can play the drum or a hand drum. The stage is yours.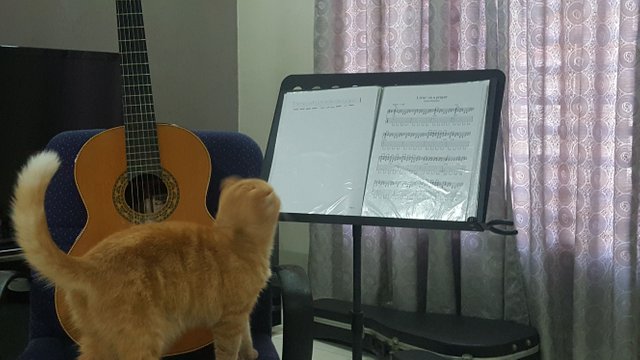 (if your cat is also musically inclined, the post can be accepted, just get the cat to comply with the conditions stated above)
Write Ups
---
A good and decent write up would be appreciated for those who would want to share their inspiration or story behind the music. This would be even more so for those who are creators of original compositions. We give higher rating for original contents compared to covers. But good and outstanding covers do stand a good change in winning the challenge. In music anything is possible, the only rule is this, entertain us.

For those who would like to place their contribution towards the prize pool, you are more than welcomed. We seek your blessing for this very first initiative.



credit to @zomagic