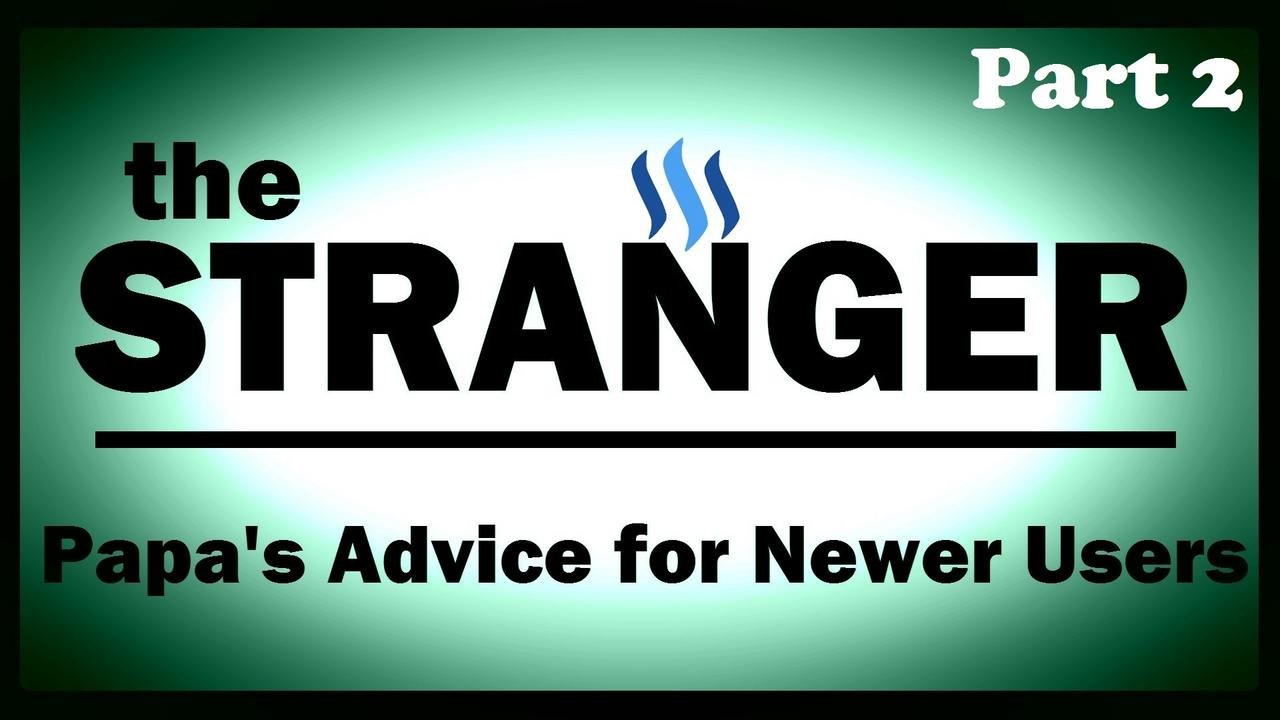 INTRODUCTION
After a private conversation with a newer user the other day, I thought that it would be best for me to share a bit of my advice with the entire community. I answer a lot of questions in chats with others, but then only that particular user gets the advice, and the rest of you miss out. In case you missed the first part of this series, you can find it HERE.
Since steemit is a community, I used the analogy of a neighborhood in my last post, with newer users being strangers who just moved into town. Specifically, I covered first impressions and introducing yourself to individuals last time. Today, I will build upon the foundation that I have previously laid.
A FEW GOOD POINTS
Before I officially begin, there were two points that other steemians brought up yesterday in the comment section of my previous post. I felt that they were so accurate and thought-provoking, that I would mention them here to help others grasp a deeper understanding.
In his reply yesterday, @jonknight had this to say about some users:
---
here to make money (they think), and not to make community.
---
This struck me as interesting. It seems that many of us, myself included, have spend a lot of time and effort into helping build this community. Making a better steemit a better community has its own rewards, but an interesting byproduct for many of us has been the rewards. If we focus on putting out solid content that adds to the community, help and encourage others, and take action in ways that bless this community and its members, then sometimes the money comes anyway. Those who only focus on money often end up disappointed. Thanks @jonknight for the food for thought.
The second comment that I thought was worthy to share came from @awesomianist, who wrote the following:
---
The reason you have the recognition you get is not because of your effort for that post. it is the culmination of your work over the whole year, 12 months, 365 days, non-stop. Many of us don't see your 1 dollar posts, 7 cent posts, 0 cent posts.
---
I had mentioned in the previous post that post payouts are not always about being rewarded for that specific post, because plenty of much better posts than mine get much lower payouts. Building a following and real support takes time. Therefore, it is often the particular steemian as whole, including their previous presence, involvement, and investment in the community, that is reflected in the potential post payout. I've certainly spent way more time on some posts that got far less rewards before.
Basically, a brand new user with an amazing post has a high probability of being overlooked and not rewarded well. However, by consistently posting quality original content you are investing in the culmination of your presence on steemit.
Remember, steemit is a great place to meet incredible people and interact while sharing ideas and information with others. It is one of the very few places online where you could potentially be rewarded for your time, but that may take a lot of effort and there are no promises or guarantees.
NOT JUST SHOWING UP ON DOORSTEPS – BEING SEEN IN THE COMMUNITY
In the last post I mentioned about "introducing yourself personally" to people, and making sure to make a good first impression. This is when you leave a comment on someone else's post. A real comment can encourage others to see you who are and what you've been up to, without begging them to do so.
I also talked about posting consistently in the last post. When you make the effort to post and comment on a daily basis, you are leaving evidence of your existence. The more evidence that there is that you exist in our community, the more likely others are to notice you. Each comment and post you make is how others have the opportunity to "see you" in the community.
When they search certain tags that you have posted in, they can happen upon your post, and "see you there." When they read the posts of others and notice your relevant comments, they can see you again. Though they may show up days after you were there, you still left evidence of you being there for others to see. Basically, comments and posts are like little messages that read, "@papa-pepper was here."
Of course if someone just sees that you've left 50 comments on trending demanding "FOLLOW ME," you will not be giving a good impression of yourself and others will most likely NOT follow you. This is why it is important to leave real comments and post high-quality posts. Be present in the community, but in a good way.
HEY! I LIKE THAT GUY!
As a newer user who may basically be a "stranger" in our community, your investment in others with comments and upvotes is important. You may wonder why, if your upvote is only worth a few cents or less, that I would say your upvote is important. Basically, it is one of the few things that you can offer others. Since only the top 20 voters (ranked by Steem Power of the upvotes) show when someone clicks on the total number of votes, no one will see a newer minnows vote listed there once they have more than 20 votes on a post.
For a newer user then, commenting on the posts that you upvote is crucial, in my opinion. Without a comment, the author will most likely never know that you were there. Also, without a real comment, they will never care. Trust me, the votes and comments from people who basically say "upvote me" or "follow me" are by and large overlooked. They just clutter up a reply section of a post and people train themselves to move past them in order to find the real comments that actually relate to the post.
I've seen hundreds if not thousands of them already, and my life will not be improved at all by reading a thousand more "upvote me" comments. I don't have time for that. I want real connection and real interaction, because that is how relationships are built and communities grow.
When we see real comments on our own posts and the posts of others, we get intrigued by the user who is commenting. When a user frequently does that, we see a pattern. This user actually reads what they comment on and makes relevant replies! Some of these real comments actually get upvotes on them too to show support for such interaction. Later, when we notice a post from a user who's been making real comments, we say "Hey! I like this guy!" and are more likely to check it out and support their efforts.
I have frequently either "happened upon" posts from users I recognize from elsewhere or specifically look them up just because of their real comments. As long as I like the post that I see from them and see that it is original work, I upvote it to support that author. There are others who do likewise. In these situations, it is the user behind the post who is being supported, and not specifically the post being rewarded. This ties back in with what @awesomianist wrote in the reply yesterday.
MORE THAN JUST A GOOD POST
There are some users who have shown up and not interacted much. They made good posts and whales found them, choosing to give them continual support. They have not helped others much or invested in the community beyond making quality posts, and yet they have been rewarded. There is nothing wrong with any of that.
However, it is far more likely that the rest of us are going to have to work very hard to get noticed around here. Thankfully, even small amounts of Steem Power can now have more of an effect on the potential payouts. Before, it took me many months to ever have my vote be worth more than a cent. In those days, you really needed a whale to notice you to get any real payout. Now though, just a few large minnow or dolphin votes can get you a few dollars in potential payout.
This is one of the reasons why I think that now is one of the best times to be getting started on steemit. With real investment and effort, this is an amazing opportunity that steemit is offering all of us. Trust me, it is not just some quick-cash, everyone is a winner, lottery where everyone gets fat paid every day. If such a site exists, let me know! But steemit is not that, is it? It is too good of an opportunity for us not to at least try to learn and apply though, isn't it?
I've got a bit more to share, but I'll safe that for tomorrow. For today, I'll just let you digest what I have shared today. Participation on steemit.com is voluntary, but as long as we choose to be here, we are all in this together and I want to make it as good as it possibly can be. Don't be a stranger! Get out there and interact, show us that you exist, and leave evidence of where you've been. None of us can support everyone every day, but we should at least try to be the type of users that people want to support when they can, or when they do see us.
I'll leave you with this video that I think is applicable based on what I shared. It was the 12th video in my 18 part advice series. If you want even more, the whole series is linked in the comment section of this post. Steem on!
Until next time…
Don't waste your time online, invest it with steemit.com

---