Spirituality.
Faith.
God.
These words have the power to make us really uncomfortable. Battlelines are drawn around them.
This strife seems nonsensical when you take the time to think about it. No matter your faith, we are each connected to the source of creation from the first spark of life.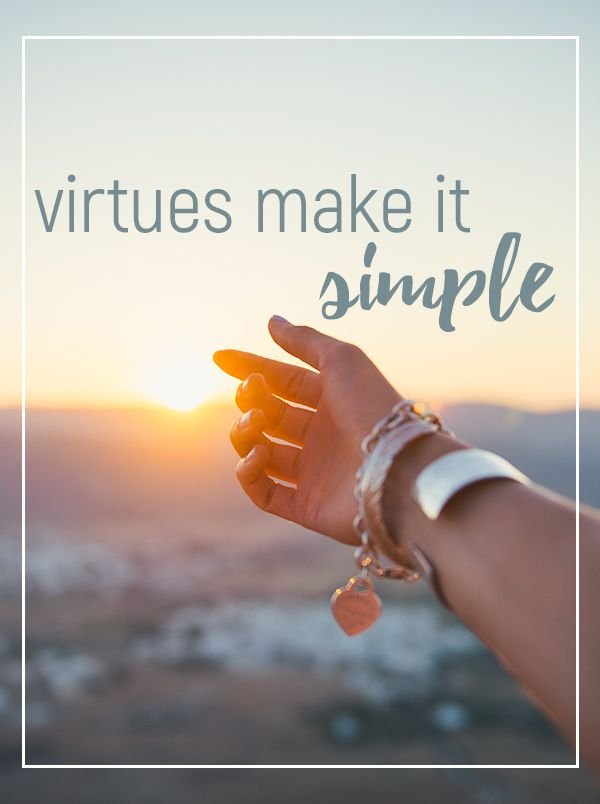 My husband and I both grew up in church. This practice was the cornerstone of our family and social life. However, early in our marriage, we decided this wouldn't be something we'd continue with our own children.
Though this choice is not one I've regretted, I did miss having a structure and system in place for teaching my kids about their relationship with God. Without church, there was a void where my spiritual practice should have been. A gaping one. I studied other faith systems, but I was looking for something more intuitive, more shared, ... more simple.
Shortly before stumbling on the concept of teaching virtues, I realized something about myself. I need life to be simple. Homeschooling has taught me that I'll take on any challenging concept if I can teach it simply. My favorite "teaching" technique is sitting in a comfy chair and reading to my kids as they go about life. Savannah is usually puttering in the kitchen (making a smoothie, tea, or some treat) and Cole is building with Legos.
I don't even remember how I found The Family Virtues Guide. I'd been casting about for years to find some kind of spine for our family's spiritual vocabulary. A Google search led to this title and I requested it from our library. The tagline on the cover read, "Simple Ways to Bring Out the Best in Our Children and Ourselves".
Sounded good to me!
I had no idea what to expect from a book about virtues. I'd learned the fruits of the spirit in Sunday school, but this was different. Here's a passage from the preface explaining how this book teaches spiritual principles:
"A key principle of The Family Virtues Guide is that parents are the first educators, those best able to impart values and virtues to their children. The Family Virtues Guide is a response to parents who want to bring simple spirituality and character education into their children's lives. The world needs people who are willing to take personal responsibility.
Let it be this generation."
There are 52 virtues in the book. Each one has its own chapter explaining what the virtue is, why we should practice it, and how to practice it. Each chapter begins with a scripture from a sacred text and ends with an affirmation.
We started studying a virtue a week and I noticed a shift in our home. This shared language equipped us to evaluate our own actions and the actions of others. Our actions point to the state of our heart and our commitment to bettering ourselves. Virtues are qualities of the spirit that shape the way we behave. I'd never thought about values versus virtues but the book helped me see the difference.
"The Family Virtues Guide is not about family values. Values are culture-specific. It is about virtues, which are universally valued by all faiths and cultures in the world. Virtues are the silver thread running through all of humanity's sacred literature as well as the oral traditions of the world's indigenous peoples. Virtues are described as the qualities of the soul and the attributes of God. They are the means by which we can reflect the image and likeness of the Creator."
Although we started studying a virtue a week several months ago, I've decided to start over with the first virtue on January 1, 2018. We'll be sharing our journey on our Facebook page at www.facebook.com/pixelsinmypocket with the hope that others will join the conversation.
I believe studying virtues that are shared by many religions helps connect us to people of faith around the world. What we need right now is connection and a dialogue around how we're similar.