STEEM collection for 99% Buyback wall - Bonuses Available!

Hello everyone, This is a quick update and collection post for the new 99.99% buyback wall. Last's week club vote post has finished and the winner by a landslide is 99.99%. You can see full details here if you have missed it.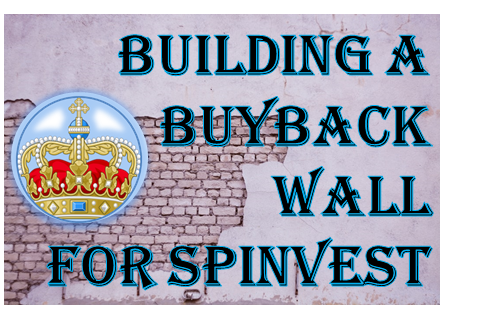 Steem powered investments @spinvest has been set up to offer an investment club based on funding from STEEM POWER. Investments are funded through extracting value out of STEEM POWER and taking advantage of STEEM's high inflation rate. The aim is not to get rich quick; the aim is to build a safe portfolio of investments that will stand the test of time while ensuring all investors starting capital is not at risk. Full details can be found here
---
Finishing up with the current 95% buyback wall
First off, big huge thank you to the members that helped with this. We collected 1195 STEEM, bought back 959 SPI tokens and have 259 STEEM left over. I have done a very quick excel table to show how things are looking and what everyone is owed.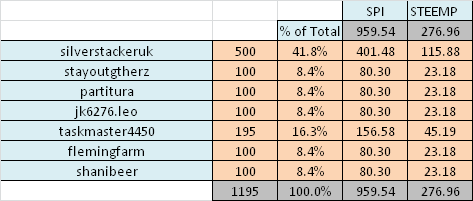 As i plan to upload this post later chances are you have already received your SPI tokens and refunded STEEMP. I had said people are free to add any STEEM back into the 99% wall but I'll just send everyone their STEEM back in the form of STEEMP. Feel free to use this as payment are as part payment to the new 99.99% wall :)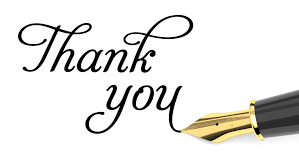 ---
Collecting for the new 99.99% buyback wall
Let's make this interesting,
Limited Time Only!!!
3 DAYS !!!
What about for the next 3 days anyone that sends STEEM to @spi-payments receives a 2% instant SPI bonus on transfers under 249 STEEM are 3% for transfers over 250 STEEM. Yep, you heard that right for the first time ever you can get free SPI tokens for buying SPI tokens. No waiting until the buyback wall is finished, get them instantly.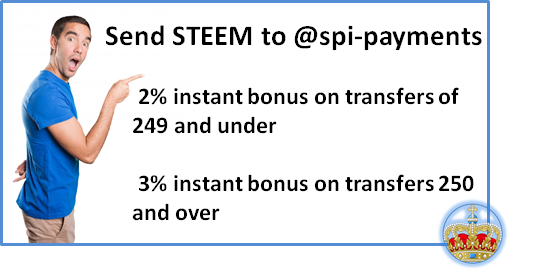 The reason for the rush is simply because i wonna get it set up and running, get it fine turned and then move one from this mess. It only takes 3 days to do a collection post as 90% of people that are going to take part, take part in the first 2 days.
| Member | STEEM amount | Paid (Yes/No) |
| --- | --- | --- |
| silverstackeruk | 500 | No |
| - | - | - |
| - | - | - |
| - | - | - |
| - | - | - |
| - | - | - |
| - | - | - |
| - | - | - |
| - | - | - |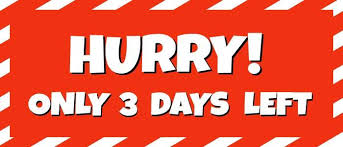 How we are gonna do this
As i have said before we need around 3000 STEEM to do this properly and make sure we don't run out of liquidity. So to get the STEEM I have withdrawn all the STEEM from our saving wallet. When the withdraw completes in 2 more days i will instantly convert that STEEM into fiat so that we use this STEEM for the buyback wall and use the fiat for our upcoming BTC investment (handy). SPinvest has been hoarding STEEM for a few days and has around 700 STEEM in its wallet. We have just over 300 STEEMP on the SE exchange and whatever we collect from this post with a 500 STEEM commitment in place. Let's look at the numbers and see what we can gather up.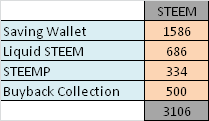 Look at that, 3100 STEEM. We are already home dry in a boat but just for extra insurance, a collection is needed, don't forget the bonus!!
So how are we gonna do this? We are collecting to @spi-payments but we will be using the main @spinvest SE wallet to do this. When all funds are collected, i will transfer all the STEEM to the leo.dex exchange. From there is transfer the STEEMP to the spinvest wallet and then i make the buy order. After that, we wait and see what happens.
Going forward, i would hope that this buyback wall will provide enough liquidity. I expect a rush of tokens to be sold back but in the long run if we issue more than we buy back it all good. I also expect the daily trading volume of the SPI token on the SE exchange to increase as it'll cost nothing to buy are sell back so people can enter and leave token ownership without any finical consequences. This is a plus and with a higher daily volume, we have better odds of being seen by more people as we would list higher.
Let's get this set up and in place to ensure that SPinvest continues to issue the maximum amount of tokens at come
In the past 2 weeks, SPinvest has issued 17 tokens on the SE exchange and that was this morning. After this buyback wall is in place, every token sold on the SE exchange will be a new token issued and we will grow and earn more because of it.
If you have any questions, please ask below and i will get back to you as soon as i can.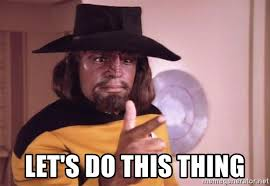 ---

Below are steemconnect hotlinks that allow investors to buy SPI tokens directly from @spinvest. Each token is currently priced at 1.00 STEEM and beside each link is the true STEEM cost to reduce confusion. You can also send any amount directly to @spinvest and i will issue you SPI tokens to 2 decimal places for the value of STEEM to send. All tokens bought directly will be sent to investors SE wallets within 24 hours but most likely much sooner.
.
5 SPI tokens - 5 STEEM
.
10 SPI tokens - 10 STEEM
.
25 SPI tokens - 25 STEEM
.
50 SPI tokens - 50 STEEM
.
100 SPI tokens - 100 STEEM
.
250 SPI tokens - 250 STEEM
.
500 SPI tokens - 500 STEEM
.
1000 SPI tokens - 1000 STEEM
.
2500 SPI tokens - 2500 STEEM




---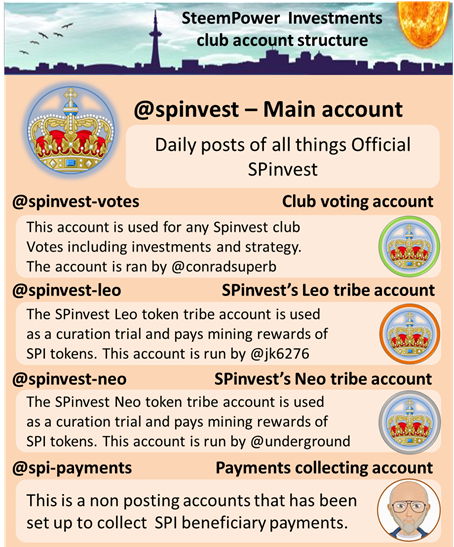 Important Information
| Information | URL Link |
| --- | --- |
| SteemPower Investments Introduction Post | Click HERE |
| SteemPower Investments Club Partnership Agreement | Click HERE |
| How to become a club member | Click HERE |
| How to convert SE tokens into SPI tokens | Click HERE |
| Join the SPI club Discord server | Click HERE |
| Join the SPI curation trail | Click HERE |
| What's best for the SPI Club? Centralized vs Decentralized | Click HERE |
| SPI tokens 95% buyback guarantee | Click HERE |
| SPI Club monthly Fiat to SPI token group buy | Click HERE |
| | |
| | |
All questions are welcome, please ask in the comments below


CLICK here for full details about SPI beneficiaries
Show support to SteemPower Investments through it's Patreon Page
Click here to join the SPinvest community over at beta.steemit.com (Steemit Communities)