Ante todo quiero desearles a todos un feliz año 2019. Esta es mi primera publicación en este año y pensé en escribir sobre algo que no fuera música, para variar y empezar el año de una manera diferente. Así que decidí hacer un post sobre el plato que preparé para la cena del 31 de diciembre pasado.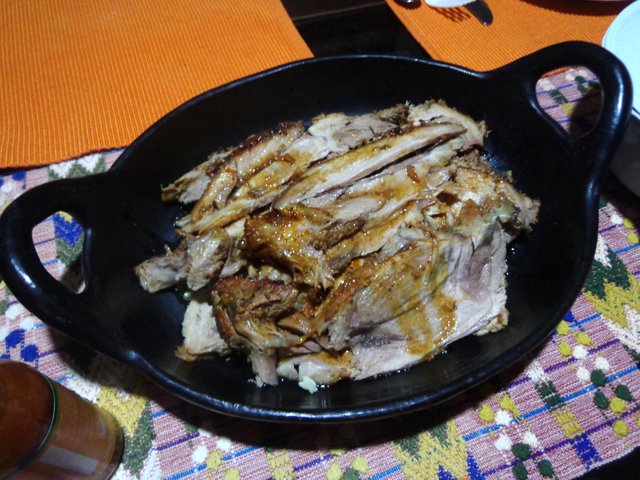 ---
English version available at the following link!
Deutsche Version zur Verfügung in dieses Link
---
El pernil de cerdo asado forma parte, desde hace muchos años, de la tradición decembrina en Venezuela. Aunque regularmente es parte de la cena del día 24 de diciembre, se ha vuelto popular durante todo el mes y en el caso de mi familia, decidimos que esa sería nuestra cena familiar para la noche de año viejo.
Vale aclarar que pernil se refiere a las patas traseras del cerdo, conocidas en otras latitudes como jamón, anca o pierna.
Al primer momento de enfrentarme a esta pieza, me preocupó la cantidad de trabajo que me daría, pues venía con piel y con rabo. Pero es muy acertado el refrán popular que reza que "el cochino no tiene desperdicio", porque es que en ese animal todo se aprovecha. Así que lo que yo pensé que sería un problema, se convirtió en un beneficio. Pues de la misma pieza extraje el rabo, con el cual preparamos una sopa espectacular que conformó nuestro almuerzo del día 30. De allí también preparé la piel a modo de chicharrón, el cual está esperando en la nevera para ser preparado en uno de los platos típicos venezolanos, como lo es la "chicharronada". Así mismo aproveché para "producir" un poco de manteca de cochino, la cual me sirve para preparar varios platos adicionales.
Por supuesto, la parte más importante de todas, para la ocasión, fue la misma pierna, ya limpia y preparada para hacerla al horno.
Pero veamos cual fue el proceso.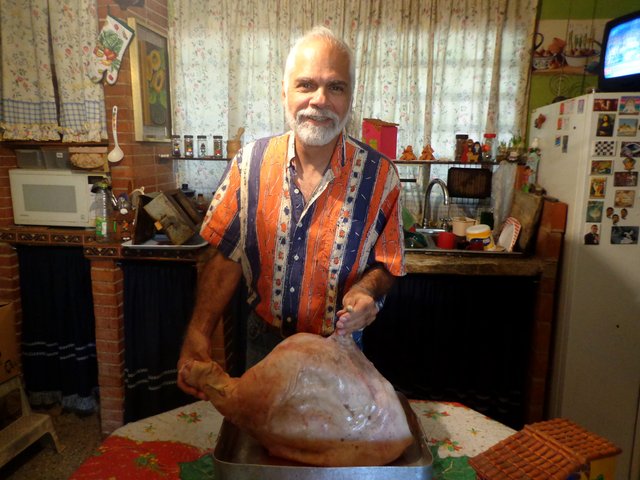 Tal como aparece en la imagen superior, estaba la pieza completa, con piel y rabo. Así que la primera tarea que se planteaba era quitar la piel y hacer el corte para separar el rabo.
Como se puede observar en las imágenes superiores, para separar la piel se hace un corte que permita ir separando ésta al insertar el cuchillo. Una vez se separa el pedazo más grande piel, se van cortando los pedazos que sigan adheridos, así como el exceso de grasa.

El siguiente paso es separar el rabo, para lo cual se debe ubicar el inicio de esta parte del cerdo y cortar la pieza completa, la cual viene desde más atrás.
Una vez separada esta pieza, puede ser usada para distintas recetas. Como les dije, en nuestro caso hicimos una sopa, pero podría haber sido un estofado, un guiso, etc.

Antes de cocinar el cerdo, vamos a preparar el líquido en el cual vamos a marinar la pieza durante 24 horas.
Los ingredientes para esto son:
Salsa inglesa
Vino de cocina o vino tinto (en mi caso usé vino de cocina)
Jugo de naranja
Cerveza
Vinagre de vino
Para marinar, le vamos a agregar a nuestro pernil sal, una cabeza de ajo machacado, oregano y especies al gusto.
Antes de "bañarlo" con este preparado, yo mezclé un poco de vino y salsa inglesa y usé una jeringa para inyectarle esta mezcla a la pieza. También es recomendable punzarla con el cuchillo, de manera que el líquido penetre e impregne de sabor la carne.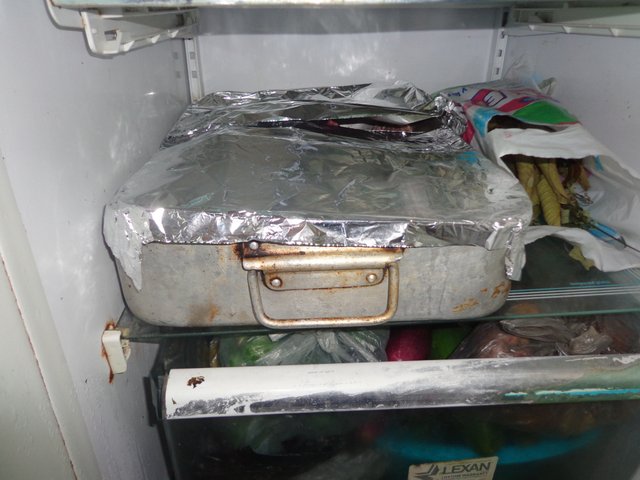 Una vez untado el pernil con el líquido, se procede a cubrir con papel aluminio y se coloca en la nevera.
Es importante cada 4 horas aproximadamente, sacarlo de la nevera para girar la pieza y asegurar que nuestro preparado cubra todas las partes del cochino. Esta es la manera de asegurar que agarre un gusto uniforme y que la carne esté bien húmeda antes de entrar al horno.
Se deja marinar por 24 horas.

Una vez finalizado ese proceso, se procede a introducir al horno a una temperatura de 250° centígrados.
Se debe introducir cubierto con el papel aluminio, a fin de garantizar una cocción pareja y evitar que se evapore el líquido. Se debe calcular 45 minutos de horno por cada kilo que pese nuestro pernil.
Cada hora y media debemos sacar la pieza del horno, para humedecerla por todas partes y girarla. Se debe observar que la carne se está cocinando, pero debe verse húmeda y rosada.
Volvemos a tapar y seguimos horneando la pieza.
Cuando falte una hora para terminar de hornear, lo giramos, pero esta vez lo meteremos al horno sin el papel aluminio, a fin de que empiece a dorarse. Se deja media hora, lo volvemos a girar y lo dejamos la media hora restante.

Una vez listo, lo bañamos una vez más de líquido y podemos proceder a cortar en finas rodajas.

Muchas personas preparan salsa para agregar al pernil, lo cual le da un toque especial a este preparado, pero solo también tiene un gusto extraordinario. Nosotros optamos por comerlo sin salsa. Les puedo asegurar que no necesitó más nada...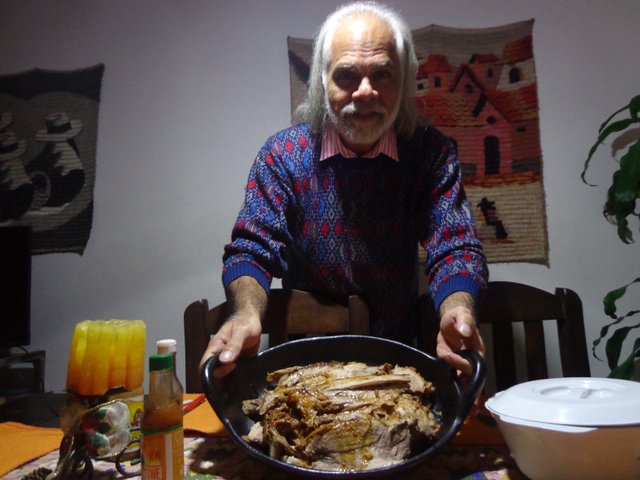 ---
Todas las fotos son de mi propiedad, realizadas con una cámara Sony Cyber-shot DSC-W650
---

---

Follow - Upvote - Resteem
---
Recent posts / Artículos recientes / Kürzliche Posts
---
* If this post is older than 6 days, you may go to the most recent and upvote it!
* Si este artículo tiene más de 6 días, puedes ir al más reciente y votar por él!
* Wenn dieser Artikel mehr als 6 Tage hat, kannst du zum letzten gehen und diesen upvoten!