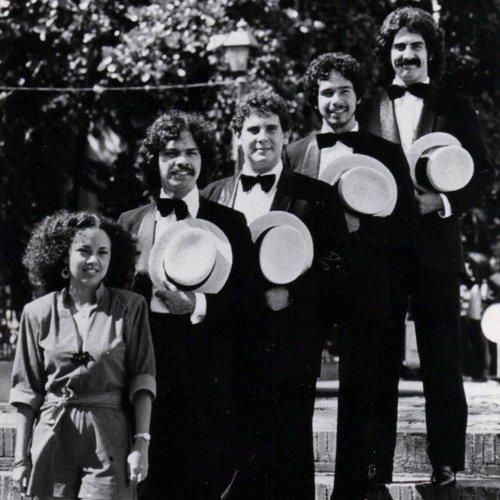 ---
Los Cañoneros recorded an original Christmas song written by me in 1986 to be included in the album we released this year. In order to avoid that the entire album was considered as a Christmas album, this idea was eventually rejected. We released the song as a single and it was played on radio stations for a couple of years.
The original master of this song disappeared and I had to do a miracle to rescue this "Aguinaldo" (a kind of Christmas music in Venezuela) after a long time. That's why the sound quality is not the best...
I take this opportunity to publish it today, and this is my my way to wish you all a Merry Christmas.
Artist: Los Cañoneros
Song: Un cañonazo (A cannon shot)
Lyrics and music: Ylich Orsini
Leading voice: Hely Orsini
Bass and vocals: Andrés Rousset
Alto Sax: Augusto Rousset
Drums and vocals: Arnaldo Sánchez
Cuatro, Vocal and Arrangement: Ylich Orsini
Production: Luis Oliver
Sound engineer: Augie Verde
Intersonido Studio, Caracas, Venezuela 1986
---
Español
En 1986 Los Cañoneros grabamos una canción de navidad original mía, con la intención de incluirla en el disco que publicamos ese año. Para evitar que el disco completo fuera considerado un disco navideño, al final se descartó esa idea. El tema lo publicamos como un sencillo y estuvo sonando en las emisoras de radio por un par de años.
El master original de esta canción desapareció y tuve que hacer un milagro para rescatar después de mucho tiempo este aguinaldo. Esa es la causa de que la calidad del sonido no sea la mejor...
Aprovecho que lo publico hoy 24 de diciembre para desearle a todos una muy feliz navidad.
Artista: Los Cañoneros
Canción: Un cañonazo
Letra y música: Ylich Orsini
Voz solista: Hely Orsini
Bajo y coro: Andrés Rousset
Saxo alto: Augusto Rousset
Batería y coro: Arnaldo Sánchez
Cuatro, coro y arreglo: Ylich Orsini
Producción: Luis Oliver
Ingeniero de sonido: Augie Verde
Estudio Intersonido, Caracas, Venezuela 1986
---
Deutsch
Los Cañoneros nahm 1986 ein originales Weihnachtslied von mir auf, um es in das Album das wir in diesem Jahr veröffentlicht hatten einzuschließen. Um zu vermeiden, dass das gesamte Album als Weihnachtsalbum betrachtet wurde, wurde diese Idee am Ende verworfen. Wir haben den Song als Single veröffentlicht und er wurde einige Jahre in Radiosendern gespielt.
Der ursprüngliche Master dieses Songs verschwand und ich musste ein Wunder tun, um dieses "Aguinaldo" (eine Art Weihnachtsmusik in Venezuela) nach langer Zeit zu retten. Deshalb ist die Klangqualität nicht die beste...
Ich nutze diese Gelegenheit, um es heute zu veröffentlichen, und damit wünsche ich allen ein frohes Weihnachtsfest.
Künstler: Los Cañoneros
Lied: Un cañonazo (Ein Kanonenschuss)
Text und Musik: Ylich Orsini
Hauptstimme: Hely Orsini
Bass und Vocal: Andrés Rousset
Saxo Alto: Augusto Rousset
Schlagzeug und Vocal: Arnaldo Sánchez
Cuatro, Vocal und Arrangement: Ylich Orsini
Produktion: Luis Oliver
Tonmeister: Augie Verde
Intersonido Studio, Caracas, Venezuela 1986
---
► Listen on DSound
► Listen from source (IPFS)