Los Hives de Outreach, Desarrollo, Web y Manejo de Calidad (QA) están reduciendo inmediatamente todos los pagos en 2/3 . Solo un tercio de los pagos podrá estar disponible para gastos. Los 2/3 restantes serán enviados a una segunda dirección de ahorro hasta tanto exista una recuperación sostenida en el precio durante un mes. El Hive de Desarrollo va a permitir el uso de los saldos en ser mantenidos como colateral en SmartNodes. Adicionalmente el Hive de Soporte esta aun considerando cómo proceder de la mejor manera con el fin de minimizar los efectos en el mercado durante el mes proximo. El Hive Outreach 2 se compromete a reducir los costos al mismo tiempo que se enfoca en expandir la marca y la adopción en nuevos comercios. Todas estas medidas ayudarán a reducir la presión de venta inmediata.
Como recordatorio de la naturaleza empresarial y descentralizada del proyecto, SmartCash nunca tuvo un ICO (Initial coin offering, en ingles), no se hizo preminado y se autofinancia completamente a través de una parte de las recompensas de bloque. Esta parte se envía a direcciones dedicadas para apoyar el desarrollo continuo de SmartCash. Todas las transacciones de las tesorerías se pueden ver en la cadena de bloques. Además, la mayoría de las recompensas de bloque se asignan a la tesorería del proyecto SmartHive. Hasta la fecha, ha habido 36 propuestas de proyectos completadas y otras 35 que están actualmente activas, solo habiendo agotado la tesorería del proyecto en un 2,6%. En general, SmartCash está bien posicionado para poder apoyar las propuestas de la comunidad durante los próximos 120 años.
Puede ver los tesoros del proyecto en las direcciones a continuación. Como recordatorio, durante octubre de 2018, SmartCash moverá todos los presupuestos de Hive a billeteras de múltiples firmas de mayor seguridad, en un esfuerzo continuo por descentralizar y reducir el riesgo de almacenamiento de los fondos de SmartCash. Esto asegura un aumento general de la seguridad para todos los presupuestos de las diferentes colmenas (Hives).
Proyecto de Tesorería
https://insight.smartcash.cc/address/SXun9XDHLdBhG4Yd1ueZfLfRpC9kZgwT1b
Soporte
https://insight.smartcash.cc/address/SW2FbVaBhU1Www855V37auQzGQd8fuLR9x
Desarrollo
https://insight.smartcash.cc/address/SPusYr5tUdUyRXevJg7pnCc9Sm4HEzaYZF
Outreach
https://insight.smartcash.cc/address/Siim7T5zMH3he8xxtQzhmHs4CQSuMrCV1M
Web
https://insight.smartcash.cc/address/Sgq5c4Rznibagv1aopAfPA81jac392scvm
Manejo de Calidad (QA)
https://insight.smartcash.cc/address/Sc61Gc2wivtuGd6recqVDqv4R38TcHqFS8
Acerca de SmartCash
SmartCash es una criptomoneda fácil de usar, rápida y segura que admite el uso diario, como pagos comerciales y transacciones diarias. SmartCash está destinado a ser una moneda y nuestra visión es reemplazar las monedas fiat centralizadas. SmartCash es una moneda con su propia cadena de bloques que utiliza el código base de Bitcoin.
SmartCash tiene un sistema de gobierno descentralizado único y tecnologías como SmartNodes, InstantPay bloqueado transacciones en aproximadamente un segundo, envíos por SMS y correo electrónico, con una tesorería para proyectos con votación con su llave privada, seguridad SmartMining, SmartCard, y su nueva aplicación de punto de venta llamada SmartPay. SmartCash está empujando los límites de la tecnología blockchain con herramientas que apoyan el espíritu empresarial y la innovación.
Diseñado para uso en todo el mundo, SmartCash está disponible en cajeros automáticos, la primera tienda de criptomonedas en Europa, The House of Nakamoto, exchanges locales y es especialmente popular en Sudamérica y África. En Brasil, el 85% de los minoristas aceptan SmartCash con SmartBand y ahora está disponible en 13,000 ubicaciones adicionales de Caixa en Brasil.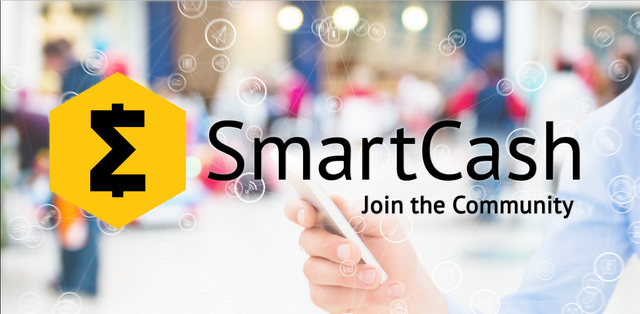 Únete a la comunidad SmartCash
https://twitter.com/scashofficial
http://discord.smartcash.cc/
https://t.me/smartcashchat
https://www.youtube.com/SmartCashDotCC
Aprende más
https://smartcash.cc
https://card.smartcash.cc
https://business.smartcash.cc
Obtenga su billetera SmartCash
Cartera web: https://wallet.smartcash.cc
iOS: https://itunes.apple.com/us/app/smartcash-wallet/id1438215565
Android: https://play.google.com/store/apps/details?id=cc.smartcash.wallet
Windows / MacOS / Linux: https://smartcash.cc/wallets/
SmartPay: https://business.smartcash.cc/
Tarjeta inteligente: https://card.smartcash.cc/
Lea el folleto
https://smartcash.cc/brochure/
Suscríbete al boletín de SmartCash
https://smartcash.cc/subscribe/