:: Rubius :: The Future of Finance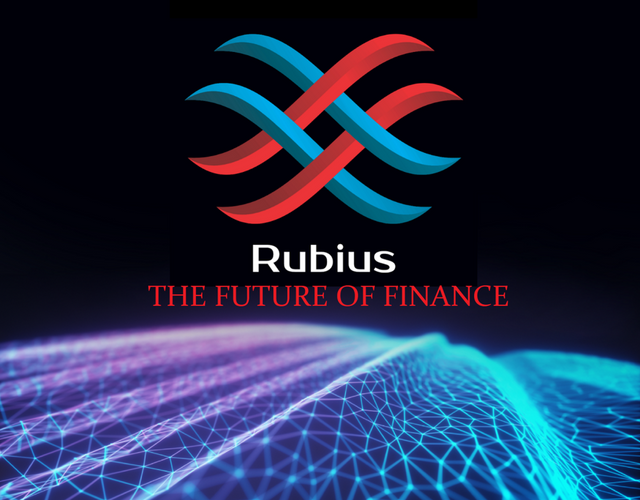 ---
Rubius is a blockchain project that aims to change the way cryptocurrencies are purchased, sent and managed.
The cryptocurrency exchange market has been exploding over the past few years and companies like Coinbase have already seen $1b+ evaluations. To target this growing industry, Rubius will offer lower fees and a more user-friendly platform. In an industry that is over $100B, one might think buying cryptocurrency and transacting with it is very simple, however, it can be extremely hard for investors or first-time buyers to enter the space, without spending countless hours figuring out how transactions work.
If cryptocurrency is going to become adoptive, coins and tokens must be easily manageable and purchasable otherwise many people will not enter the space. Rubius hopes to bring this thought into reality with their cryptocurrency exchange platform.
Rubius Introduction Video
---
One huge problem in the financial world, is the fact that over 1.7 billion adults are without a bank account. Which means these people are without checking accounts, investment services, and other important financial instruments.
These problems start with the corruption of the governments surrounding these areas and regulations that prevent these people from transacting. Many of these people own smartphones, but the regulations that exist between government borders restrict these people from using the available financial services. Many banks that operate in foreign countries or areas with complicated regulations charge high-interest rates and fees on loans that make it impossible for people to use the services.
Example: If a person in the United States is working to support a family that is currently in Asia, sending money to the family is going to be very expensive. Sending a payment of $50 will cost around $10 simply to change a few digits in a banking system.
These costs hurt families that are struggling and force even more hardships.


https://rubius.io/
Rubius Solution
Rubius understands the need for continuous updates on software and technology, and so they will make sure to stay ahead of the market and provide the best software and tools out. Rubius will also work at getting into areas that have a population of people without bank accounts, to try and capture a large market and push adoption.
The software will be open sourced and the project itself will be decentralized so transparency will exist. Rubius will offer fair fees so that they can engage the people that are less fortunate and allow them the access to the same financial services as everyone else. Smart contracts will facilitate the trades so the transactions will be accurate and fast, and since a middleman will not be needed the fees and transactional costs can be minimal. Rubius will also feature a simple software solution to users who might not very familiar with cryptocurrency but want a safe solution to place an investment.
This will give the confidence for newer users to enter the cryptocurrency market and push for the overall adoption of cryptocurrency.
Rubius [RUBY] Token Pre-Sale Live!
Main Public Sale: 21st August - 28th September 2018
1 Eth = 7,000 RUBY
Early Investor Bonuses Available

Investor Information Resources
Website: https://rubius.io/
1-page Pitch: https://rubius.io/rubius-one-page.pdf
Whitepaper: https://rubius.io/rubius-whitepaper.pdf
BitcoinTalk [ann]: https://bitcointalk.org/index.php?topic=3254617.0
Social Media Links
Telegram: https://t.me/rubiuschat
Twitter: https://twitter.com/Rubius_Inc
Medium Blog: https://medium.com/rubius-inc
Reddit: https://www.reddit.com/r/RubiusICO/
Facebook: https://www.facebook.com/RubiusInc/
---

---
---
BitcoinTalk user: Mr.Ease
User link: https://bitcointalk.org/index.php?action=profile;u=803528
Ethereum Address: 0xfd797888c66DfEbf7bA5A6927a50F2F75Ad7175e
Follow Me for Upcoming Token Sale Information