Our friend Eric @anomadsoul has hit us with another prompt for our individual 'Road to Steemfest' journeys.
I was just planning on writing my story when I saw this pop up, so perfect timing as always. @anomadsoul got this down to a tee!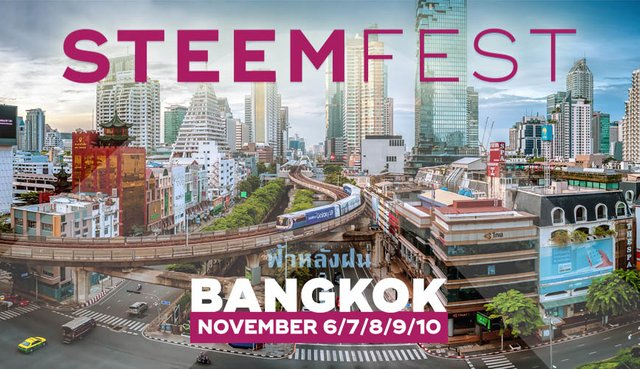 source
My journey so far
At first, the plan was to come down with the whole family. That's me, my four kids and my eldest daughter's boyfriend.
My eldest and her boyfriend were going to join me at Steemfest, while I was going to arrange a nanny, or childminder for the other three for the days we would be spending at Steemfest. So I decided to book our room, since I don't have to pay anything till the end of October and I really wanted to get that covered.
I ended up booking an awesome family suite with three bedrooms in the Prince Palace Hotel (the Steemfest hotel!).
This is the first time I actually booked the SF Hotel. In Lisbon and Krakow I booked an apartment near the place, but this time I knew that even a distance that seems not too bad, can, in reality, be quite the undertaking in Bangkok. I didn't want to take the chance of having to jump through all kinds of hoops to get to the hotel, so I chose the luxury way out. I know there would probably be much cheaper options, however, for what we get (my kids were overjoyed when they saw the pools!) and to be close to the rest of the crowd, it's really very reasonable and something I am willing to pay.
We'll be staying in SE Asia for three months, and will possibly come back soon after that...for good, so I might as well make our first week there a great one. We'll have plenty of cheaper places to stay in during our time there.
This will be our suite (or similar). Pretty awesome right?!?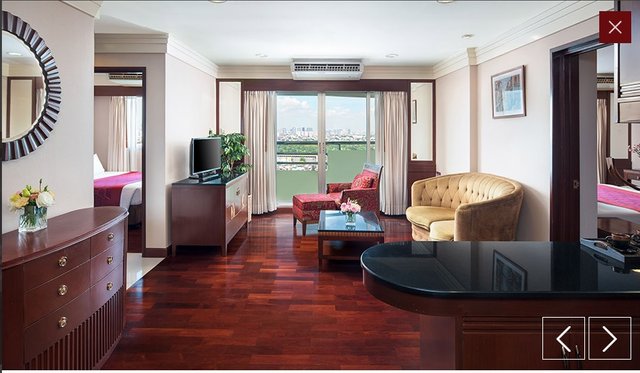 SOURCE
And of course...plans change
So last week my daughter's boyfriend told us he applied for a job. The job would be an ongoing, full-time thing from August till Christmas. In other words, he wouldn't be able to join us for the first part of the trip. When I asked him when he'd hear about the job, if he's hired or not, he told me...August. I know the company...and I know the way companies like them work. They hire someone last moment, keep them on for busy times and then get rid of them.
I bit my lip and said nothing. But in Irish terms, this is a crock of shite. I mean, who interviews someone in June and doesn't let them know anything until they actually need them? Exactly... Good thing that he's still applying for other things as well.
Anyway. What this means is that my daughter won't be coming for the first part of the trip either. The two lovebirds haven't been apart for more than one week (Steemfest2 in Lisbon) since they met. And I can't blame them, because they're great together. But to save us all the heartache (especially my daughter) that we experienced in Lisbon (she did NOT want to be there for a week) we decided she'll stay here too. She'll be 18 soon, and one part of me is screaming "NOOOOO!!!" But if I learned anything in my radical unschooling journey with the kids, it's to trust and let them figure things out for themselves. I know she's responsible, plus she'll be staying with him and his family, so that will be OK.
Worst case scenario: they'll hop on the plane and meet up with us right after Christmas for the last leg of our journey.
My work so far and ongoing
Really, I've been working my butt off, and I still have SOOOO much more to do.
I had to look for a house and pet sitter since bringing the dogs and cats to a boarding kennel is going to be too expensive. I've been nosing around and interacting with the people on the worldschool groups on Facebook for a while now, and decided to ask people about their experiences with house/pet sitting websites.
Within a couple of hours, I had 4 offers!
I have been talking to a single mother with a 3-year-old daughter for weeks now. We really clicked and she's happy to stay in our house, mind the animals, even the pony! Her friend and son will be joining them for part of the three months.
Perfect!
Funny, because we're getting along so well that we're already planning to travel somewhere together somewhere down the line!
OK, so that was that problem solved. But with it, comes a lot of other work that needs to be done.
I need to get the car tested since I'll be leaving them the car. OK, that needed to be done anyway, but now pronto.
So fingers crossed🤞, it doesn't need a lot of work.
Then there is the issue with the house that I've been letting go a bit. What issue? Well, a few things...
First of all, no one in the house has 'normal' beds. Not really. In one room, there is a bunk bed that's not really a bunk bed. It's a fort built by the owner of the house for his son. Now, at first mine loved it, but since the last couple of months, he refuses to sleep in it and rather sleeps on a mattress on the floor. So this week I made the decision to break the thing apart and just put two single beds in the room. The fort is huge and takes up a lot of space, and there's hardly any space to store anything, so we've been stuggling to put any clothes away for the time we've lived here (almost 2 years).
It's time. The fort will go. But this also means that I have to buy a new bed.
My bed has also been made by the owner of the house. Unfortunately, the idea was great, but it didn't work out very well. After a few jumps by the kids, the thing came apart in some places, so now the mattress is hanging down on one side. So that needs fixing. I can't have people staying in the house and have things crooked...lol.
But, it's nothing that can't be solved and it could always be worse...
Nothing like this yet. LOL. 😜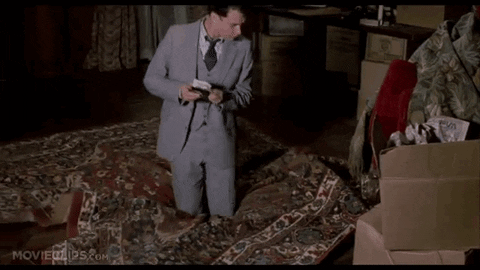 source
Luckily the girl's beds are fine, well, reasonably fine hehe.
Then the other day, I got this CRAZY idea that I had enough of the colours on the wall. In the living room and kitchen. Sorry, but there's only so much time one can look at a cross between mint and olive green without getting pissed off.
So I made the first steps, drove to the DIY store and got myself some new paint. I know, it sounds crazy to make this kind of expense when there is so much still to pay for (like, uhm...4 plane tickets, 2 plane tickets a bit later and the stay and SF tickets of course) and nothing to show for. But I am thinking like this: if the house is nice, I will feel better and everything will just flow better. Crazy? Maybe, but that's the way I think.
Then there are another few things to think of, like getting enough food for the animals for three months, some fire wood and/or turf for when we're gone (at least for a few weeks). OK, and I haven't even said anything about the bathroom...ugh, the bathroom. (to be continued)
Visualizing and manifesting like crazy
Really, I have to. Like I said: I haven't got much to show for. The first thing we need to get is the flights. After that, it will be easy peasy...hehe. I've started selling some of our stuff and I keep adding stuff. I am cleaning the place like crazy, everywhere...the house, the shed...because the same thing: if it looks good, it feels good and it will flow...
Holding on to stuff is not my style anymore, so everything will have to go.
Then, I made a small investment in some things so I can start making organite and resin pendants again. I used to do this for friends, but am planning to sell these now, for extra funds.
Then there was the job hunt
I applied for a few jobs and didn't hear anything back. Ah, they're probably afraid I'll take their job LOL.
But last week I got a reply back from one. YiiiHAAAA!!!
This job would suit me perfectly because it's technical support for a major company and ALL of the work is remote!
So I can sit here in my underwear and work. If I wanted to...but my kids won't thank me.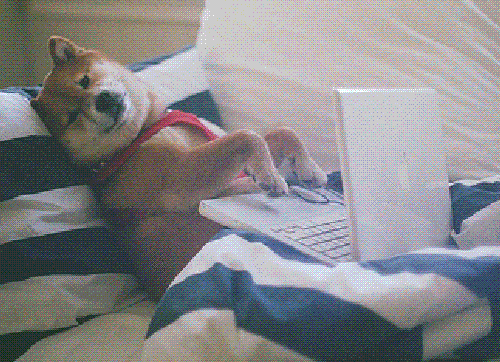 source
The downside is: it's full-time. But then again, I am not complaining, and I'll take it. Either way, they seemed to like my application enough to get me through the second stage of the process.
I did the task they asked me to do, so now I wait...🤞
I am still going the odd job for my friend in Holland, and more will follow, so let's keep this flow going!
I GOT this!
Thank you for reading!