The Road to Steem Fest | Planning, wanting, doubting on going to SF? Write about it!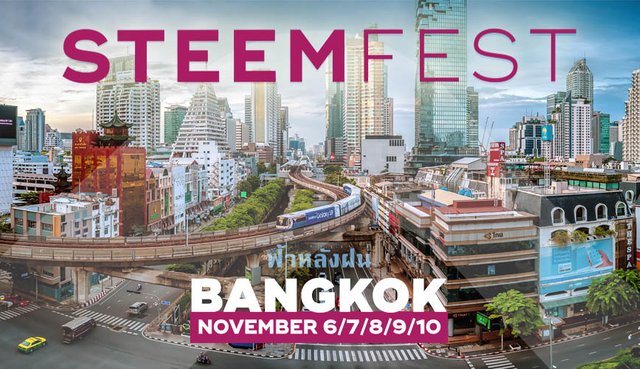 Steem Fest 4 is only 4 months away from us and I can already see a lot of posts about people planning to go to Bangkok, Thailand to attend the biggest Steem event of the year and you can already start to feel the hype in some discord and Telegram conversations.

---
Some of you already bought the plane tickets and they know they're going to attend Steem Fest 4; others are still waiting for the event ticket price to be public to assess if they'll be able to meet us in Bangkok; some Steemians depend on winning an event ticket contest and there are those who depend on a Steem price rise to make it to Thailand.
I've heard of some people who are still debating themselves about attending this kind of events especially on a bull market and of course there's other people who want to attend but maybe they're not the best in social situations - as a lot of other Steemians are.
But hey, the cool part about Steem and Steem Fest is that we can begin to talk about this event even if there's still 4 months between today and the beginning of the event.
So, if you are one of these people who's plannig to go to SF; or you want to attend but are still waiting to see how things unfold or; if you are in doubt if you want to go to Thailand this year...
Then write about it!
Let other Steemians who are going/thinking of going, get to know more about you and let that "feeling of familiarity" start growing so when we meet, it´s as if we´ve been friends for years.
Rules

---
1 - Only Posts that are related to Steem Fest and related to the general: Going or not going to Steem Fest.
2 - Use the tag #roadtosteemfest and #blocktradescontest so we can all find the posts and get to know each other.
3 - You have until Sunday, July 14th to post about this topic.
The topic is very general so you're very welcome to write about this from a lot of angles, but please make it related to "Planning, wanting, doubting on attending Steem Fest"
---
Every Steemian who makes a high quality post about this topic, will get a vote from @blocktrades - percentage may change depending the quality of the post, just make sure to use the tags "roadtosteemfest" and "blocktradescontest". I will handpick some of the best posts and nominate them for OCD, so you also have that going on for you if you want to join in this little initiative.
This #RoadToSteemFest initiative, just like last year's, will run until the previous week of Steem Fest. There will be around 16 topics regarding the #roadtosteemfest so make sure to try and join every one of them because...
...everyone who joins in on at least 75% of the topics, will be eligibile to win a big surprise in Bangkok. This surprise will be revealed later down the road and only people who attend SF will be able to receive it. Believe me, it will be an awesome surprise.
Remember, you have until Sunday, Julu 14th to post your Planning/Wanting/Doubting on going to Steem Fest
---
There is already one contest to win a Steem Fest ticket + Accommodation in Thailand sponsored by @blocktrades and @actifit, check it out here
Thank you everyone who made a post about this. Any vote or resteem is appreciated, since all the liquid rewards from this post will go to fund one lucky Steemian's Steem Fest 4 entry ticket.