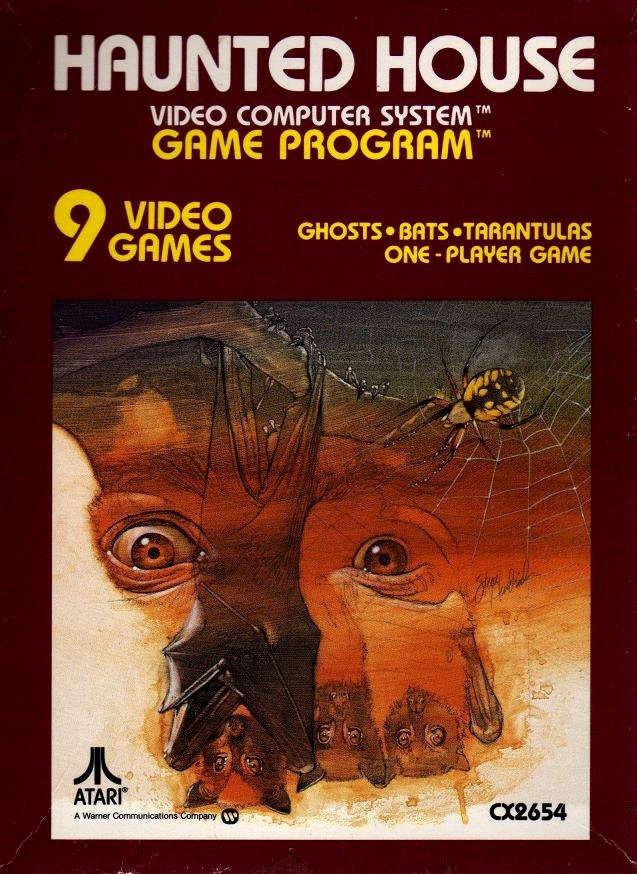 Source: http://www.megalextoria.com/wordpress/index.php/2017/01/22/haunted-house-atari-2600/
You might think Resident Evil was the first survival horror game but you would be wrong. Fourteen years earlier in 1982, Haunted House was released for the Atari 2600. It didn't have the relatively large gaming world or 3D graphics of games like Resident Evil but it did have some unique play mechanics. You had to light a match to see what was around you and this only lasted a few seconds. If a monster entered the room, the match would blow out.
Above is the label / box artwork which like most Atari 2600 games, does not dissapoint.
—
Thanks for stopping by and check out some of my other recent retrogaming posts!
Mega Man 7 (Super Nintendo)
https://steemit.com/retrogaming/@darth-azrael/mega-man-7-super-nintendo
Rampage (Sega Master System)
https://steemit.com/retrogaming/@darth-azrael/rampage-sega-master-system
Sega Master System (poster)
https://steemit.com/retrogaming/@darth-azrael/sega-master-system-poster
Etrian Odyssey (Nintendo DS)
https://steemit.com/retrogaming/@darth-azrael/etrian-odyssey-nintendo-ds
Alien Trilogy (1996)
https://steemit.com/retrogaming/@darth-azrael/alien-trilogy-1996
GamePro - June 1997
https://steemit.com/retrogaming/@darth-azrael/gamepro-june-1997
Klax (Sega Genesis, 1990)
https://steemit.com/retrogaming/@darth-azrael/klax-sega-genesis-1990
Sega Saturn NetLink, 1996
https://steemit.com/retrogaming/@darth-azrael/sega-saturn-netlink-1996
Return to Zork (DOS, 1993)
https://steemit.com/retrocomputing/@darth-azrael/return-to-zork-dos-1993
Sega Visions, August / September 1992
https://steemit.com/retrogaming/@darth-azrael/sega-visions-august-september-1992
Nintendo Power - December 1991
https://steemit.com/retrogaming/@darth-azrael/nintendo-power-december-1991
Tips & Tricks, January 1996
https://steemit.com/retrogames/@darth-azrael/tips-and-tricks-january-1996
Nights into Dreams (Sega Saturn)
https://steemit.com/retrogaming/@darth-azrael/nights-into-dreams-sega-saturn
Sonic the Hedgehog 2 (Sega Genesis)
https://steemit.com/retrogaming/@darth-azrael/sonic-the-hedgehog-2-sega-genesis
The Flintstones (Sega Genesis)
https://steemit.com/retrogaming/@darth-azrael/the-flintstones-sega-genesis
Hardball III (PC / DOS)
https://steemit.com/retrocomputing/@darth-azrael/hardball-iii-pc-dos
Sega Visions, Fall 1991
https://steemit.com/retrogaming/@darth-azrael/sega-visions-fall-1991
Atari Jaguar
https://steemit.com/retrogaming/@darth-azrael/atari-jaguar
Sinistar (Atari 5200)
https://steemit.com/retrogaming/@darth-azrael/sinistar-atari-5200
Dungeon Hack
https://steemit.com/retrocomputing/@darth-azrael/dungeon-hack
Shanghai II: Dragon's Eye (Super Nintendo)
https://steemit.com/retrogaming/@darth-azrael/shanghai-ii-dragon-s-eye-super-nintendo