Introducing Token Raindrops - A Quick & Easy Tool for Tokens Airdrop with Different Methods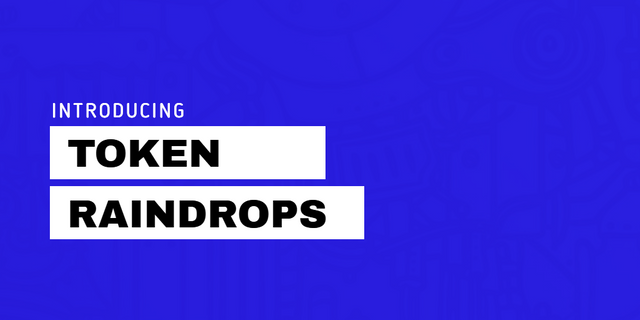 ---
Introducing Raindrops
We're Happy to announce a Useful and Handy service. It can Airdrop Steem-Engine Tokens to Specific users As a bounty or reward with specific Actions on your posts.. or any one else's!
It is service to Airdrop users on the bases of Votes, Comments & Re-steems on A Post. If you wan't to distribute some tokens among the voters/commentators or those who Resteemed a Post, you can do that in Seconds instead of going manual and sending all of them separately.
How it Works?
Simply there are currently 3 bases on which you can do airdrop:
To use the service you'll have to send any amount of Tokens you want to airdrop to @token-raindrops account with correct memo describing your method and the post like this.
comments https://steemit.com/@token-raindrops/token-raindrops

OR
resteems https://steemit.com/@token-raindrops/token-raindrops
Currently There is 2% fee on every airdrop which is taken from the amount that You send to the @token-raindrops. Means 2 Tokens fee per 100,
In the above memo, the Bot will look for all the Comments under that post and Equally distribute all the tokens after cutting 2% fee.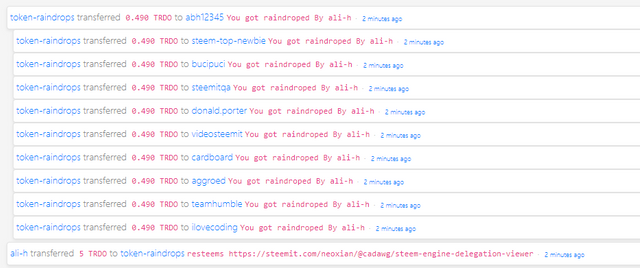 ---
Votes
When Distributing on Vote bases of a post you might need another Feature, like you wan't to reward voters on their Influence of Vote to the post. Yes, Raindrops Provide you that too, you when Sending a transfer to airdrop to Voters, you can add an extra parameter in the memo to Distribute the amount with Influence. influence parameter. Like:
votes https://steemit.com/@token-raindrops/token-raindrops influence
Still The airdrop pool will be completely distributed among the Voters but now on the base of influence, for example. If total rshares (payout) of the Post is 10000, There are 2 votes on the post and in that Payout User A vote's value is 6000 rshares & User B vote's value is 4000 rshares. now 60% of the reward pool will be Sent to user A while 40% to user B.
Hence you can still Distribute the amount equally on Votes by not adding this extra parameter or Using equal in its place like:
votes https://steemit.com/@token-raindrops/token-raindrops equal
Distribution on Comments & Resteems bases are currently only Equal.
Refunds:
In any case of wrong Memo, parameters or Post link, Your tokens will be automatically re-transacted to you without cutting any kind of fee.

---
Bot is Live!
This Bot & Service is developed by @ali-h with intentions to help token owners to Distribute there tokens Instantly & in a Easy way with just a Normal Transfer, There is currently 2% fee on all airdrops. This Idea was Previously introduced also, but was not given a proper shape or it was hard to use without UI.
We would love Your suggestions and Contributions to this project with adding more distribution Methods and types. Please drop any question in the comments or Any Issue if you face using this Service. You can contact @ali-h on Discord Ali H#9816. Thanks!
PS: You don't need to be the owner of the Token to do A Raindrop! Happy Raindroping!